If you have used underwear and are looking for quick cash this, Sofia Gray review is just what you need to get started. The post introduces you to one of the leading online marketplaces for used panties.
This is an exclusive market where you can get over $100 for a worn pantie. What's more, the Sofia Gray website offers you a private store where you can list your underwear online for sale.
Though a new entrant into the used and kinky clothes business, the site is making waves as the go-to place for both adult industry players and everyday online sellers.
Before you join Sofia Gray, though, you need to know how the website works, its subscriptions, expected returns, and your safety as a panties seller.
This latest Sofia Gray review also digs into seller and buyer reviews from sites such as Trustpilot and Reddit.
To start off here is a quick overview of Sofiagray.com
Sofia Gray Review: Overview
| | |
| --- | --- |
| Year Established | 2015 |
| Purpose | Selling Used Underwear |
| Available Countries | Worldwide |
| Applicable | 18 years and older |
| Subscription Plans | $14.97 every 3 months |
| Average Earnings | 8 pairs per month |
| Cuts & Commissions | None |
| Payment Method | SG Coins |
| Bonus Program | Referral earnings of around 40% of the business you bring in. |
| Google Play & App Store | No app |
| Ratings & Accreditations | Not BBB Accredited, 1.9 stars on Trustpilot |
| Sofia Gray: Final Verdict | Legit and secure but sales are low |
What Is Sofia Gray? How Does It Work?

Sofia Gray, commonly known as SF, was launched in 2015 to provide a safe platform for the buying and/or selling of pre-worn underwear.
According to statistics published by the site, 1M+ visitors access the marketplace every month.
Regular users range around 250k, pointing to a vibrant market for used clothing.
Apart from dirty or soiled panties, sellers can also list used socks, body straps, sex toys, bras, and pantyhose.
How Sofia Gray Works?
Buyers don't pay to join the site but sellers pay a membership fee- that's how the website makes money.
You pay $14.97 for 3 months to create a shop and access Sofia Gray's full seller features. Get a 10% discount on your seller listing fees with our promo code 'hearmefolks'.
The site requires the seller to create a profile and upload videos and pics to introduce buyers to your shop.
To make selling easy, the site uses an in-house virtual currency. Known as SG Coins, the currency can be used to send and get payments anonymously.
Cashing out your SG coins can be done via Bitcoin, Bank Transfers, Cash App, PayPal, and Google Wallet; basically, you can set up whichever payment system works for you.
Looking to make money from referral links? Sofia Gray runs a referral program where you can earn from both sellers and buyers who use your referral links.
For example, you can earn around 40% of the membership fee when a new seller signs up using your link.
Can You Really Make Money On Sofia Gray?
The typical price for used panties on Sofia Gray is around $30 to $50. With the average seller making 8 sales in a month, you can earn $240 to $400 per month.
Sofia Gray is styled as the largest online marketplace for used undies but, can you really make lots of sales on it? The answer lies in selling custom orders and having a diverse portfolio.
For example, a client who orders a "3-day worn underwear with your juices" can pay up to $100 or more for a single pair of panties.
Selling other items like lingerie and stockings can add a few more hundred to your monthly income.
The best part is that Sofia Gray does not take any cuts or commissions. As such, you get every single dollar from your buyers, with only shipping and the cost of your products as your business expenses.
Lastly, underwear sellers can also sell soft content like messages, videos, and private collections. Your buyers pay SG coins to "unlock" such items. making you more money in the process.
How to Start Selling On Sofia Gray?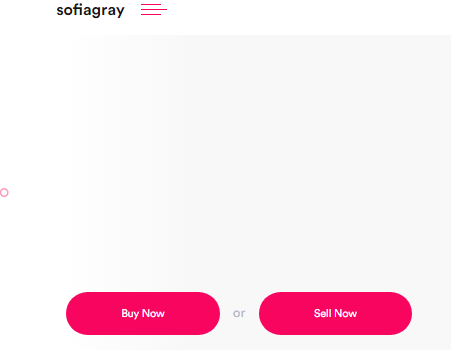 If you are ready to make money selling your used undies, below are the steps on getting your small clothes onto the Sofia Gray marketplace: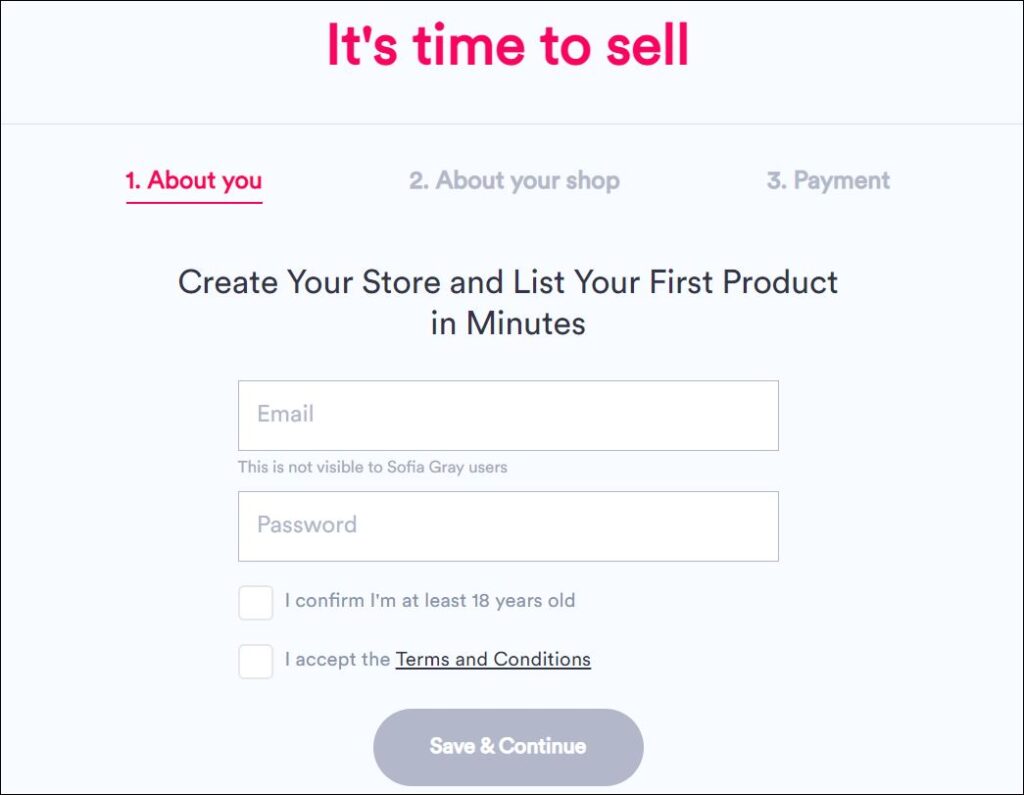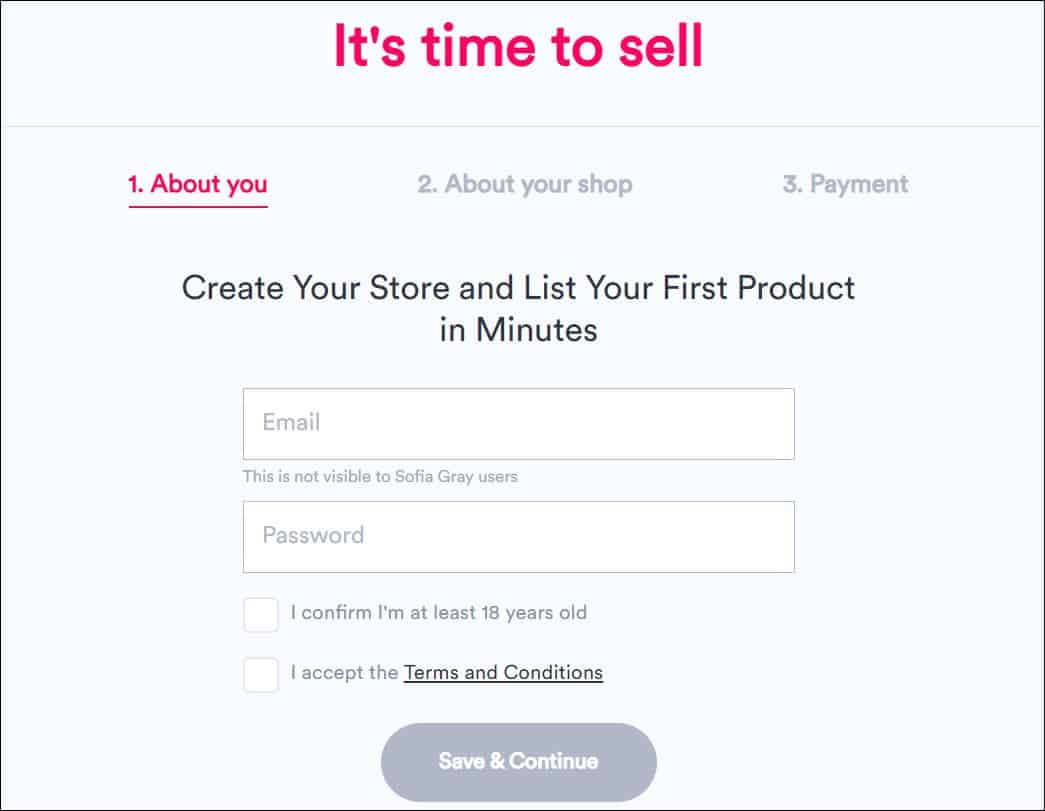 Launch sofiagray.com and the Sell Now tab.
The next page prompts you to start creating your Sofia Gray, starting with your email and password.
Next, specify what you will be selling in the "About your shop" section. Note, you can sell used clothing, shoes, digital content, and more on the site.
The last step is to choose your membership plan on the "Payment" page. Subscription packages can run quarterly or yearly.
Get a 10% discount on the seller listing fees with our exclusive readers-only referral code 'hearmefolks'.
The above process is typical of most websites where you can sell personal stuff. However, every marketplace has its tricks to make sure you make money fast and consistently.
Tips for Selling Underwear on Sofia Gray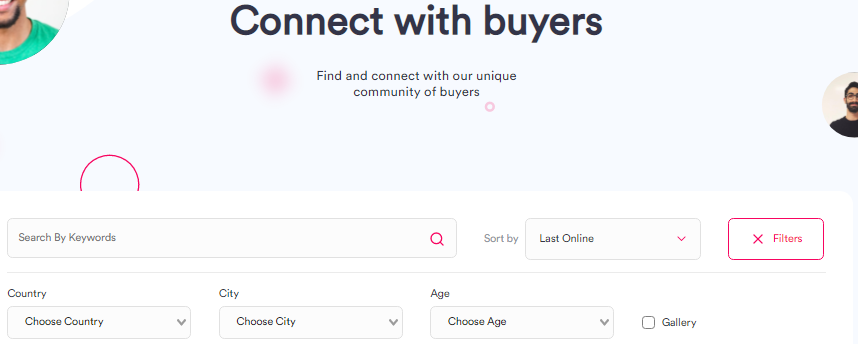 Here's how to become a top seller on Sofia Gray.
Choose an anonymous seller name to maintain your privacy.
When filling in your personal statistics include as much information as possible to attract as many searches as possible. As shown below, buyers use keywords, age, city, etc to filter for sellers.
Go with a store name that captures your interests, personality, and naughty side. For example, featured Sofia Gray sellers include mandie4panties4, Disgruntledgamer, ThatCurvyMom, SweatyStacy, and SaucyMilf.
Save on your membership fees with a yearly subscription.
Start with a few 10 listings to avoid having too much content out there for free viewing.
List the best of your content under private content that can be unlocked at a fee, to help you earn more money.
Have a diverse product profile that includes panties and other personal items like sex toys and smelly socks.
Always package your items in such a way that your scent is preserved. Find out how here.
Sofia Gray Seller Reviews
What are people saying about Sofia Gray? The website gets a poor score on Trustpilot at 1.9 stars from 16 reviews. Additionally, the site is not accredited by the BBB (Better Business Bureau).
Despite the lack of BBB accreditation and poor Trustpilot rating, Sofia Gray gets positive mentions on the internet. Used panty sellers on Reddit and other review sites speak of a marketplace where one can make good money.
Below is a look at select reviews, both negative and positive.
Positive Sofia Gray Reviews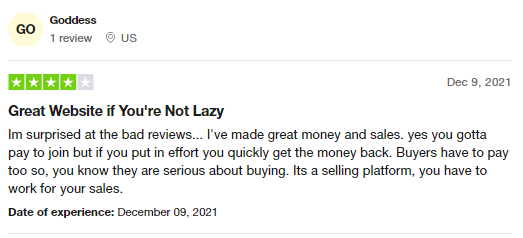 From a 4-star review on Trustpilot, the seller advises that you can break even on the platform, but success calls for working hard for your sales. They also recommend concentrating on paying buyers only.

Wondering if there are people who really buy used drawers? The above reply is in response to a subreddit where a buyer admits to having spent $4,000 online buying ladies' used panties.
They claim to have bought over 300 pairs of used undies for the sole purpose of supporting their panty fetish.
Commenting on the thread, one SofiaGray seller gives $300 as their bi-weekly take-home selling used underwear. According to the review, this is their full-time hustle, and it gets them paid well.
Sofia Gray Negative Reviews
If you are looking for negative takes on selling on Sofia Gray, the internet is awash with them. Most sellers talk of selling on a platform with stiff competition.
Others complain of paying a steep membership fee that's hard to recoup due to few sales.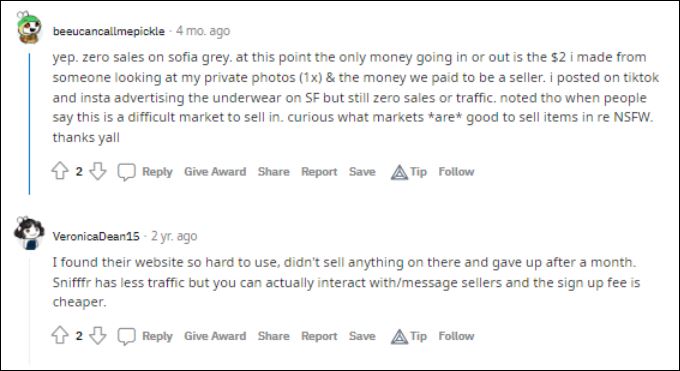 In the subreddit above, sellers say that business is slow, with one user having made only $2 from the site. The money was from buyers unlocking their private pics.
The seller further marketed their SF shop on TikTok and Instagram but got no traffic from the effort.
Another user notes that the SF platform is hard to navigate and that they prefer selling used panties on Snifffr.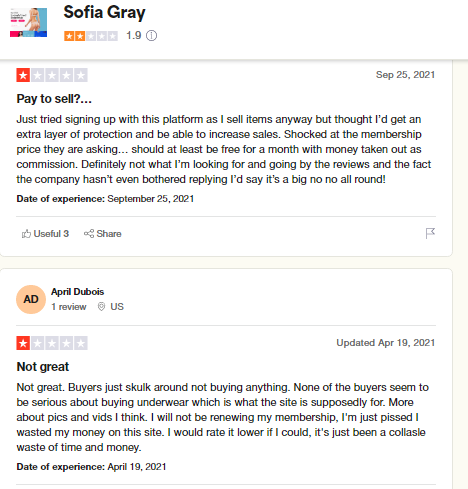 Similar sentiments are shared on Trustpilot. Most reviewers (94%) rate SF at 1-star with the membership fee being termed as a waste of money.
Buyers are said to just browse pics of used underwear without any intentions of buying. Users also feel that the site could do more protection for sellers.
Additionally, some users complain that Sofia Gray's customer support is non-existent.
A buyer also notes that they didn't get their item after paying for it; and when they contacted customer support, they were told that the site isn't involved in such disputes.
Is Sofia Gray Legit?
Sofia Gray is a legitimate and secure website for listing used panties and other erotic products.
The site, however, does not attract many positive reviews due to its high subscription fees and stiff seller competition.
Is Sofia Gray Safe to Use?
With over 1 Million visitors each month, Sofia Gray is a safe website.
It ensures the safety of all users and protects the data of both the sellers and buyers. As a seller, you get a private store for your listings, where you can sell items and digital content anonymously.
And, according to their website, all information that's collected is safe from "unauthorized access, use, alteration or destruction".
Moreover, Sofia Gray is owned by JOA Enterprises, a UK-based company with a physical office at 152 – 160 City Road, London.
Sofia Gray Pros and Cons
For a better understanding of what's like being a seller on Sofia Gray, here are the pros and cons of the marketplace.
Pros
You can sell dirty panties anonymously.

The Sofia Gray platform is easy to navigate.

It comes with an informative blog.

The site does not charge cuts or commissions.

No hidden charges.

During billing, the service uses a neutral name to ensure discreetness.

Sellers make good money from custom orders.
Cons
The membership fee is high compared to other used underwear marketplaces.

Competition on the site is very high.

There's the possibility of meeting creeps.

Buyers can view your free pics and not buy thereafter.
Sofia Gray Alternatives
To get buyers for your used undergarments, you need to list your products in more than one marketplace. Buyers are never limited to a single platform; you shouldn't be either.
To make the best of this kinky side hustle, check out the following sites that also allow selling sexual products and content.
1. Snifffr
This is a much older used panties eCommerce site with a global presence. Sellers pay around $9/mo and you can list services like sexting, videos, and photos.
Panties go for between $15 – $100 on Snifffr.com. The site commands a poor rating on Trustpilot at 2.7 stars from 26 reviews.
Only premium sellers can be featured for better publicity. Snifffr allows sellers to remain anonymous and does not take any cuts from your earnings.
Related Post: How Snifffr Works
2. OnlyFans
OnlyFans is among the most known marketplaces for all things sexual. The platform is popular with celebrities and adult industry workers alike.
College students looking to make extra money selling used undies, dirty socks, and video calls. Buyers subscribe at a rate of $4.99 – $49.99 per month to access your content.
While the bulk of your earnings comes from pay-per-view content, you can use the sessions to advertise your used underwear side hustle and arrange payment and shipping options.
Related Post: How OnlyFans Works
3. Reddit
Reddit is more than a social and review platform; redditors are free to create virtual rooms, known as subreddits, for basically anything.
Need buyers for your bloody, soiled, dirty, or sweaty underwear, checkout threads such as r/UsedPanties4U, r/pantyobsession, r/SweatyPanties, and r/sniffingpanties.
These are NSFW threads where people discuss sex-positive issues and products in a frank manner.
Reddit does not take part in any of the discussions, meaning that you are all on your own; you decide who to sell to, at what price, and how to get paid.
The site is also ideal for promoting your online used underwear shops.
Sofia Gray Reviews: Is it Really Worth It?
Sofia Gray is a legit marketplace with many buyers for used panties and other sex-positive content.
Lucky sellers can make good money, with SG Superstar-level sellers reporting earnings of $1,000 or more weekly.
The sales for an average user is, however, 8 panties a month at around $30 each. This is not a good haul considering that getting a buyer to be interested in your pantie can take hours.
As such, Sofia Gray may not be the best place to sell your used underwear.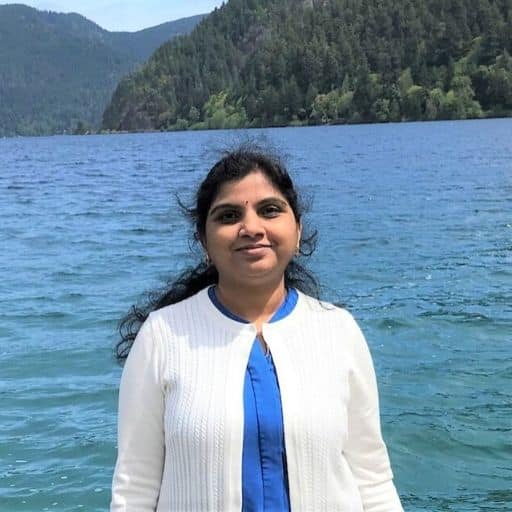 Hey Folks, thanks for stopping by my blog!
I'm Swati. I'm a mom, side hustler, full-time blogger and a millennial work-at-home expert featured on Forbes, CEO Blog Nation, Referral Rock, Vital Dollar, and Databox blog. I embarked on this impeccable journey to expose my online monetary experiences and help you all earn money from home. Come join my make money revolution and attain financial freedom – it's not as hard as you think!