Is Cash App taking money without permission? You could be a victim of various Cash App scams that see mobile money users lose millions of dollars daily.
Apart from losing funds from your Cash App balance, you may also lose money from your linked bank account through such unauthorized or suspicious transactions.
This is despite the fact that Cash App payments are secured through industry-standard end-to-end data encryptions. The app also has features such as Touch ID and one-time passwords to ensure only the right person can access a specific Cash App account.
Scammers are, however, busy finding new ways to make you send money to strangers. The worst of these schemes is hackers taking access to accounts and taking money without users' authorization.
Can you get your money back after a fake Cash App transaction? This post guides you on the Cash App refund policy and how to dispute suspicious money transfers.
Cash App Taking Money Without Permission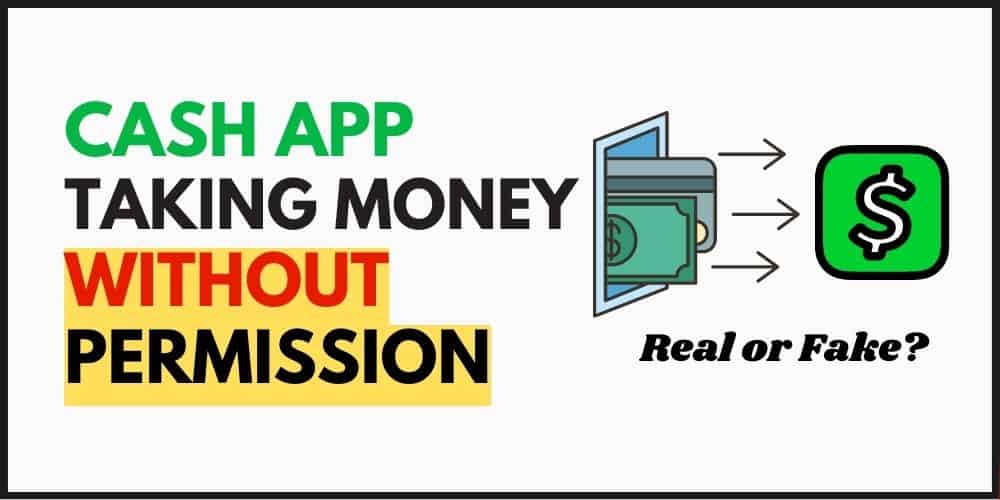 Can I Dispute a Cash App Transaction With My Bank?
Yes, it's standard to dispute Cash App transfers that involve your linked bank account. Your banking institution has fraud and customer support teams that investigate and resolve disputed transactions.
As you know, to fund your Cash App to send money to family and pay for goods/services online, you can source money from your bank account.
This is made possible by linking the card issued by your bank to your mobile wallet.
Cash App supports most banks in the US and the UK. You can add a Discover, Visa, American Express, or MasterCard card account.
With this in mind, you can also dispute a transaction with your card service provider.
Contact your bank in person or online via their customer service page/portal. For the card issuers, inform them that 'Cash App stole my money' via:
Cash App Dispute Process
You initiate a Cash App dispute investigation by calling, emailing, or using your app to contact Cash App customer support and your bank. Typically, you need to provide some specific information about the transaction in dispute.
Once the support/fraud team receives your issue, they investigate and get back to you with a resolution within 10 days.
The team or the agent tasked with the dispute can contact you within the time frame for more information; this usually takes place during the first 3 days of reporting that something is amiss with your Cash App.
Has your Cash App been overcharged after sending a payment to a business? Cash App recommends that you contact the merchant directly, immediately after you notice the money is missing from your balance.
To log a dispute on Cash App:
Open your Cash App and click the User Icon.
Scroll down and tap Support.
Tap Start a Chat and
Type "Cash App took my money" in the chat field.
Tap Send.
A Cash App Support representative will get back to you with questions to authenticate you are the right account's user. They will also ask questions pertaining to the transfer that you are reporting.
You can also get Cash App support by calling 1 (800) 969-1940 or via their various social media handles and other means as indicated in the table below: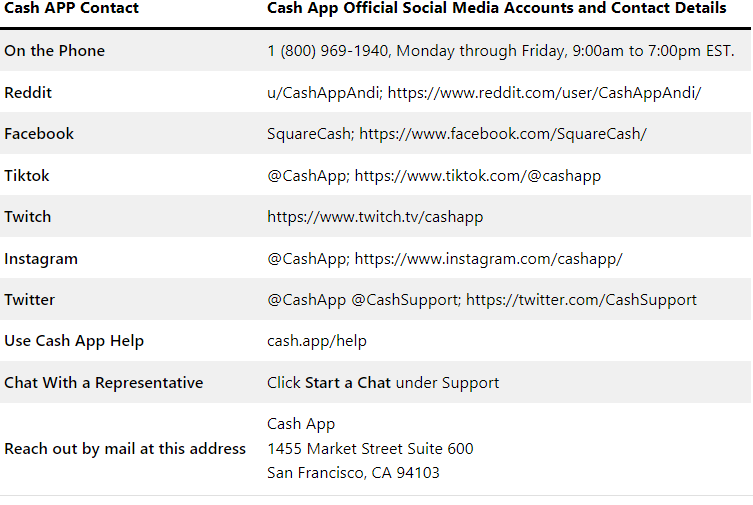 Note: Whenever you dispute a linked card transaction via Cash App, the team at Square Cash may also file the issue with your card network and the merchant involved in the transfer.
Cash App Refund Policy
Cash App Refund Policy states that "Refunded payments are generally returned instantly to your Cash App balance if the funds were sent from your bank or Cash App balance".
Further, transfers involving a linked credit card or debit card are refunded to the specific card after investigations. Such refunds take around 5 days to show on your bank card balance.
The waiting period is required by Square Cash and your bank to reverse the transaction.
How To Get Money Back On Cash App If Scammed?
Cash App transfers are usually instant. This makes getting back your money after you have been swindled. Nevertheless, the app does offer ways, whenever possible, of disputing and regaining your lost funds.
Apart from disputing a payment, below is what to do if you send money to the wrong person/merchant or notice money missing from your Cash App:
1. Request a Refund
No scammer is willing to refund money after they have stolen it. That said, it doesn't hurt to try. If you are lucky, it may be just a misunderstanding. To request a refund:
Launch Cash App and click the Activity tab- the clock icon. above your balance.
Choose the suspicious debit.
Click the three dots (…) at the top
Select Request Refund from the displayed options.
Choose a reason for the refund, for example "I did not authorize this payment"
Tap Next.
Cash App forwards the refund request to the recipient. If they accept it, you get your missing funds within 3 business days.
Note: Cash App payments may not appear on the Activity tab after 30 days.
To request such refunds, type the amount in your home screen then tap Request followed by typing the To and For particulars. Complete the refund request by clicking Request.
2. Cancel The Payment
For some Cash App transactions, it takes time before the recipient gets their money.
If you are lucky, you can recover such funds via the Cancel feature, following the path:
Home screen > Activity tab > select payment > tap . . . > select Refund > press OK.
3. Cancel Recurring Payments
Could it be that you aren't being scammed but you are rather losing money to legit recurring bill payments? Check if you have set up automatic bill payments and cancel unwanted services.
While you won't recover previous payments, you can expect not to be debited going forward.
4. Report the Theft To the Police
Police and the FBI have fraud units that investigate all sorts of scams.
Notifying their respective online scam departments about your missing funds can help law enforcers to capture the culprits and get back your cash.
As an added measure, report the scam to the Federal Trade Commission.
Also Read: Cash App Payment Failed for My Protection Policy
Cash App Taking Money Without Permission: FAQs
Why Does Cash App Take My Money After I Receive?
You may notice a little deductions on the amounts you expected to receive via Cash App. This is usually as a result of setting up your account as a "Cash for Business" instead of a "Personal" wallet.
A 2.75% fee is charged on each debit transaction for business accounts. You are, however, not charged for instant deposits, meaning you can transfer and access funds instantly to your card.
Note: You can change your switch from a business account to a personal account to avoid the charges. Contact Cash App Support to initiate the switch.
Why Does Cash App Take Money I Send To My Bank Account?
Cash App does not charge for a standard Cash Out to your bank account. The money hits your account within 72 hours. However, if you want to access the funds in your linked debit card instantly, there is a charge.
A fee of between 0.5% and 1.75% is charged for the instant transfer. Nevertheless, the delay for around 30-60 minutes before debiting your bank account. There is a minimum cap of $0.25 for each instant Cash Out transaction.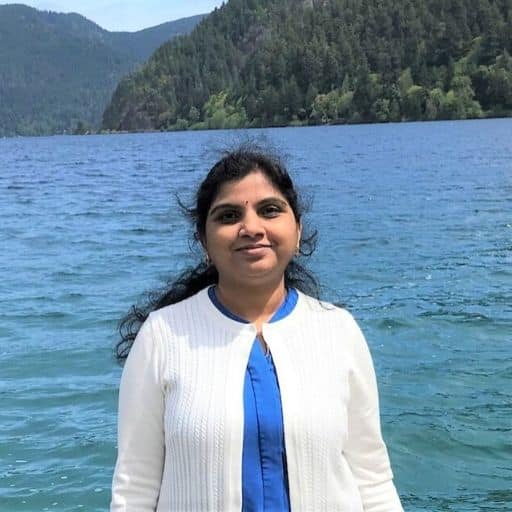 Howdy Folks, thanks for stopping by my blog.
I'm Swati, a proud mom, dedicated side hustler, full-time blogger, and a recognized millennial work-at-home expert. My expertise has been featured on esteemed platforms such as Forbes, CEO Blog Nation, Referral Rock, Vital Dollar, Databox blog, and many more. I have embarked on this incredible journey to share my firsthand experiences in the world of online income generation and to assist all of you in earning money from the comfort of your homes.
Join me in my mission to revolutionize the way we make money and achieve financial freedom. Trust me, it's not as challenging as it may seem!
Together, let's explore the boundless opportunities and pave our paths towards a prosperous future.