Looking for places that hire at 15? If you are a kid out for a job, you have many options, from working odd jobs around the neighborhood to waiting tables at restaurants near you.
Though at this age you have school and other co-curricular activities, you can never lack a few extra hours to make money. Experts also advise people to start working at an early age to gain financial independence.
With the money you earn, you can get started on saving or even offset some school costs for your parents.
Simply put, starting work early, as young as 14 years old, is beneficial in a multitude of ways.
So, where can 15 year olds get paying jobs and how much can you expect to earn? This post gives you answers to these questions as well as the labor laws on paid work for minors.
Among the companies that hire 15 year olds, which pays the highest? Read on to find out.
Can You Work at 15?
Yes, kids who are 15, or younger, can engage in meaningful employment.
Work hours for people in the age bracket are usually less than 20 hours in a school week or more during the holidays.
Depending on your state, there are laws, including federal, that govern the kind of work that kids can get paid for. The laws also stipulate the hours and pay ranges to avoid the exploitation of child labor.
Labor Laws That Apply to 15 Year olds
First off, minors can only work outside normal school hours; this is a basic law that applies in most countries. That said, the laws vary per the specific age and job a minor is engaged in.
In the US, the conditions for jobs for those under 18 are covered by the Fair Labor Standard Act (FLSA). It establishes job factors such as minimum wage and pays for overtime work.
Note, states also impose their own laws. In such cases, according to the Department of Labor, "if state law and the FLSA overlap, the law which is more protective of the minor will apply".
Generally, the rules for hiring teens who are below 16 years of age state that:
The allowable minimum age for getting employment is 14 years.

Minors can only work for a maximum of 3 hours when school is in session.

18 hours is the maximum hours minors can work during a school week.

Kids can only work during the day, between 7 AM and 7 PM.

During holidays kids can clock the normal 40-hour week.

No work permits are required for kids.

Once you are 18, the child labor laws stop applying.

Minors can't work under hazardous conditions for example driving and excavation. There are some exceptions to the rule if a parent is supervising.

Kids are exempted from most agricultural jobs, the exemption being family farms under the parents' supervision.

Jobs in the performing arts industry are open to kids of all ages.

Currently, the hourly federal

youth minimum wage

is $4.95. The rate applies for the first 90 days of daily employment, after which the federal (adult) minimum wage applies (currently capped at $7.25 per hour).
How Much Pay Should 15 Year Olds Expect?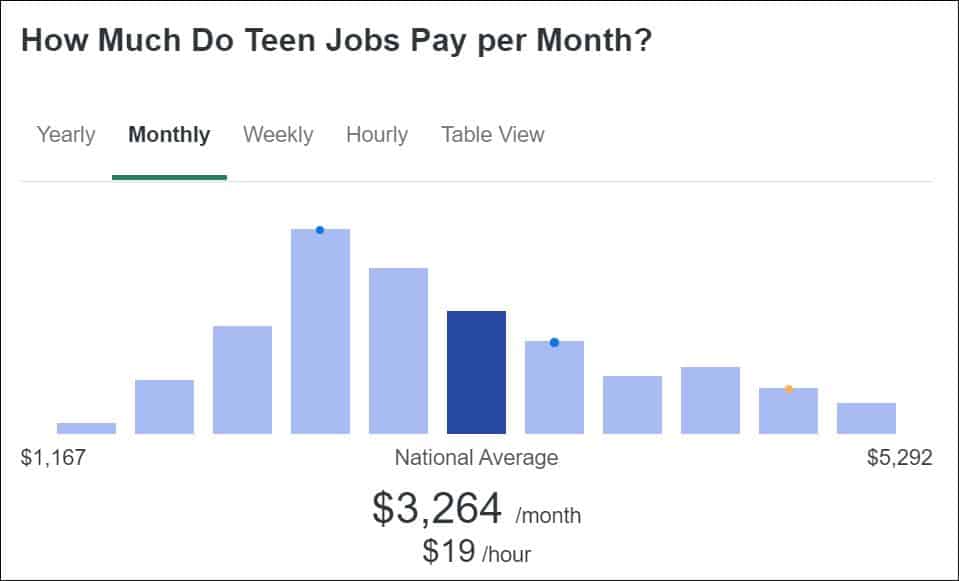 Companies that hire 15 year olds are expected to pay no less than the minimum youth wage, which stands at $4.25 an hour. After 3 months of consecutive work, the rate may be increased to $7.25 an hour.
Depending on the job, the employer, and your expertise, it is possible to make more than the federal wage for teens.
For example, ZipRecruiter reports a salary range of between $6.73 and $30.53, averaging $19/hour for teen workers.
Tip: Get a Cash App Card for Teens
Places That Hire at 15
Common places that hire 15 year olds include restaurants, grocery stores, odd job websites, and freelance online job platforms.
The work involves manning customer service desks, serving customers, and service jobs such as mowing lawns and babysitting.
15-year-olds can also take surveys and perform specialized tech tasks such as app development and testing.
To get a job, you just need to walk into the business and ask to talk to the hiring manager.
Luckily, most businesses now advertise vacancies online, making it easy to send in your application right from home.
Interested in making money at 15 and getting work experience at the same time? Try your luck in the places below:
1. AMC Theaters
For the best places to work at 14, 15, 16, or 17, I recommend you find an AMC Theater near you. Here you can work as a snack bar attendant or a cleaning person and still keep up with new movie releases.
A popular job for 15-year-olds is ushering people in and out of theaters. The company states that the job and hours depend on your age and the time indicated on your school work permit.
Some notable benefit of working here is a 50% discount on your food and candy purchases. Additionally, you occasionally get an extra free ticket for your special guest.
2. Dorney Park & Wildwater Kingdom
Teens have been working in amusement parks and circuses since time immemorial. If you are in the Lehigh Valley in Pennsylvania, get to the Dorney Park amusement park and ask for a job.
The park employs teens to work in the different attractions. Tasks involve park attendance, issuing/taking tickets, and serving food and beverages.
According to salary reviews on Indeed, the average hourly rate for crew members is $9.05.
Get Dorney Park & Wildwater Kingdom Jobs here
3. Six Flags
This is a theme park company with locations in the US, Canada, and Mexico. It is an American business headquartered in Texas.
27 properties including water parks, entertainment centers, and theme parks, are managed by the company. Jobs for teens in the establishments include attraction attendant, ticket collector, merchandiser, and server.
The company employs teens, from 14 years of age, on a part-time basis.
Check the Available Six Flags Jobs
4. ACX Cinemas
This is a movie theater company with cinema locations in Nebraska, Iowa, Chicago, and Wisconsin. Typical jobs for under 18 workers include ushers and food servers.
Among the qualities that will get you hired at ACX Cinemas include an energetic personality and working fast in a busy place.
5. Adventure City
Do you live in California, check out Adventure City at South Beach Blvd Anaheim for a job fit for teens. Attractions at the park include balloon races, freeway coasters, and carousels.
They also have a petting farm and an arcade games section. To work at Adventure City, you must be at least 15 years old.
Jobs at the park involve working as an entertainment performer, merchandiser, petting zoo attendant, party server, and park service.
Glassdoor reports salaries of $13 – $15 per hour for various teen jobs at the park
Download Your Adventure City Job Application Form
Survey Jobs Hiring 15 Year Olds With No Experience
Online surveys take only a few minutes to complete and submit. The pay is not much, but with the right survey site, you can accumulate good money over time.
The best part about remote surveys is that you can work whenever you are and you only need a smartphone and internet connection. Here are some surveys that teens can take part in:
1. Swagbucks
Swagbuck surveys pay via PayPal and e-gift cards. The studies come from different brands that are interested in your opinion as a consumer.
You can earn real money by answering questions on brand penetration, watching video playlists, and trying mobile apps. The site is available via browser, Android, and iPhone versions.
Swagbucks minimum age requirement is 13 years. Parents are however required to grant permission before teens can download and access the site.
Click Here to Join Swagbucks and Get a $10 Welcome Bonus
2. MyPoints
MyPoints reward you for shopping online, reading emails, completing paid surveys, and printing coupons. Surveys on the platform can pay you up to $50 per single study.
The site is open to teens and has a minimum payout of $3 that you can cash out via a gift card.
You can also accumulate points to redeem $25 or more that can be cashed via PayPal or Visa Card direct deposit.
Upon activation, new members earn a $10 welcome bonus.
Register for MyPoints Surveys Today
3. Branded Surveys
Branded Surveys is another top-rated survey site that accepts members starting at 13 years of age. The site has a 4.2-star rating from almost 65k reviews on Trustpilot.
Other research brands that offer survey opportunities via the site include Harris Poll, Nielsen, and GfK. Only UK, US, and Canadian residents can sign up on the site.
The platform pays via Branded Pay, Visa, and PayPal. You can also redeem your points for gift cards or donate them to charitable causes.
Get Started on Branded Surveys now
4. PrizeRebel
Taking simple surveys on PrizeRebel is your chance of making free PayPal money as a 15 year old. Minors as young as 13 years can join the website, provided they get parental consent.
The site was established in 2007 and pays via PayPal cash and a variety of gift cards. PrizeRebel accepts members from the UK, the US, Australia, and Canada.
You earn from surveys, as well as referring others to join the site. Successful referrals make you up to 20% of your friend's earnings.
Join PrizeRebel for Free Today
Stores that Hire at 15
For a teen searching for "places that hire at 15 near me", stores that specialize in groceries are a common hit. You can also land general stores that hire workers as young as 14.
Tasks involved in such jobs include helping customers shop and overseeing the checkout process.
Store workers may also find themselves behind the customer service desk, serving both in-person and remote customers.
Here are a few such stores with minors carrying out daily sales and other customers services:
1. Giant Eagle
This is an American supermarket with stores in Maryland, West Virginia, Ohio, Pennsylvania, and Indiana. It was established in 1918 and provides employment for both adults and minors.
Teens are usually employed to attend carts and offer clerk services across the company's 425 stores. 15 year olds can also work as cashiers in supermarkets.
The minimum age for employment here is 14 years. Students can also get internship opportunities at various Giant Eagle Supermarkets.
2. Dan's Fresh Market
Minors as young as 14 years can apply for jobs at Dan's Fresh Market. This is a grocery store selling meat, deli, fresh produce, and dairy.
The store has 4 locations in Utah. Common duties for minors include courtesy clerks, cart attendants, and ice cream clerks. Teens work part-time, no later than 7 p.m., and at 3 hours shifts max.
In case a specific permit is required for a certain position, for example, Ice Cream handling, the company helps out.
Dan's Fresh Market Open Positions
3. Safeway
This is a supermarket chain founded in 1915 and headquartered in Idaho. It currently serves 17 states with a typical store housing Starbucks, a meat section, a flower department, a deli, a bakery, a flower department, and a produce section.
The minimum age for workers is 14 years with minors helping customers bag groceries, collect empty carts, help customers to their vehicles, and clean spills.
Glassdoor reports a base pay of $15 per hour for most jobs designated for minors.
4. Wegmans
This is a family-owned food and groceries supermarket based in New York. The chain has stores in 109 locations across the mid-Atlantic and Northeastern states.
Depending on the job description, the minimum entry age is between 14 and 19 years. Cashier and Customer Service. The company requires minors to have work permits, which are issued by the school they are attending.
Indeed reports a minimum wage of $10 per hour for cashiers and stockers. The wage may vary depending on your state and how busy a store is.
5. King Soopers
This is one of the leading brands under The Kroger Company. It is a supermarket in the Rocky Mountains, with stores in Cheyenne, Colorado, Denver, and Wyoming.
Stores in the chain sell seafood, vegetables, deli, baked goods, and fruits. They start employment at age 14, with legal age proof from the school superintendent as a prerequisite for a minor's employment.
Depending on the duties, the typical hourly rate for minors ranges between $12 and $15 per hour.
6. Giant Food Stores
This is a regional supermarket in operation for almost a century. It serves several areas in Virginia, West Virginia, Pennsylvania, and Maryland.
They hire minors (at least 14 years old) for jobs such as bagging and handling carts.
The chain has over 150 stores that also offer clerks, cashiers, and bakery associate positions to older teens (16 and above).
Typical salaries for jobs designed for 14 and 15 year olds pay from $12.34 per hour.
7. Hy-Ve
This is an employee-owned general store with 280+ stores in the Sothern and Midwestern states; Kansas, Illinois, Missouri, Alabama, South Dakota, Minnesota, Iowa, and Nebraska.
Most Hy-Ve stores are full-service shops with coffee kiosks, bakeries, delis, floral departments, health clinics, meat sections, and fresh produce.
Part-time jobs for minors in the supermarkets include floral clerks, servers, cart attendants, and baggers. Typical salaries lay between $9.85/hr and $20/hr.
8. Harveys Supermarket
Compared to other stores that employ 15, Harveys is a mid-sized supermarket chain with around 46 locations. The stores can be found in the Georgia and Florida regions.
Some of their products include bakery, dairy, seafood, frozen foods, wine, bulk foods, and general merchandise. Jobs for teens include bagger, manning cash registers, and shopping associates.
Harveys Supermarkets' base pay is around $7.45 per hour.
9. Publix Super Markets
Popularly known as Publix, this is an employee-owned general store chain with main offices in Florida. The company was founded in 1930 and currently boasts over 1300 locations.
Stores in the chain are concentrated in the Southeastern United States with the majority being in Florida, Georgia, and Alabama regions. Teens in Publix work as baggers, cashiers, clerks, and customer service employees.
10. Stop & Shop
This is a popular regional supermarket company in the North Eastern U.S. The company is well over a century old and has over 400 stores under the brand.
It started as a grocery store but currently features meats, milk, frozen foods, and produce sections. Typically paid jobs for minors at Shop & Shop include grocery attendants and floral shop attendants.
Payscale reports an average hourly rate of $12.80 per hour for most Stop & Shop service jobs.
11. Fareway
Fareway is one of the best places for high schools to get work. This is a grocery chain dealing with meats, dairy, fresh produce, and baked goods.
The company was founded over 80 years ago with headquarters in Boone, Iowa. There are over 130 Fareway locations in South Dakota, Illinois, Iowa, Kansas, Nebraska, Minnesota, and Missouri.
Fareway is among the few companies that offer employee benefits towards payment of student loans. So, why not create a working relationship with the company, long before your college days?
Restaurants That Hire At 15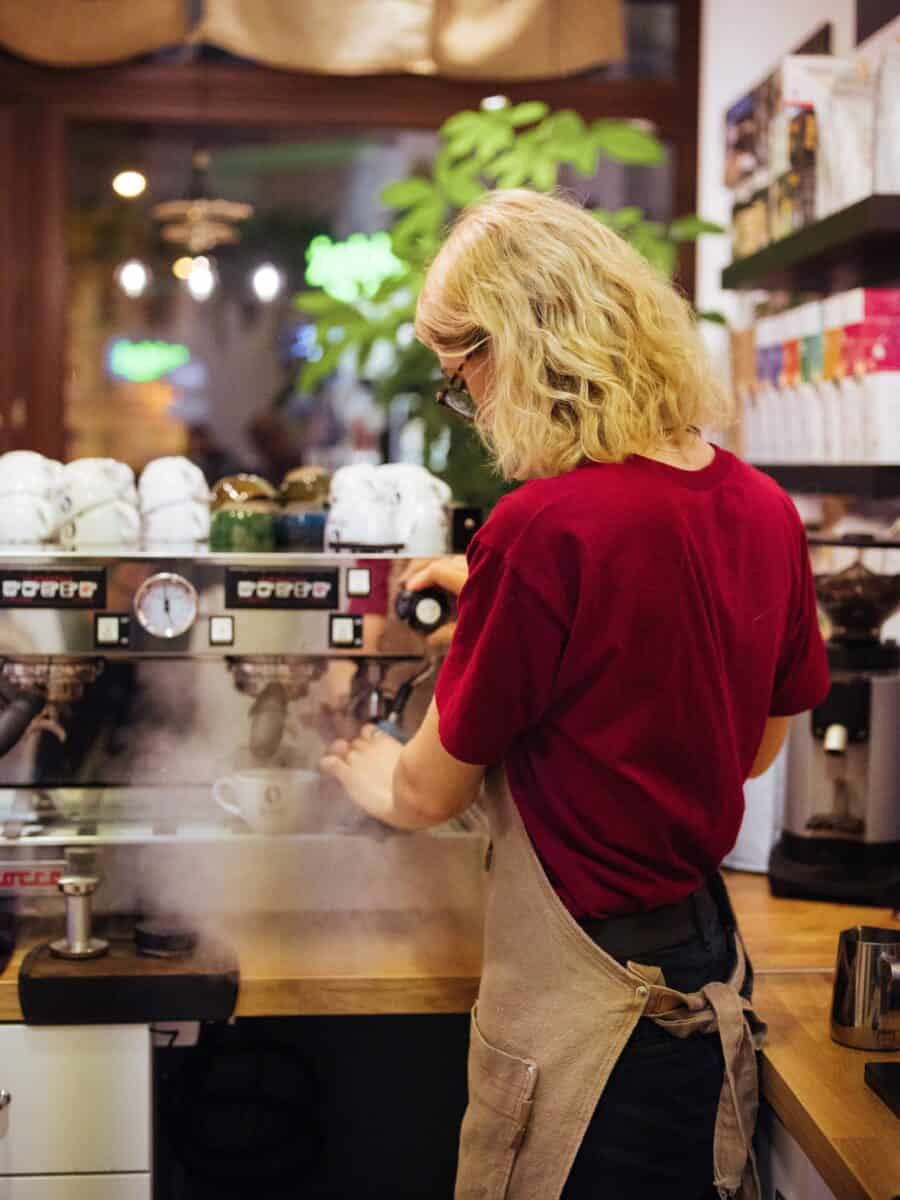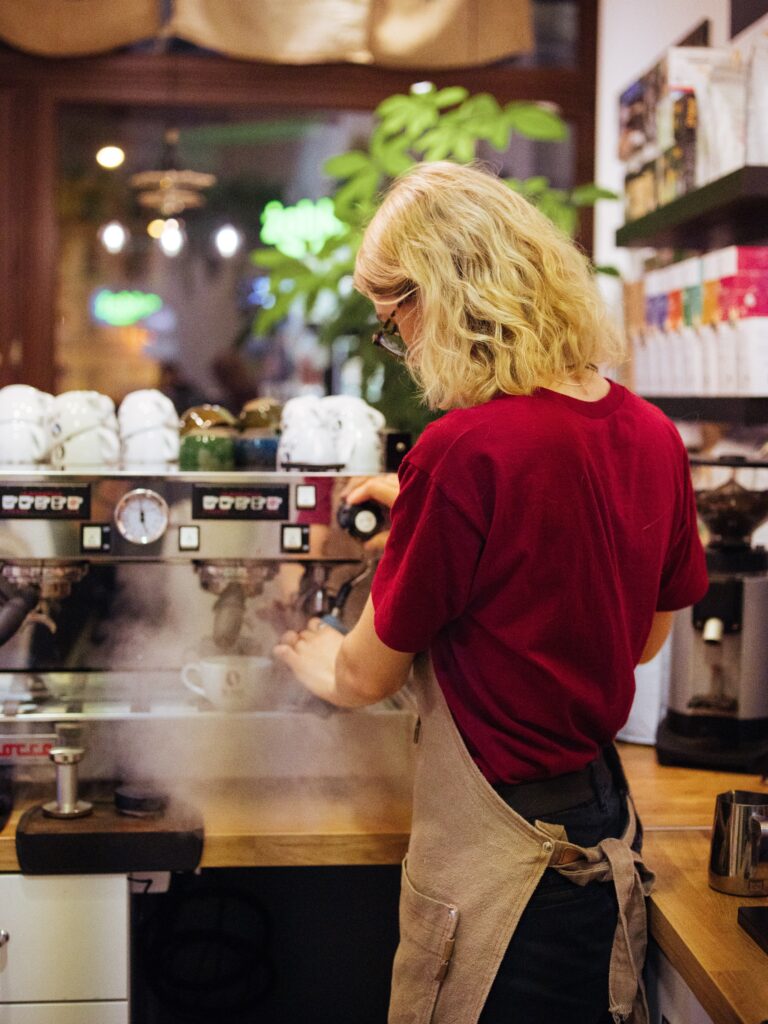 Restaurants offer easy jobs for teens to get paid, after school and during long breaks. The work does not require much training and the pay is usually above the minimum youth wage.
Additionally, most restaurants that hire at 15 are usually chains that have a presence in almost all states. Be on the lookout for the following brands near you:
1. Starbucks
Starbucks is one of the places where teens can land a job without formal education or prior experience. But you need to be great with customer service
To be eligible for hire at any Starbucks across the USA, you need to be at least 16.
Starbucks in the state of Montana can, however, hire minors as young as 14 as long as they work within state child labor laws on work permits and restricted hours.
At the entry-level, you will work as a barista and your duties include offering customer service, taking orders at the counter or drive-thru, making drinks, and operating the cash register among others. If you are lucky, you can also get an entry-level shift supervisor role.
You will earn hourly pay slightly above the minimum wage in your state, a $13 per hour average, weekly tips depending on the hours worked, and other benefits.
2. Taco Bell
If you have a work permit and will observe work hour restrictions, you may get an opportunity to work at the American-based fast-food franchise.
Some Taco Bell stores hire customer care assistants, cashiers, and cleaners who are 14 and 15.
Most stores will require cooks and team members to be at least 16 years old. Previous experience is not necessary but it can increase your chances of being hired or getting a better rate.
3. McDonald's
With over 13438 locations in the US as of 2021, McDonald's is among the best places to work at 15.
They hire from 14 years old for the positions of crew members, customer service representatives, cashiers, maintenance technicians, and shift managers, among others.
At the entry-level positions, you can earn $9.00- $10.00 per hour, and a bit more in supervisor positions.
Working at McDonald's you will get comprehensive training, free meals on shift, holiday bonuses, and additional benefits that come with full-time employment.
4. Pizza Hut
If you are searching for jobs that hire at 15 near me, I bet Pizza Hut will come up.
This multinational restaurant chain is the largest pizza company in the world with over 18000 restaurants in over 100 countries and 6000+ store locations in the US.
The general minimum age for Pizza Hut employees is 16 years but 15-year-olds can be hired in some locations to be cashiers, wash dishes, sweep and mop floors, and bus tables. For management jobs, you need to be at least 18.
Pizza Hut pays varied rates depending on the job titles and can range from $7- $23.
5. Boston Market
Boston Market hires people from at least 15 years of age for cashier, cooking, customer service, cleaning, food service, and food dispensing positions. Certain jobs such as food delivery driver and managerial positions require you to be at least 18 years before you can apply.
Entry-level employees or crew members usually earn minimum wage. Previous experience in food service or customer service can be an added advantage.
6. KFC
KFC is a global chicken restaurant brand with over 4200 restaurants in the US.
KFC usually hires from 16 years of age but 14 and 15 years olds with student work permits can be hired to work as customer service assistants, cashiers, and cooks.
As long as you are friendly, energetic, and ready to embrace a team spirit, you don't need experience in the food industry since KCF provides on-the-job training.
As an added advantage, the company provides its young applicants with programs to help them advance their academic and career goals.
KFC states its pay is varied but according to several sources, entry-level employees should expect $8-$13 per hour.
7. Burger King
Burger King can hire 14 and 15-year-olds with work permits to handle tasks that don't involve working with open flames, boilers, deep fryers, and other hazards. Young teens usually work the register, operate the drive-thru window, and clean up.
Still, most Burger King establishments put the age limit for employees at 16, so you might want to check this before applying in your area.
According to Zippia, the starting pay at Burger King is about $9.13 but the exact figure may vary depending on location or position.
8. Baskin Robbins
Baskin Robbins is a global chain of ice cream shops. Teenagers can apply for jobs as crew members, cake decorators, counter helpers, and team leaders.
The minimum age for employment at Baskin Robbins is 14 years old. However, some stores and locations start hiring at 16.
The establishment requires applicants to have reliable transportation, be legally allowed to work in the US, and be able to work multiple shifts.
The pay at Baskin Robbins varies based on factors such as job position, store, and location. Indeed puts the average pay at $7.69- $17.70.
9. Rita's Italian Ice
Rita's Italian Ice restaurant franchise is famous for its Italian ice and frozen custard and with 541 stores in the US.
The company hires teens from 14 years old who possess commendable work ethics, excellent communication skills, attention to detail, exceptional customer service, and the ability to work long shifts.
Available positions include working the cash register, cleaning, operating kitchen equipment, and preparing pizzas, ice, and Rita's cool drink.
10. Subway
Subway is a multinational fast-food franchise with 20k+ stores in the US. Some positions in Subway will require you to be at least 18 years even at the entry level while others can be taken by 15-year-olds.
Jobs for younger teens at Subway may include making sandwiches, working the register, customer service, and cleaning.
To know if you are eligible for employment at Subway, you should check the child labor regulations in your state as well as the Subway restaurant near you.
According to Payscale, the hourly pay ranges from $7.96- $15.05.
11. Arby's
Arby's is an American fast-food sandwich restaurant chain with over 3,400 stores.
The restaurants usually hire 16 but 15-year-olds can be hired in various locations or at the discretion of the management.
Typical jobs at Arby's for young teens include welcoming guests, ringing up sales, filling custom orders, cleaning, and operating the drive-thru.
Also, Arby's provides paid training and an opportunity to advance through the company.
12. Chick-Fil-A
Chick-Fil-A fast food restaurant chain specializes in chicken sandwiches and boasts over 2800 stores in the US.
With a valid work permit, you can get a job at some Chick-Fil-A stores at 15, though others only hire from 16 years and older.
Certain establishments might also require certification from your school to verify that you attend school and perform adequately.
Even without prior experience, Chick-Fil-A hires teens who demonstrate an eagerness to work hard.
Teens are usually hired to work the cash register, work as team members, clean, and man the drive-thru.
Check Out This Ultimate List Of 24 Hour Restaurants Open Near You
Jobs Hiring 15 Year Olds Near Me
If you live in a rural area without many general stores and restaurants, don't shy away from searching for jobs for 15-year-olds.
Every community, urban or otherwise, does not lack jobs that are best suited for minors. I'm talking about tasks such as looking after pets and running errands.
Interested? Here are the top job opportunities near you as a teen:
1. Babysitting
If you enjoy the company of babies, then you'll find babysitting to be an easy gig when you are 15. Teen babysitter skills include childcare skills and basic fast aid.
You can get babysitting gigs in your neighborhood on Care.com. The going rate for part-time baby care jobs is from $6.49 to $32.93, according to ZipRecruiter.
2. Kennel Assistant
Do you love animals? If yes, you can make money during your free time as a kennel assistant. Typical tasks include grooming cats and dogs, bathing them, and cleaning their cages.
You can get the job at your local veterinary clinic or animal shelter. Depending on your interpersonal skills, you may also be required to check in customers and other guests.
Kennel Assistants make around $13.09 per hour.
3. Carwash Attendant
Washing cars does not require specialized skills, except the use of equipment such as a vacuum cleaner. Your work is to wash and shine both the interior and exterior of vehicles.
You also have to dry damp surfaces and remove dirt from floor mats and the trunk. All you need is to offer your services to your neighbors. Luckily most car owners have basic carwash equipment to make your work easier.
The job pays $15.43 on average.
4. Graphic Design
There's no age limit for a graphic designer's job as long as you possess the skills, creativity, as well as ability to use various software to produce artistic or decorative effects.
Depending on your level of expertise, you can be hired to do illustrations for Ads, brochures, reports, and magazines.
You can start with family, friends, and local businesses who can then help make referrals. Ith graphic design, you can set your own rate.
5. Lifeguard
If you are a good swimmer, you can get a lifeguard position in your local swimming pool. The job also requires first aid skills that you can acquire from a Red Cross center near you.
Training includes a 300-yard and 2-minute tread swim plus retrieving a 10-pound weight from 7 feet below the water level.
The course takes around 30 hours to complete and comes with a lifeguard and first aid certification.
On average, Lifeguards earn $14.54.
6. Dog Walking
Are you good with pets? You can make some money doing something you love. Dog walking entails ensuring that a dog gets enough exercise at a designated time and if need be, food and water.
Local Facebooks groups and local job boards are great places to get dog walking jobs. Even better, neighbors, family, and friends would appreciate a familiar face taking care of their furry companion.
You can set your rate for the job but on average, dog walkers earn about $15.42
7. Library Assistant
Working as a Library Assistant means being surrounded by books all day long. The opportunity can help you get great extra hours of learning during your work time.
You help librarians to sort and issue books to members. Most libraries also carry out ongoing digitization of hardcopy files, a task that is rewarding and helps you sharpen your typing skills.
The gig can make you $16.36 per hour.
8. Tutoring Younger Kids
One of the most common gigs you will find in the list of jobs for 15 year olds near me is tutoring. Since you are already in high school, you have the necessary education to help elementary kids in their studies.
This is a gig that you can try in combination with babysitting to earn extra money. You'll be expected to show the youngsters an easier way of solving questions and how to ace their tests.
Tutors are paid depending on the subject and education level, but even at 15 you can make $20 per hour easily.
Check Out: Virtual Jobs for High School Graduates
Benefits of Working at Age 15
Teens as young as 14 can benefit a lot by entering the workforce.
Not only is a job a chance to prepare yourself for a meaningful life after school, but also a way to develop character as a young adult.
The main benefits of working for pay at a young age include:
1. Making Money
Ask most teens why they work and the answer has to do with earning money. With their earnings, teens are able to shoulder the cost of snacks, some school supplies, and trips to the mall.
They can also use the money to buy video games and other in-app purchases, without involving you. Is your kid looking forward to getting a car? Let them start working for gas money today.
2. Building Character
As much as teens are taught by their parents and teachers, there are lessons that they can only learn away from home and school.
It is in a typical workplace that they learn the true value of hard work, accountability, commitment, and responsibility. These are important and applicable character development factors that are invaluable in the long run.
3. Gaining Skills
Work requires organizational skills and a host of other skills. These are tools that you need to function independently in society.
FAQs
1. How old do you have to be to work at Dollar Tree?
Dollar Tree, an American Fortune 500 business only employs teens who are 16 years or older. The company has stores in almost all states and deals in health and beauty, party, holiday decor, glassware, and household supplies among other items.
2. Can you work at Walmart at 15?
To work at any Walmart location, you need to be 16 years or older. The conglomerate has over 10,500 retail units under its banner and over 2.3m employees. Common jobs at Walmart include customer service and check-out assistance.
3. What jobs pay the most at 15?
Jobs that pay the most at 15 include dog walking, tutoring, and car washing. The same goes for jobs hired by adventure city, Safeway, and King Soopers. In all these, you can make somewhere between $15-$20.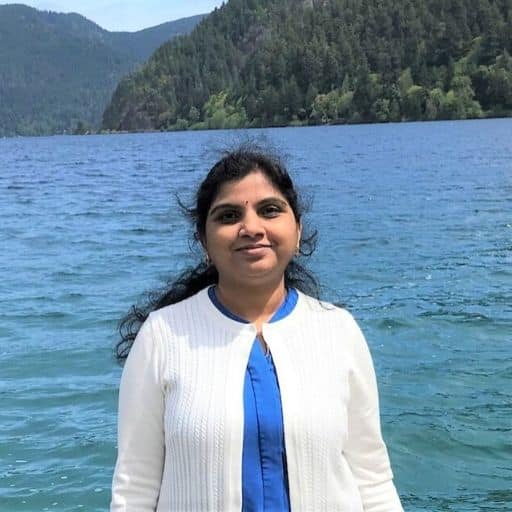 Howdy Folks, thanks for stopping by my blog.
I'm Swati, a proud mom, dedicated side hustler, full-time blogger, and a recognized millennial work-at-home expert. My expertise has been featured on esteemed platforms such as Forbes, CEO Blog Nation, Referral Rock, Vital Dollar, Databox blog, and many more. I have embarked on this incredible journey to share my firsthand experiences in the world of online income generation and to assist all of you in earning money from the comfort of your homes.
Join me in my mission to revolutionize the way we make money and achieve financial freedom. Trust me, it's not as challenging as it may seem!
Together, let's explore the boundless opportunities and pave our paths towards a prosperous future.