The best online jobs for high school students can be your easy way of making money year-round. The gigs beat the traditional summer jobs that only last months without much career growth.
This is not to say that babysitting and mowing lawns can't earn you extra money, but with remote jobs, you make much more even during school days and continue working while in college.
However, when you're looking for online jobs, due diligence is paramount and your efforts are rightfully rewarded.
In this post, I will not only highlight the different ways to make money online as a teen but also how much to charge for your services.
Also, read on for where teens and high schoolers find great online gigs, paying real money.
Here we go, starting by answering pressing questions about working while in school.
How Much Money Can You Make as a Teen?
Usually, jobs available to high school students pay hourly from as low as $3 to as much as $50+ per hour. The rate depends on your experience, the employer's offer, and your availability.
From employer job postings, ZipRecruiter reports teens earning an average of $19 per hour.
Top earners in this age bracket make $5,250 monthly, with the minimum pay reported as $1,125.
Online Jobs For High School Students With No Experience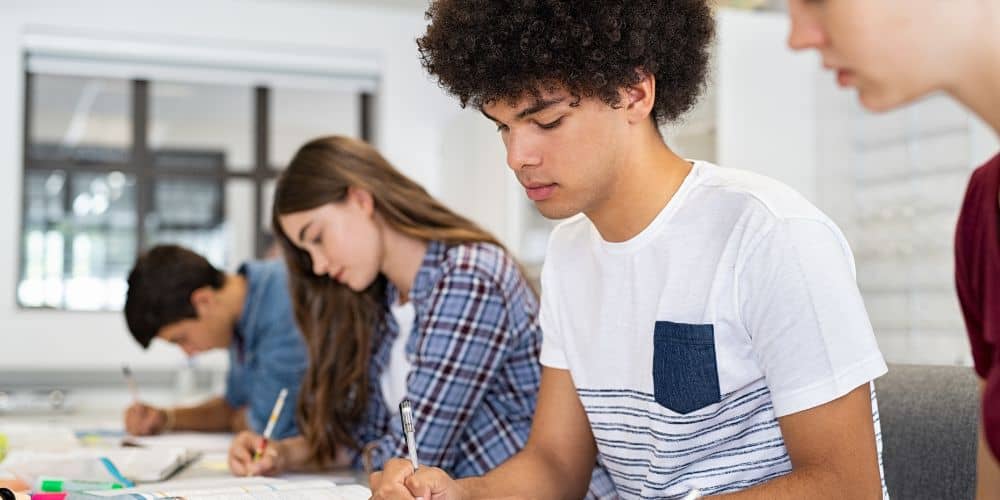 Understandably, to earn extra cash in high school, a job that does not require prior experience is ideal.
I'm talking about tasks that you already perform for free and are used to them. Here are some examples:
1. Playing Video Games
| Average Pay: $27/hr
Working online doing something you already love can be very satisfying. And there is no easier way of earning in the online world than playing paid video games.
On platforms like Twitch and YouTube, you can earn by attracting a huge following of subscribers who watch your gameplay.
The industry is also competitive with budding gamers paying to learn how to level up.
There is no age limit on the hustle and you can work from home on a PC or through your phone wherever you are.
2. Completing Online Surveys on InboxDollars
| Average pay: $0.02-.$5 per survey
Paid online surveys offer easy money to people of all ages. On sites like Inbox Dollars, you earn up to $5 for answering questions about everyday products including your favorite TV shows, foods, and the like.
The platform is legit and rated A+ on BBB and rewards you with $5 when you sign up. Additionally, you can earn free money on the site by sharing your referral links with your friends.
3. Online Typing jobs for High School Students
| Average pay: $28 per hour
Can you type numbers and letters? That's just about the skills needed to earn as an online typist. The best online job for students in this category is data entry.
The job requires you to input data into document processing software like Microsoft Excel and Google Spreadsheets.
To get online data entry jobs, head over here for gigs paying up to $50 per hour.
4. Listen To Music on PlaylistPush
| Average pay: $12 for each review
Yes, you can listen to new music and get paid as you work after-school gigs. On PlaylistPush, you are paid to curate different playlists for different occasions and audiences.
You also get a chance to help upcoming artists by reviewing their unreleased music. Pay is via instant bank account deposit.
Another site with similar jobs for teens and high schoolers includes Slicethepie.
Sign Up to Get Paid on SliceThePie
Freelance Jobs for High School Students
Freelancing has taken hold as a major way to make a living. The good thing is that there is no age requirement to become a freelancer.
Also, there is so much that you can do to earn money as an independent or self-employed high or college student. High-paying online gigs include:
5. Online Tutoring Jobs For High School Students
Many high school students believe that they don't possess the skills necessary to compete in the global workplace. But that's not true.
At the high school level, you already have experience as an elementary and middle school tutor. One of the best ways to freelance from age 13 is through the Fiverr marketplace.
Start by creating a Fiverr seller account then list your tutoring services and hourly rate. You can charge any amount from $5 up to $10,000 for a single gig.
Freelance tutoring can include popular subjects like Math, Languages, and Sciences. If academics is not your strong suit, you can teach by playing an instrument and video games.
6. Become a Proofreader
| Average pay: $25 per hour
When looking for easy online jobs for high school students, proofreading ranks among the best gigs. All that is required is that your written language is impeccable.
Proofreading jobs from home in high school can prepare you for a career as a copy editor for a publishing company or website.
To learn the craft, I recommend registering for Caitlin Pyle's Free Proofreading Workshop.
7. Try Virtual Assistance
| Average pay: $23.87 per hour
Many business owners hire virtual assistants to deal with customer queries for their online brands. Tasks for VAs also include social media management, scheduling, and planning projects.
Gina Horkey's Fully Booked VA training can help you know which services to offer and how to start earning money online during the holidays.
If you are good at graphic design and data entry, you can leverage the skills to earn over $50 per hour as an expert VA. You can find virtual assistant jobs on the likes of Upwork and Flexjobs.
8. Writing Jobs
| Average salary: $32 per hour
One of the best online and virtual jobs for high schoolers is freelance writing. You can curate short stories, ebooks, or even web and blog posts.
You get paid per word or project and the work can be especially satisfying if you are a literature student. Also, many editors hire high school students to produce and edit writing aimed at young adults.
Find online writing jobs on ProBlogger and People Per Hour.
Online Summer Jobs for High School Students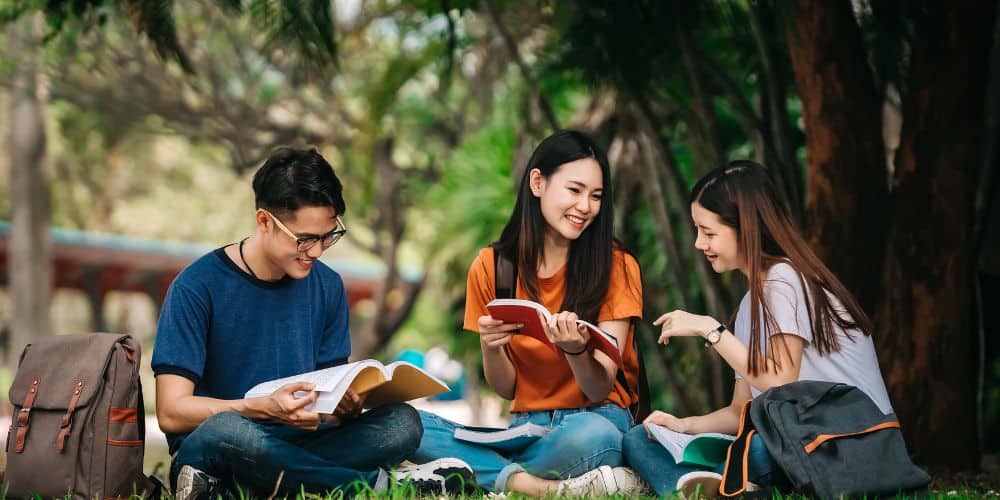 High school students who want to work online after graduation can use the summer holidays to gain experience. The idea is to find online jobs for teens and high schoolers with entry-level requirements.
Best high-paying summer gigs include:
9. Selling Stuff Online
| Average pay: $10 -$50 per item
Do you have old games and gaming devices gathering dust, try selling them online. The internet marketplace has buyers for everything including your old sneakers and textbooks.
There is no age limit on listing things online, making this one of the best ways for teenagers to earn.
What's more, with each successful sale, your reputation as a seller rises, improving your credibility over the year.
Make money from home selling on Online Consignment Stores Near You, Facebook Marketplace, and eBay.
Depending on your products, you can make $10 -$50 and $500+ for vintage items like popular baseball cards and trending Beanie Babies.
Related Read: Learn to Post Garage Sale On Facebook Marketplace and Top-Selling Items On Facebook Marketplace
10. Design Printables
| Average profit: $1,000 per month
Printables are designs that can be sold remotely for buyers to label their products. Your designs can be used to decorate merchandise such as t-shirts, mugs, and phone cases.
The best part is that each of your design templates can be sold countless times to earn you cash over and over.
Looking for free online jobs? You can start your printables business using free templates on Canva and Printful.
11. Consumer Service Representative
| Average pay: $15.87 per hour
Some online jobs can teach you how to run a business in the future. One such opportunity is becoming a consumer service rep for your favorite brands.
The job requires you to connect with customers via platforms such as email, text, social media, and calls.
12. Transcription
| Average pay: $21 per hour
Transcription involves listening to both audio and video clips, and typing what you hear. With good listening skills and a fast typing speed, you can work online as a highly paid transcriptionist.
To land a constant supply of jobs, start by learning the basics of transcription from Transcribe Anywhere's Free 7-Lesson Course. This is a mini course that teaches you the job requirements, skills, and how to build a transcription business.
The job pays well, with specialization in legal and medical transcription making you over $40 per hour.
Home-Based Online Jobs for High School Graduates
There are many online Jobs for high school graduates with no experience. This is good news for high school students looking to make money for tuition and other college expenses.
Interested? Below is a list of the best online jobs for people with little to no experience:
13. Test Websites and Apps
| Average salary: $10 – $20 per test.
Web platforms need to be tested for usability and bugs before they debut in the mass market. You just need a computer or a smartphone to work as a tester.
You can also test wearable tech for free without buying any upgrades. The hustle also includes completing product reviews to help brands improve their designs.
Sites such as UserTesting and UTest can help get you many at-home user tester jobs.
14. Become a Blogger
| Average pay: $20 per hour
You can share your views online as a high school graduate and earn good money. A simple way of doing this is by starting a blog about anything, from life in high school to work before college.
As your readership and brand awareness rises, you can easily earn through paid ads from partners who resonate with your message. You also earn through affiliate links and paid guest posts.
Related Article: Starting a Profitable Blog
15. Become a Brand Ambassador
To get the word out and attract new customers, companies and brands need influencers to market their products. That's what brand ambassadorship is all about.
However, it's your readership or social media following that makes you a good candidate for an ambassadorship. You get paid for attending events and through affiliate links. Other responsibilities include content creation for extra pay.
Get started with Boostapal's program that pays $10 for every friend you enroll.
16. Market Research
| Average pay: $25.19 per hour
You can work online as a high school graduate market researcher using skills you learned from school. All it takes is knowing how to use search engines like a pro and interpreting data.
This is among the high-paying jobs for high school graduates with top earners making $44+ per hour.
The job is also handy, especially when looking forward to a career path in Math, Statistics, and Data Science.
Find jobs under this category on Upwork and Freelancer.com
Best Jobs For High School Students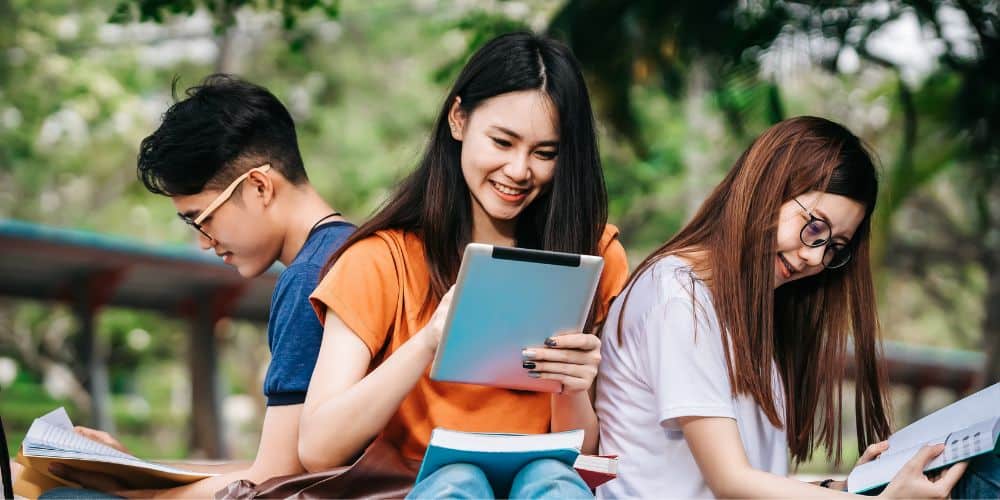 Top jobs for students to earn money online include gigs that can help you in your career path. These are jobs with lots of growth opportunities and the potential for high pay as you gain experience. Such jobs include:
17. Graphic Design
| Average salary: $20.09 per hour
Graphic designers are responsible for creating visual content on websites, digital signboards, and printed media. The work requires a keen eye to enable the conceptualization of the client's ideas using color and shapes.
This is a skill that is invaluable to students looking to major in Fine Arts or Design. Tools used by graphic designers at home include Adobe Photoshop, Canva, and Gravit Designer.
18. Voice Over Jobs
| Average pay: $38.92 per hour
VO jobs are some of the best online jobs for teenagers looking to pursue acting after school. Tasks include recording audiobooks, adverts for radio, and animation videos.
The gig is satisfying and a good way to develop your acting talent and prepare you for the big screen.
19. Photography
| Average pay: $17.69 per hour
Freelance photography can help you become a commercial photographer in the future.
And with the increase in demand for visual content creators for internet marketers and advertisers, this is a career with the potential for high-paying gigs.
Learn how to get paid to sell photos of your body!
So, Can You Make Money As A High School Student?
Yes, many teens earn through gigs such as washing cars, waiting tables, and babysitting.
There are also many online jobs for high schoolers including part-time jobs as proofreaders, homework tutors, virtual assistants, and more.
Also Read: How to Get Started With Cash App for Kids [under 18]
Tips to Make Money as a Teenager
Beware of online scams that mine your personal data and financial information. Find out if the platform you are working on is rated well by reviewers and their data privacy safeguards.
Take every opportunity to learn. Some tasks from your clients may seem off the contract, but that's the nature of the workplace- take everything in stride.
Get guidance from your parents or guardians. This is to avoid getting exploited by clients, especially on the pay rate and work hours.
Take breaks to avoid burnout.
Always ask for clarification on instructions that seem vague.
Join and be active in online communities or forums that are specific to your job. This will help you learn new developments in your industry and know where to get better job opportunities.
Also Read: Can You Work at 15 and Places that Hire 15 Year Olds
FAQs
1. Are there online jobs for teens?
You can work part-time during high school on jobs such as blogging, online surveys, paid video play, and proofreading. These are jobs that don't require much training and can help you develop competitive skills for your employment after school.
2. How much money can I make online as a teenager?
Depending on the job and your experience, you can earn a few to hundreds of dollars per hour. For example, online surveys can pay up to $50 per job while freelance writing can earn you over $2,000 per month.
3. What are the best online jobs for high school students?
There are many online jobs for teens paying highly. Such jobs include:
Graphic design.
Voice-over artist.
Virtual assistant.
Brand ambassador.
Market research.
4. Where can I get high-paying jobs for high schoolers?
If you have family working online jobs near you, approach them for paying opportunities. Also, you can look into sites such as Upwork, Flexjobs, Fiverr, and People Per Hour for entry-level remote jobs for teens.
5. How can a teen make money online fast?
In addition to working on tasks such as paid surveys, video games, and freelance writing, there are many ways to earn fast online.
Some good examples include selling old and used tech, clothes, and toys on Facebook Marketplace and flipping stuff on the likes of Craigslist.
Online Jobs for Teens: Final Thoughts
Looking for high-paying jobs for teenagers has been made easy by platforms such as LinkedIn and mTurk.
These are job boards listing thousands of jobs, from mainstream gigs like virtual assistance to little-known jobs like becoming a human billboard.
You usually get paid via systems such as PayPal and your salary is calculated per hour.
What's more, online gigs come with rankings that can help you stand out as an expert to enable you to charge high rates.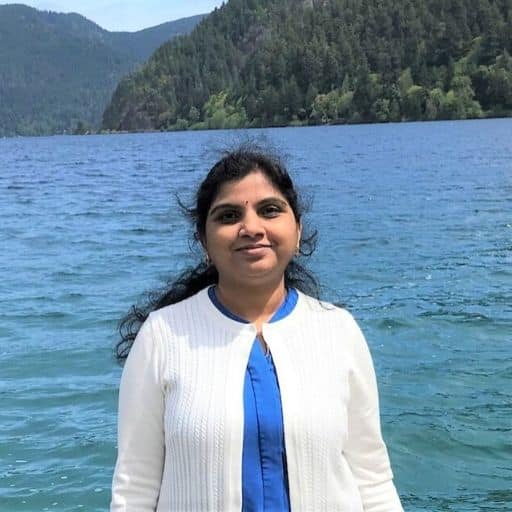 Howdy Folks, thanks for stopping by my blog.
I'm Swati, a proud mom, dedicated side hustler, full-time blogger, and a recognized millennial work-at-home expert. My expertise has been featured on esteemed platforms such as Forbes, CEO Blog Nation, Referral Rock, Vital Dollar, Databox blog, and many more. I have embarked on this incredible journey to share my firsthand experiences in the world of online income generation and to assist all of you in earning money from the comfort of your homes.
Join me in my mission to revolutionize the way we make money and achieve financial freedom. Trust me, it's not as challenging as it may seem!
Together, let's explore the boundless opportunities and pave our paths towards a prosperous future.