Interested in Amazon microjobs? This Amazon Mechanical Turk review will help you get started with taking micro jobs on Amazon!
Known as MTurk, the platform offers jobs like data entry and surveys, collectively called Human Intelligence Tasks (HIT)s.
As an online worker myself, I know it helps to focus your efforts on jobs that don't take a long time to complete yet pay highly. So, first things first, is Amazon MTurk a legit way to get paid online?
To answer, this MTurk money guide looks at various reviews to help you know the qualification, payout methods and expected MTurk earnings in one month.
Apart from learning how to make extra money via MTurk tasks, we shall also be looking at frequent queries on how the platform works, in our FAQ section.
Amazon Mechanical Turk Review [Overview]
| | |
| --- | --- |
| CRITERIA | FEATURES |
| Year Established | 2005 |
| Purpose | A crowdsourcing marketplace that connects businesses with people who want to make money by completing HITs. |
| Available Countries | 43 Countries including the UK, the US and India. |
| Applicable | 18 years and older |
| Subscription Plans | None |
| Average Earnings | Varies with task |
| Cuts & Commissions | $0.01/task or bonuses and an extra 20% for 10+ HIT assignments. |
| Payment Method | US Dollars or Amazon Gift Cards |
| Minimum Payout | $1 |
| Bonus Program | Bonus payment: Additional grant from a requester paid to a Worker |
| Google Play | None |
| App Store | None |
| Ratings & Accreditations | B+ BBB Accredited, Trustpilot rating of 2.1/5 from 53 reviews, Sitejabber rating 2.61 stars from 61 reviews |
| Final Verdict | Amazon Mechanical Turk is legit. |
What Is Amazon Mechanical Turk?

Amazon Mechanical Turk, also referred to as MTurk, is an internet-based platform that enables businesses to post virtual tasks that rely on human intelligence. At-home workers then select from a broad selection of tasks that suit their skills, schedule, and needs and get paid for completed tasks.
Its primary purpose is to utilize human capabilities for assignments where computers might be less efficient. As such, MTurk connects businesses with a versatile and adaptable workforce for tasks like recognizing images, organizing data, and transcribing audio.
How Does Amazon Mechanical Turk Work?
Amazon Mechanical Turk works by connecting Requesters with Workers. Workers on the site, known as Turkers, assist Requesters in solving various data processing, analysis, and content moderation tasks.
The Requesters post tasks called as HITs (Human Intelligence Tasks), like performing short surveys, rating websites, rewriting sentences, completing surveys, writing articles, copying text from scans and photos, transcribing audio files, and short articles.
As a worker (aka Turker), you can browse among existing tasks or available HITs and complete them for a monetary payment set by the Requester.
After selecting a HIT, you need to accept the task and carefully and follow provided instructions to complete it, then submit it for review.
The Requester will evaluate your work; if it meets the specified requirements, you become eligible for payment.
After approval, your earnings for that particular task become available for use or withdrawal.
How to Get Started on MTurk?
Getting started as an Amazon Mechanical Turk Worker is simple. With many tasks for all demographics, you can find requests that match your capability.
Step 1: Open the site and click "Get Started with Amazon Mechanical Turk".
Step 2: Tap "Request a Worker Account"
Step 3: Click "Create Your Amazon Account" and complete the registration or continue with your Amazon Account.
Step 4: Explore HITs by searching or browsing, then select the ones that catch your attention.
Step 5: Accept the HITs and follow the prompts to complete the work. Once done, submit your work.
Step 6: After the Requester approves your work, you can access your earnings.
How Much Can You Make on Amazon Mechanical Turk? [Amazon Mechanical Turk Pay]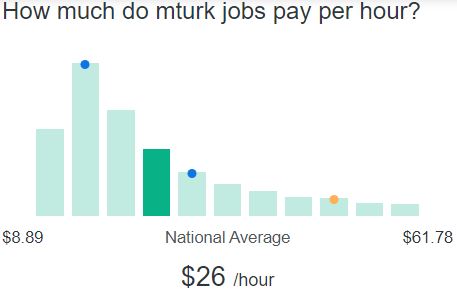 According to ZipRecruiter, the average hourly pay for MTurk workers is around $26, at a range of $8.89 to $61.78 per hour. While most of the work is not paid hourly, the estimates are aggregated from the compensation per task.
For example, a survey from sites like UnSpun Opinions can pay around $0.50 for only 2 minutes of your time. With a steady supply of such HITs, you'll be making $15 per hour.
In my opinion, an average individual can earn $0.10 a HIT, so if u can complete around 100 HITs a day then u can easily make could make $300 dollars a month. Don't get disheartened as HITs with higher payment are also available, ranging from $2 to $15, but they mostly come under surveys category.
Reported earnings in different forums illustrate that Amazon Mechanical Turk pay varies based on individual factors, such as the working hours, what you get accepted for, and the use of automation scripts.
MTurk Pay (As Per Quora)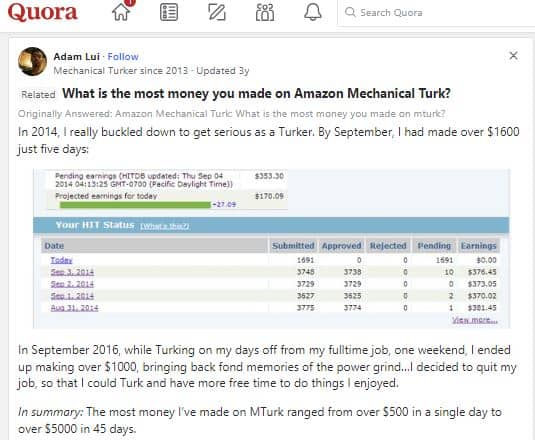 From most Quora threads, people who work on MTurk tasks online spend about a day or less per week completing around 40 to 100 HITs. As a result, their earnings from Mechanical Turk tend to be relatively low, typically below $20 per week.
However, if are dedicated to the various ways to make money online as a Turker, you may receive $1000 in extra cash every month.
Basically, the amount you earn on MTurk is entirely contingent on the number of tasks you complete and the effort you invest in satisfying the Requester's requirements. If you focus primarily on simpler tasks like taking surveys, the average earnings can even dip to $2 to $3 per hour.
Amazon Mechanical Turk Reviews [Mturk Reviews]
MTurk users have diverse opinions, a mix of both positive and negative experiences. While some find it a convenient way to earn extra income, others are dissatisfied with the platform's management decisions and unclear account-banning policies.
Though a legit platform, some Turkers wonder about the criteria on how to qualify for simple tasks like the ones from a survey site.
Additionally, there are frustrations with aspects such as low pay and potential scams.
1. MTurk Reviews (On Reddit)
As per most Redditors, after you register, you won't be making good money right away. It may take around 48 hours before you start seeing actionable requests on your MTurk dashboard.
The idea is to wait and see what the first 10 days bring your way as you decide on the best tasks to dedicate your time to. Other recommendations include registering on the likes of Survey Junkie, Prolific, and UserTesting where clients outsource similar microtasks.
2. MTurk Reviews (On TrustPilot)
MTurk gets a Trustpilot poor rating of 2.1 stars based on 53 reviews. Users expressing frustration over losing their "masters" status and being unable to retrieve it. They also mention the low pay for certain tasks on Amazon, with the risk of rejection due to errors on the platform's or clients' end.
On the other hand, there are turkers who report earning potentials of up to $8000 per month but emphasizes that the income depends on the amount of time invested in the platform.
The direct money transfer to the user's Indian bank account via Hyperwallet is also seen as a significant advantage.
Another user finds MTurk useful for earning money towards Amazon purchases but cautions about the risk of work rejections and potential scams on the platform.
3. MTurk Reviews (On Sitejabber)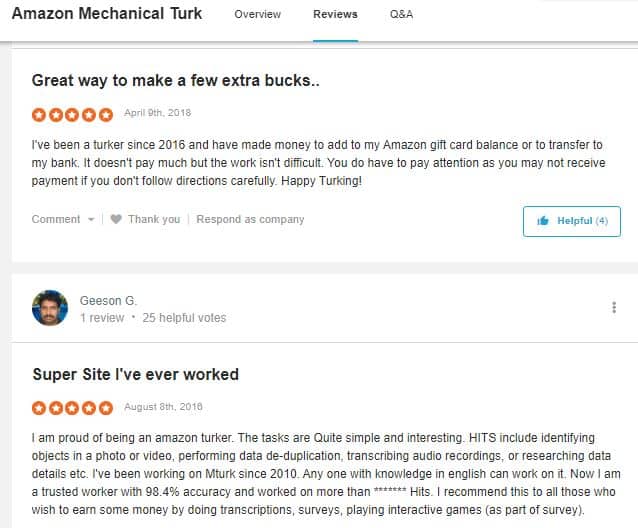 On SiteJabber there are positive sentiments, acknowledging MTurk as a useful source of supplementary income. Turkers applaud the flexibility the platform offers for part-time work, making it a suitable option for stay-at-home moms.
Experienced workers report that higher-paying tasks become available with job success, enhancing your earning potential.
Amazon MTurk Reviews (Negative)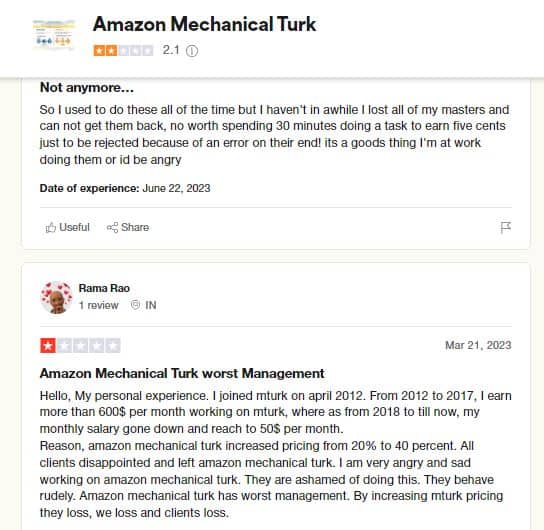 The majority of Negative Amazon MTurk reviews on Trustpilot, Reddit, Quora, and Sitejabber note:
Fluctuations in earnings over time, mainly due to MTurk's pricing changes.
Frustrations with account bans, reporting that they were rejected without a good reason.
The discrepancy between the amount of work required for some tasks and the compensation.
Does Amazon Mechanical Turk Really Pay?
Amazon Mechanical Turk does pay workers for completing HITs. Turkers can see their money displayed on the Dashboard and Earnings pages of their Amazon Mechanical Turk account. Payments are made in either US Dollars or Amazon payments gift cards.
To participate and receive payment, you must be 18+ years old. As per information shared by Redditors, the minimum Amazon MTurk payout is $1.
To get paid, workers can schedule to withdraw available money from the Account Settings page. Accordingly, your cash will be automatically transferred to your payment option such as Payoneer.
Note, new Turkers are subjected to an initial holding period before their rewards are transferred to their earnings balance. The period lasts for at least 10 days from the day the worker submits their first HIT.
Is Amazon Mechanical Turk Safe?
Yes, MTurk is safe; being a subsidiary of Amazon, a well-established and reputable company, the platform adheres to the same information security practices as Amazon.
The company prioritizes data protection and privacy. Most importantly, MTurk collects information in accordance with Amazon.com Privacy Notice, ensuring that Turker's info and personal details are safeguarded.
Amazon Mechanical Turk Pros and Cons
| | |
| --- | --- |
| MTurk Pros | MTurk Cons |
| Flexibility in completing tasks according to workers' schedules and skills. | Low pay and limited earning potential make it difficult to make a significant MTurk income. |
| Wide range of diverse tasks catering to different skills and interests. | Risk of account bans due to task quality issues; task rejections leading to frustration and wasted effort. |
| Easy access for anyone with an internet connection and basic computer skills. | Initial holding period delaying access to earnings for beginners. |
| Utilizes crowd intelligence to solve complex tasks contributing to research and machine learning. | Potential scams and unfair requesters affect workers' earnings and motivation. |
| Flexible payment options in US Dollars or Amazon.com gift cards. | |
Amazon Mechanical Turk Jobs Examples
Amazon MTurk jobs involve providing Requesters with access to a versatile and on-demand workforce. It allows requesters to leverage crowdsourcing for various purposes, including;
1. Transcription jobs
Transcribing audio clips involves listening to recorded audio and converting spoken words into written text. This task is essential for journalism, market, academic, legal, and medical research.
Similar to audio transcription, workers transcribe spoken words from video clips into written text. Video transcription typically benefits content creators, researchers, and businesses.
On the other hand, handwritten transcription involves changing handwritten material into digital text.
2. Categorizing Products
Classifying items is a major task for online marketplaces. For example, Turkers review product listings and assign appropriate categories or tags.
3. Collecting Data to Identify Websites
In this task, workers gather information to identify websites for businesses. This data collection is valuable for competitor analysis and building business directories.
4. Writing Product Descriptions
For online selling businesses, writing compelling product descriptions based on images and details is essential to attract potential customers.
As a seller, the task may not be the best use of your time, necessitating the use of independent workers to create engaging and informative descriptions based on product images and details.
5. Participating in Research Studies
Workers participating in research studies and focus groups respond to scenario-based questions designed to gather useful data. Your inputs contribute to research findings and help researchers draw meaningful conclusions.
6. Computer Vision Tasks
A good example of computer vision tasks is where workers are required to draw bounding boxes around specific objects, such as animals within images. This helps train AIs to recognize and distinguish objects without error.
Related Post: Make Money Answering Captcha
7. Entity Identification Tasks
Identifying named entities in statements is crucial in natural language processing tasks. Turkers identify and label entities like names, locations, dates, and organizations in text data, enabling machines to comprehend and process human language more effectively.
8. Rating Image Quality
Workers assess the visual appeal and quality of images. This feedback is valuable for clients in the design field. The output helps them select the best images for advertising, marketing materials, or web content.
9. Matching Data Records
In data validation tasks, workers verify data records. This process ensures data accuracy and consistency, which is vital for database management and business intelligence.
10. Website Testing Tasks
The work involves navigating through websites and providing feedback on user experience. Workers identify potential issues, evaluate website navigation, and suggest improvements to enhance visitor satisfaction and the site's usability.
New Post: Testing Websites For Cash
Amazon Mechanical MTurk Review: FAQs
1. Is Amazon Mechanical Turk Legit?
Yes, Amazon Mechanical Turk is a legitimate platform owned by Amazon. It provides a marketplace for completing virtual tasks that require human intelligence. Workers can earn money by completing tasks posted by Requesters on the platform.
2. Can You Make Good Money On MTurk?
The earning potential on MTurk varies based on the tasks available and the individual's dedication. While some Workers have reported earning a decent income, most tasks pay relatively low amounts, meaning MTurk may not be a viable full-time income source for everyone.
3. Can You Do Amazon Mechanical Turk On Your Phone?
Amazon has not released a mobile app on Google Play or App Store for the MTurk platform. That said, you can access Amazon Mechanical Turk on your mobile using a browser. However, it's essential to note that some tasks are better suited for a computer or laptop due to the nature of the work.
4. How Can You Make Money Online on MTurk?
To make money on MTurk, Workers need to sign up and complete HITs posted by Requesters. These tasks can range from simple data entry to more complex tasks. The more HITs a Worker completes accurately, the higher the earning potential.
5. Why Does MTurk Need Social Security?
MTurk may ask for Social Security information for identity verification and tax reporting purposes.
For people living in the U.S., valid taxpayer identification information, including Social Security numbers, is required to comply with US tax reporting regulations. This ensures that Workers' earnings are reported accurately to the IRS.
6. Do You Pay Taxes for MTurk Money?
Yes, Workers receiving payment on MTurk are required to report their earnings as income and pay taxes. As a requirement, US Turkers need to provide valid taxpayer info when registering for Amazon Payments.
7. Is MTurk Worth My Time?
Whether MTurk is worth your time depends on your personal goals, availability, and the types of tasks you prefer. Some people find it a convenient way to earn extra income, while others may not find it worthwhile due to the relatively low pay for certain tasks.
8. Can I See Real Money On Mechanical Turk?
While some Turkers may earn a decent income, the vast majority make much less due to the low pay rates and the limited availability of high-paying tasks. As such, it might be difficult to make a decent income on Amazon MTurk, especially when working a few hours a day.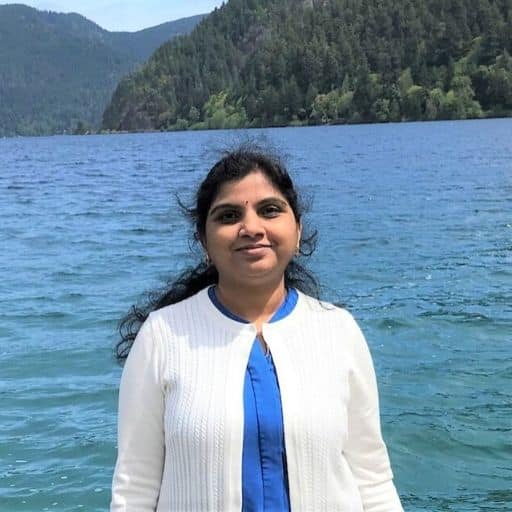 Howdy Folks, thanks for stopping by my blog.
I'm Swati, a proud mom, dedicated side hustler, full-time blogger, and a recognized millennial work-at-home expert. My expertise has been featured on esteemed platforms such as Forbes, CEO Blog Nation, Referral Rock, Vital Dollar, Databox blog, and many more. I have embarked on this incredible journey to share my firsthand experiences in the world of online income generation and to assist all of you in earning money from the comfort of your homes.
Join me in my mission to revolutionize the way we make money and achieve financial freedom. Trust me, it's not as challenging as it may seem!
Together, let's explore the boundless opportunities and pave our paths towards a prosperous future.