Below is a TopCashback review in full detail.
Cashback sites are all about helping users save money from their daily shopping. Retailers and manufacturers pay commissions to the sites to showcase their wares to you. In return, the sites share a percentage of the commissions with you when you make a purchase.
There are many cash-back websites and apps which raise the question, why single out TopCashback? First off, TopCashback has an Excellent 4.4/5 rating on Trustpilot, which means, there's something so distinctive about it.
They give a 100% slice of their commissions to you, believe me, that's not a share you will find elsewhere – the best you will get from competing cashback sites is around 40%.
So, what is TopCashback and how can you save money with the platform? This review covers how the site works, ways that you can earn from it, and important FAQs for new users. Further, I shall provide you with leading alternatives to TopCachback that reward you for your normal online activities.
Here we go…
What is TopCashback?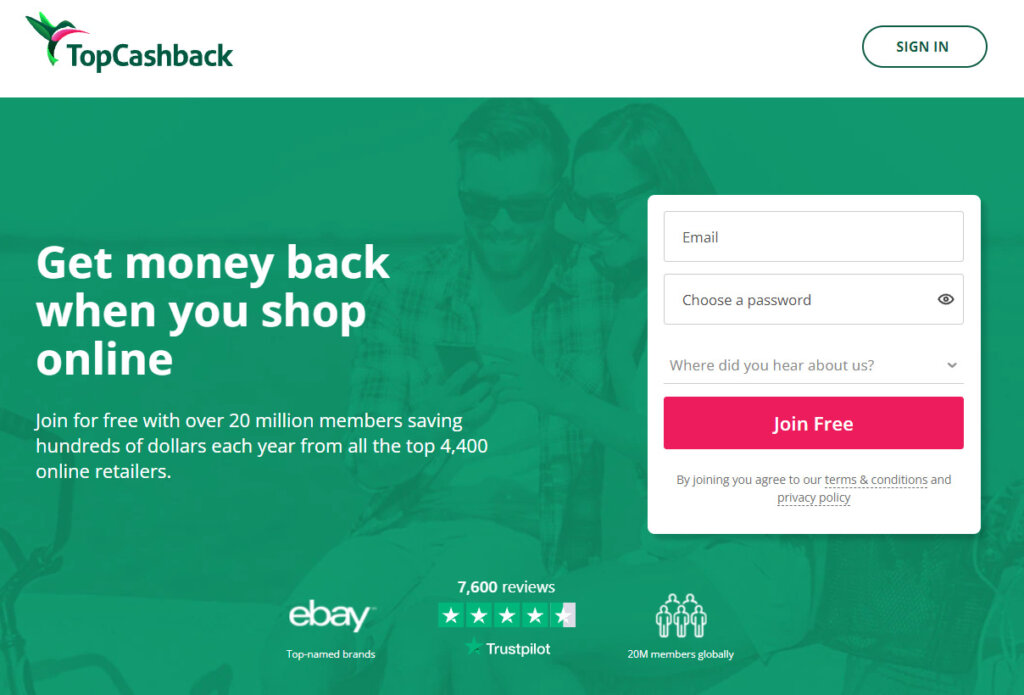 As the name suggests, TopCashback is an e-commerce cashback platform. It has about 8 million users in the US, Germany, Japan, Canada, and India. The site has partnered with well over 4,400 retailers in the US to award you cashback on your purchases.
You can shop on the site for everything to do with Electronics, Health, Entertainment, Fashion, as well as travel and so much more.
They boast to be the only site that gives its users a commission rate of 100% which for sure is an added advantage on your potential earnings compared to its competitors.
In the beginning, that was 16 years ago, TopCashback was founded on a 'shoestring budget' and only managed to offer its services in the UK.
However, they've made incredible steps to becoming one of the biggest cashback franchises in the world with well over 20 million members and 240 employees.
What's more, in 2021 the website was named the UK's Cashback Site of the Year for the third time in a row by Moneyfacts.
TopCashback is here to help people save as much money as imaginable.
You can access the platform through a browser extension or via a mobile application.
Sign Up on the TopCashback site – US here and UK here
How Does TopCashback App Work?
Nowadays most people have and use mobile devices. It has become a way of life since almost everything can be done through these smart devices. To this end, many cash-back sites have mobile apps readily available for both Android and Apple systems.
The TopCashback's mobile app enables you to earn cashback on the go. It offers a platform to do your shopping online when you are on the subway, at home, or even on vacation.
Start by downloading the app from Google Play Store and Apple Store for free and kickstart your cashback opportunities.
The next step is to sign up and search for your go-to online retailer and start shopping as you usually do. TopCashback automatically tracks your purchases, and upon approval by the seller, your account is credited with cashback.
Some of the retailers you can earn from include eBay and Expedia. You can also shop by searching through different categories on the app. Such include: Gaming, Utilities, Fashion, Black Friday, Toys, Travel, and Gifts
Apart from shopping, TopCashback allows you to save money in other ways. Here are the highlights:
Other Ways to Earn with TopCashback
Looking at other get-paid-to apps for example Swagbucks, you get paid for activities such as watching videos and playing games. So what does TopCashback offer away from shopping?
#1 Travel
Travelling might be quite expensive for many of us, right? From booking hotels, renting cars as well as booking flights. With TopCashback, you are guaranteed cashback at major booking websites such as Expedia, Booking.com, Hampton Inn, you name them.
TopCashback goodies don't end there; you can also get cashback on cruises, rail, buses, and ferry tickets. Further, the app uses fare finders to provide you with the cheapest tickets for your travel and vacation needs.
#2 TopCashback Referral Program
Like most cashback sites, TopCashback runs a referral program. You get a $10 bonus whenever you refer someone to join.
Reach out to as many family members and close friends as to scoop this deal. Conditions for this 'Tell A Friend' offer includes your referral first making £10 on TopCashback.
For starters, every user gets a unique link when they join. To participate, share the link with your friends and encourage them to sign up and shop via TopCashback.
Get your link by clicking on 'Account' on the top left field of your profile. Next, tap on 'Tell a Friend'. You will see your referral link which you can copy or share through the provided options; Facebook, email, and Twitter.
Pros and Cons of TopCashback
The best way to find the best cashback sites is to look at the pros and cons of different platforms. To help you out, here are the advantages and drawbacks of TopCashback:
Pros
100% of commission rate

: What makes TopCashback stand out is that, unlike the rest, they give 100% of their commissions to you, the customer. This means that you will reap more on TopCashback compared to many others. This 100% commission rate also ensures you better deals.
Well over 4,400 retailers:

TopCashback has partnered with thousands of local and international retailers than most sites. If you do a lot of online shopping, it's best that you

start using this site right away

.
No minimum payout:

Most cashback websites have a certain amount that you should have at a particular time in order to request a withdrawal. In some, it could be $1 to $5, as for TopCashback any amount can be withdrawn. You are free to withdraw your amount at any moment regardless of your balance, as soon as TopCashback deposits in your account.
Click here for more no-minimum payout GPT sites
TopCashback Alternatives
Here are a few TopCashback alternatives or you could call them additions to TopCashback that could increase your cashback earnings. I have restricted myself to sites that are both legit and pay users high rewards.
1. Ibotta
This American company offers the opportunity to users to earn money back on their in-store, mobile app, and online purchases. Ibotta has over 1000 participating retailers like Walmart, Kroger, Petco, just to name but a few.
Since it was launched, Ibotta has paid out more than $980 million in cash rewards to over 35 million users. Payment is through PayPal and Venmo for cash rewards and other various retailers for gift cards. Unlike TopCashback though, Ibotta is only available for Americans and Puerto Ricans.
2. Rakuten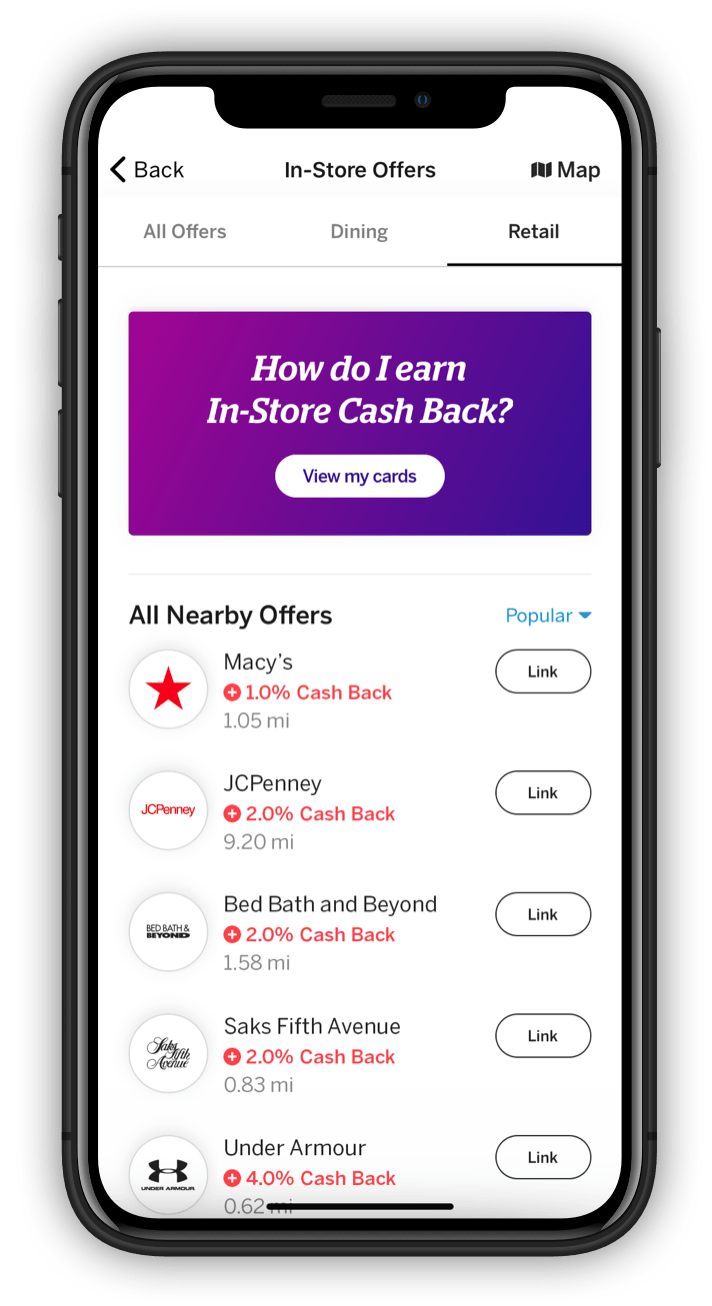 If you are looking for another way to earn by shopping online apart from TopCashback, then try using the Rakuten app. Here, you can get up to 40% cashback from your daily purchases at over 2,500 stores. There are also instant reward offers. Rakuten also gives a $10 sign-up bonus plus and up to $20 per referral.
But to activate the referral bonus, the person who uses your link to join must make a minimum purchase of $25 within 90days.
Click here for Ibotta Vs Rakuten (Side-by-side comparison)
3. ExtraBux
Next on our list is ExtraBux. The site has partnered with well over 5,000 stores and is completely free to join. They offer a $5 welcome bonus that can help you reach their $10 minimum payout.
You can earn more via the ExtraBux referral program. You will be awarded $5 for every person that signs up through your referral link.
On top of that, you will also get a 5% of the amount they earn in cashback for the entire year. This unique referral program encourages people to both signup and also use ExtraBux in the long term.
4. BeFrugal
You will find out that many cashback sites are available to a few residents in specific countries but that is not the case with BeFrugal. The platform is available for use globally.
However, for you to earn via this site, make sure that your favorite retailer serves in your location. Joining is free plus a $10 welcome bonus. Additionally, you get $10 for each referral after they earn $10 on the site.
BeFrugal has one of the lowest cash payment thresholds at $0.01 when withdrawing through PayPal, Venmo, Zelle, and direct deposit. You can also cash out via check, in the US only, starting at $25.
5. Swagbucks
Swagbucks, to this date, has already paid out over $500,00,000 in cash and free gift cards. To earn, you'll perform online tasks for cash. For example, you get credit for shopping online, taking surveys, and even watching videos. Upon completing a task, you'll earn points known as SB.
You can redeem Swagbucks points for gift cash from sites like Walmart and Amazon or get cashback via PayPal. Additionally, you will also get access to exclusive deals and coupons from well-known brands. Unlike TopCashBack that may take a while before you get your pay, Swagbucks comes close to paying instantly.
Also, Swagbucks has a low payout threshold at $3. The site pays you a $10 welcome bonus when you sign up and 10% of what your referral makes- for a lifetime!
Get Your $10 Swagbucks Welcome Bonus Now!
6. MyPoints
My point has as many as 20 million active members and deals at thousands of stores. So far it has paid $236 million in gift cards & PayPal cash to its users. Their customers get up to 40% back with every purchase at 2,000 leading outlets such as Walmart & Amazon.
However, you can earn more by completing paid surveys. You can earn as much as $50 from a single survey. The best part is that you also get bonus points when deemed ineligible to partake in a survey.
You can then redeem your points with a minimum payout threshold of $3 for Amazon gift card and $25 for PayPal cash respectively. MyPoints app is available for free for both Android and iOS users.
7. Honey
Another best TopCashBack alternative is Honey. Much like TopCashBack, it's a free browser extension that saves shoppers money at top brand stores. With Honey, it's all about savings and cashback on every purchase you make.
Here is how it works; it finds the best coupon and promotion codes for you. Additionally, it has a rewards program known as Honey Gold that offers you the chance to take home cash (or Gold) when you buy at any of its 5,000+ participating retailers.
8. Dubli
Owned and operated by Ominto, Inc Dubli is another alternative to TopCashBack or even better offering you travel deals, promo codes, free shipping deals, and most importantly, cashback on every purchase. As a member, you can earn up to 30% cashback on your favorite brands.
You are eligible to shop online at over 12,000 top global and local brands, from at least 60 countries, that offer lots of products and services. They also have a referral program that pays up to $10 per referral for encouraging friends to save money with the site.
They also have a VIP membership for extra goodies such as discounted deals on hotels globally.
Which is better: Quidco or TopCashback?
Quidco is a TopCashback major competitor when it comes to getting money from online shopping. As of Feb 2021, TopCashback edged Quidco in terms of which offers the highest cashback deals.
As a member of Quidco premium for every $1 earned per active month, you get up to 10% and 20% top-up on cashback rates and higher payout bonuses respectively. On the other hand, TopCashback gets you 100% money-back deals. Nevertheless, for both platforms, cashout is through PayPal, a direct bank deposit, or a range of gift card options.
Also, while Quidco can pay you up to 160% cashback, TopCashback has offers that go up to 160%. The latter also has more offers with added bonuses compared to the former. And compared to 4,500+ participating stores on Quidco, TopCashback partners with over 5,000 retailers.
TopCashback vs Rakuten: Which is Better?
First off, both are leading cashback platforms in their own rights. The difference is in the offers and bonuses. Rakuten gives you $10 when you join while TopCashback does not reward new users for signing up.
On the other hand, TopCashback shares 100% of their commissions with you which is way less than Rakuten's top offer, 40%. Lastly, both reward you for referrals and you can withdraw your earnings via cash through PayPal or for gift cards to popular retailers.
TopCashback Reviews
Before we get to the FAQs, let's see what users have to say about the site. Starting with Trustpilot, 7.5k+ users award the site a 4.4/5 star rating, an 'Excellent' score, which means that the platform is exceptional and way beyond the average for most users.
What's more, its mother company, TopCashBack UK, gets a 4.5-star rating from over 120k users on the same review site. And a closer look through the comments shows a trustworthy site backed by dedicated staff.
Almost every single review, whether negative or positive, is followed by a response from the company- that's a stellar reputation.
For specific critical reviews, here is what Redditors say about TopCashback. Specifically, let's see what reviewers have to say about the site in comparison to Rakuten, formerly known as Ebates.
On this thread, TopCashback gets praises for its $5 sign-up bonus and wide range of payment options. Additionally, the 100% cashback claim is supported by a user who quotes an offer that made users $0.03 extra on top of getting back $8.97 spent buying a detergent at Walmart.
Further, another Redditor concurs that "Topcashback has the better deal for Boost Mobile, at least." This is in relation to a $35 cashback offer on the brand from Ebates. As such, the 100% cashback claim by TopCashback does seem effective in getting you a better deal.
That said, Ebates also gets a favorable mention in that it has merchants not available on TopCashback. The Redditor singles out Victoria's Secret. There, however, seems to be sustained delays after cashing out earnings on the site. Advice from different users suggests that opening a support ticket will get the issue resolved in weeks or months.
The above more recent thread has TopCashback users talking of making nearly £1,500 (over $2,000) from the platform. That's not all, a different user says that they have saved over $5,000 ($6,885) after 5 years on the site.
If you are looking for a TopCashback hack, here is one: The trick to making money on the platform, according to Redditors, say is dialing your browser's AdBlock settings to the minimum to allow the site to track all of your online shopping activities.
And lastly, TopCashback carries sway amongst reviewers due to the fact that it pays you whatever amount of cashback you make.
FAQs
1. How do I get my money from TopCashback?
It's quite simple to request a payout on TopCashback. Let's assume you got your money from online shopping. Here is how to go about it. As long as your transactions are 'payable', go to the payout segment of your account and choose your preferred payout option. Then, follow the payment prompts. Note, only one payout type is allowable every day.
Assuming your payout option doesn't work, click 'Split Payout by Merchant' and deselect any merchants that may have restricted. This will lead to payout recalculation after which your earnings become payable.
Currently, the cashback payouts from one merchant cannot be split.
2. Is TopCashback free?
TopCashback is completely free in the USA with no membership upgrade needed to earn cashback. However, if you pick a Plus account in the UK version, TopCashback will debit a £5 annual admin fee from your earnings in exchange for a range of added features and benefits.
Click here to view the added benefits we are talking about when you opt for the Plus account. Apart from the £5 charge, expect no other fees.
3. How does TopCashback Make Money?
Cashback websites make money when you use their affiliate links to shop at retailers. For example, TopCashback is financed by the ads and sponsored links which are identified as 'zero cashback'.
Merchants, and their tracking agencies, also come in handy with bonuses occasionally. For instance, if you use a Walmart link to make a purchase from TopCashback's website, TopCashback will earn a percentage of your total purchase- that's what they split with you.
3. Is TopCashback safe?
Is TopCashback legit and safe? With a lot of options at hand today, you might find it challenging to trust cashback apps. As for TopCashback, the answer is Yes! It's 100% legit, safe, and one of the best cashback sites out there.
It's an authentic platform that offers you great shopping deals and helps you save money. That said, it requires detailed tracking without which your purchases won't register. This means minimum AdBlock settings which may not give you a seamless browsing experience.
4. How Much do you get with TopCashback?
TopCashback pays out up to 165% of the commissions it gets from the dealer. So, how do you join and earn from TopCashback? Select the Sign In option on the site's home page.
This will take you to a page where you can register a new account. Use your account normally and expect to make around $345 annually, the average members' earnings according to the site.
For TopCashBack UK, you get a free Classic account and a subscription-only Plus account incurring an annual charge of £5. The best part about the Plus membership is that it grants a 10% bonus on non-exclusive cashback rates, eg, a £100 cashback deal gets you £110.
5. How many times can you use TopCashback?
One account, one person. Nonetheless, making occasional cashback transactions on behalf of other family members or friends is also acceptable. Understandably, you are expected to be fair in your usage when helping others out. This calls for just making the occasional one-off purchase for a friend or family.
The email used to sign up is regarded as the owner. In case a third party earns cashback using your account it will be credited to the legal owner of the email address.
TopCashback adds that ''Any use of our Site is made based on the assumption that full authority has been obtained from all relevant parties. This may include but is not limited to employers, friends, family, and businesses.''
When signing up make sure you are at least 18 years old.
6. Can you use TopCashback after purchase?
It's nearly impossible to use cashback immediately after purchase. When you make a transaction on a merchant's site via TopCashback, your transactions are tracked and sent back to TopCashback at the end of the calendar month and it will be given a 'pending status'.
So, what exactly is a pending status? This means that the merchant has not yet given the green light for you to be awarded cashback and is awaiting approval after all cashback criteria have been met. This may take a few days or months depending on the retailer and the offer on the table.
Afterward, when your transactions will be confirmed and indicated as 'payable' for you to cash out.
TopCashback acknowledges the delay and reminds users that "we're sorry about this delay, but we do feel we are one of the quickest to make funds available. You will often find cashback becoming available halfway through a month – whilst on another cashback site you might have to wait until the end of that month before your cashback is available."
7. Why does TopCashback take so long?
As mentioned earlier, each transaction is tracked by the dealer and sent back to TopCashback usually on a monthly basis. Generally speaking, this means that if you had made a transaction at the beginning of the month you'll have to wait until the tail end of the month to receive your cashback.
However, if you had made the purchase a few days before the end month you (may) will receive your award much earlier.
After the invoice has been sent, it can take 30 – 60 days for the cashback to be paid to the affiliate network that acts as an agent between websites. It is the affiliate network that later sends the reward to TopCashback before it reflects on your account.
Bottom line: Is TopCashback Worth It?
Are you looking to save money during your online shopping sprees? Then TopCahback browser extension and app are a must-have for you.
The platform allows you to save money on retailers such as Walmart plus over 4k local and global retailers. You'll also be happy to know that TopCashback offers you cashback on your in-store purchases in select brands.
Basically, you just shop as you usually do and get free money in your account. There is usually a delay before you can use this free money, but since you don't get to really work for it, I believe the wait is worth it, right? Let's hear your thoughts in the comments and remember to tell us your go-to cashback sites with high payout in 2022.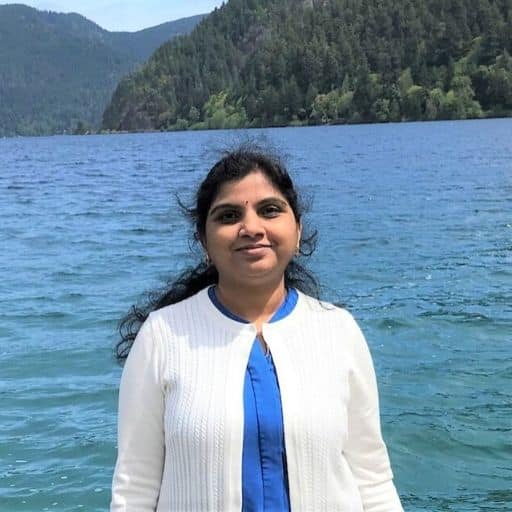 Howdy Folks, thanks for stopping by my blog.
I'm Swati, a proud mom, dedicated side hustler, full-time blogger, and a recognized millennial work-at-home expert. My expertise has been featured on esteemed platforms such as Forbes, CEO Blog Nation, Referral Rock, Vital Dollar, Databox blog, and many more. I have embarked on this incredible journey to share my firsthand experiences in the world of online income generation and to assist all of you in earning money from the comfort of your homes.
Join me in my mission to revolutionize the way we make money and achieve financial freedom. Trust me, it's not as challenging as it may seem!
Together, let's explore the boundless opportunities and pave our paths towards a prosperous future.