Interested in taking up Amazon work from home jobs? Wondering, how do I work for Amazon from home? Yes, 'Amazon hiring from home' is now real!
Amazon has an employee base of over 600000 worldwide, which tells you there is room for everyone due to the availability of jobs in different niches. The numbers also show that Amazon has a good track record of employment, as far you meet the requirements.
Is Amazon hiring to work from home? Many people are not aware that Amazon, a popular e-commerce platform, also provides work-from-home jobs and has offered money-making opportunities.
You can work for both online and offline jobs, it also offers an opportunity for a part-time and full-time schedule.
However, some employment openings are limited to individual states, do well to check if your states meet the job requirement; if it doesn't, you should look for another job alternative.
If you're looking for a full-time or a side gig in a legitimate company with work-from-home opportunities, Amazon is your go-to hub. Oh well, the good news is that this article will put you on to Amazon work-from-home job opportunities.
How Much Does Amazon Pay You To Work from Home?
While the pay for Amazon work-from-home jobs varies according to the job and the level of expertise required, workers still get a good salary based on the hours they put in weekly.
Amazon expects its employees to work for at least 20 to 30 hours weekly. The more work you put in, the fatter your paycheck will be.
How do I get a job with Amazon? And, Where to Find Amazon Remote Jobs?
Remote jobs are a synonym for Amazon work-from-home jobs.
There are plenty of full-time and part-time jobs to choose from, that you can select based on your skills & work experience. How and where to find these jobs will be discussed in detail later on in this article.
Amazon offers phone call interviews and in-person interviews. The type of interview conducted depends on your location and the amazon job you apply for.
Jobs that require expert skills will ask for an in-person interview. The good news about Amazon's hiring and interview process is that they give interested applicants materials they could use to prep for the interview.
Requirements to apply for amazon work from home jobs:
Amazon requires potential employees to have a minimum experience in the related field or position been applied for alongside an educational qualification – a basic degree

If you are applying for a customer care service position, particularly call center openings; you are expected to base in a noise-free area in your home.

Basic knowledge of computers and the IT space is required. You will be tasked with product search knowledge, accessing emails, chat services, learning online shopping techniques, Microsoft office, and more

Experience from shopping from Amazon will give you an edge during the interview and when relating to clients. Point out that you understand the position of the clients/customers and that you desire to satisfy their needs.

Employees working from home must have a good computer with a stable internet connection.

Your job application should be catchy so that the amazon interview team will have no choice but to hire you.
I) Amazon Work From Home Jobs (Full-Time)
The e-commerce giant currently has several job openings listed on its website under "virtual locations." A majority of the jobs are full-time positions and they range across departments and salaries.
1. Amazon Customer Service Jobs
This position is open to applicants who have a high school diploma and 1-year experience in a customer service job position.
Individuals who apply for this position must be fluent and have a good grasp of the English language.
This position is designed to handle customer complaints and solve issues like late delivery, receiving a wrong or damaged item, or helping people who are having problems with Amazon products like Mturk, Kindle, and Firestick.
You'll have to maintain a healthy relationship on behalf of Amazon.
Amazon home service jobs are perfect for individuals who are customer-centered and an excellent opportunity for retired persons, students, freelancers, and homemakers, who are willing and dedicated to work.
The payment is reasonable; employees would be paid within the range of $15 per hour, and an employee needs to be available for about 30 hours weekly. You will also be eligible for health care benefits after a certain length of time.
However, this job is restricted to residents of the united states and is usually advertised during holiday periods.
2. Amazon Home Delivery Jobs
This job is not strictly a work-from-home job per se, but if you love driving around your city, then this job is a match made in heaven for you.
Amazon home delivery jobs like other delivery jobs provide you with a range of options to deliver products from your home of residence.
Due to the express delivery service now offered by most stores, Amazon expects employees in this position to be smart drivers, and have a smartphone and a vehicle to ensure efficient delivery.
This job provides flexibility and benefits if you're based in the right location, and yes, the hourly pay is good.
Delivery drivers can earn about $25 per hour, earnings vary between persons, and your paycheck depends on the number of trips you embark on.
3. Amazon Influencer Program
Are you active on social media? Do you have many followers? Do you get interactions? If the answers to the above question are affirmative, then this job will be a good pick for you.
But you must attain the influencer status to be considered for this position; this means your post should get a lot of likes, retweets, regrams, and comments.
In this position, you'll help companies advertise their brands, products, and services to the world. You need to have a qualifying YouTube, Twitter, Instagram, or Facebook account to be considered for Amazon Influencer Program.
If you meet the qualification for this job, Amazon will give you a unique URL/sales page that can be used to earn a cut of sales generated from the Amazon affiliate link. The number of your followers is a huge determinant of the payment you will receive monthly.
Commission rates range from 10% for Amazon's private-label fashion line to 1% for video games and consoles.
Top influencers have reported revenue of $1500 a month from the Amazon influencer program. If you like this job, it's best, if you grow your social media account first.
4. Amazon Kindle Publishing
Do you love writing but cannot publish due to printing costs? Don't worry about that anymore Amazon has you covered. You can earn money from the comfort of your home as a writer for Amazon Kindle Publishing.
Amazon kindle gives creative writers an opportunity for the world to see their content. The process here is that you publish your eBook on amazon kindle and it gets better knowing you can take up to 35% – 75% in royalties.
There's freedom on this platform, writers are not confined to any rules on pricing and can set their very own price. Here's how a publisher has earned about $450,000 a year self-publishing on Amazon kindle.
Through amazon, millions can see your creative skill. You can earn more money enrolling in KDP Select through Kindle Unlimited and the Kindle Owners' Lending Library. Ready to self-publish with KDP for free – Learn how easy it is!
5. Amazon FBA
FBA stands for Fulfillment by Amazon. How does FBA work? This program is designed to help sellers who do not have a warehouse to sell their products to people through amazon.
The process here is that the seller ships his product to an Amazon warehouse in his location, then Amazon will assist you in shipping your products to different customers. In simple, Amazon does all the hard work for you.
However, some merchants only store their products in an Amazon warehouse and then do the shipping themselves to avoid amazon shipping charges.
But this method will only benefit you if your product is a customer favorite; which means more demand and fewer shipping charges for you. Amazon FBA is an excellent opportunity for sellers to boost sales.
If this is the first time you've discovered Amazon FBA, don't worry.
Get access to this FREE 7-DAY COURSE, that reveals the secrets to choosing the perfect items to sell that people want and help you build a highly profitable business on Amazon working from home, even if you're a newbie!
6. Amazon Data entry jobs
Amazon has a lot of openings for data entry positions. This job has admin-type of duties and is perfect for individuals who are excellent typists and who enjoy spending quality time on their computers doing paperwork.
Data entry jobs vary on skills and expertise, and applicants should apply to positions they can fit in perfectly to enjoy the work experience.
II) Amazon Work from Home Jobs (Part-time)
1. Amazon Mechanical Turk
This amazon remote job also referred to as MTurk is an online platform that allows businesses to outsource minimal jobs.
These businesses are also referred to as 'requesters' and are on the lookout for people ready to complete project milestones in exchange for money.
Mturk provides job opportunities in different categories like content writing, surveys, website designs, transcription, data mining, and more.
Unlike other Amazon work-from-home jobs, you can apply to be a worker from any part of the world all you have to do is open an Amazon Mturk account. Above all, this is one of the easy online jobs for college students.
Organizations redirect micro tasks and pay through Amazon, the bigger the task, the higher the payment, so it's best you specialize in a skill and choose your projects wisely.
Although this is a part-time job, workers on Mturk can still earn a good income.
2. Retail Arbitrage
This job is a side hustle for many, and it pays well too. What does it entail? The gist here is that you buy products at a lower price then add to the cost price before you make a sale.
To make an extra profit you should buy in bulk to get reduced shipping charges. People who engage in retail arbitrage sell out in the online market. You should consider this; it is a good source of income.
3. Merch by Amazon
This job will catch the eyes of many creatives; however, this job has a downside you might frown out. Amazon won't create a store for your merch unless you have experience in the merch sale business.
This Amazon part-time job operates on a print-on-demand basis, and you have only two tasks. First, you have to create the artwork for t-shirts; secondly, you have to post the artwork on the Amazon products page while Amazon handles the remaining process from there.
Amazon takes care of everything from production to shipping. Through Amazon's built-in analytics device, you can track your sales (the t-shirts that have your artwork on them).
You don't have to worry about your merch design being sold. Merch by Amazon offers a range from 13% to 38% in payment, although this is low, little income is better than no income.
Proceed her for other legit work-from-home jobs hiring now.
Ready for Amazon Work from Home Jobs?
Working from home has its merits and demerits, we are going to run you through them in detail so you can have an idea of what you're signing up for.
Pros
Attractive pay – the base pay on amazon jobs is nice with only little cuts on PF. Amazon employees' payments vary based on talent and position. The more expertise or skills required for a job, the more the pay.
Flexibility –Amazon work from home jobs guarantee flexibility which gives you the chance to include other activities into your schedule. Asides from that, you are free to set up your mini home office and dress casually without complaints.
Incentives – employees have a high chance of receiving bonuses and incentives after every three months.
Business & Pleasure – when you work from home, you can balance your work and personal life easily. This will relieve you of stress because you'll be working at your pace and in a comfortable environment.
Great Team – Team support at amazon is unmatched
Cons
Job insecurity – employees could be fired at any time. That's why you shouldn't rely on Amazon jobs as your main hustle, it's best as a side hustle.
Slow promotion – work from employees is less likely to get promoted in their various positions.
Poor inter-staff relationships – employees working from home might never come in contact with their colleagues, and this could reduce the bond between personnel's
Amazon remote jobs have many categories, and you have a high chance of fitting into a category or two.
If you are looking for a means to earn some extra bucks on the side, then amazon surely has something for you. Streamline your job search and find an opening that matches your skills.
Whether you choose to settle for a full-time or part-time job, you must fit into the job requirements to enjoy your work experience.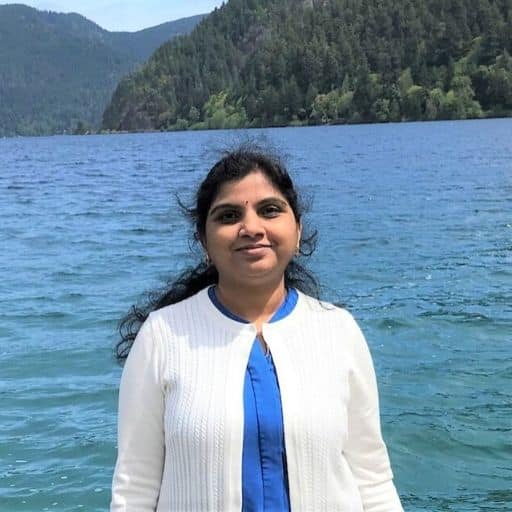 Howdy Folks, thanks for stopping by my blog.
I'm Swati, a proud mom, dedicated side hustler, full-time blogger, and a recognized millennial work-at-home expert. My expertise has been featured on esteemed platforms such as Forbes, CEO Blog Nation, Referral Rock, Vital Dollar, Databox blog, and many more. I have embarked on this incredible journey to share my firsthand experiences in the world of online income generation and to assist all of you in earning money from the comfort of your homes.
Join me in my mission to revolutionize the way we make money and achieve financial freedom. Trust me, it's not as challenging as it may seem!
Together, let's explore the boundless opportunities and pave our paths towards a prosperous future.