Getting Google Adsense Approval is a dream come true for many newbie bloggers.
Some say that all you need to do is build and maintain a quality website and in the process adhere to Adsense guidelines.
But how to confirm whether your site meets the Adsense TOC? What are the requirements of a quality website that fasten Adsense account approval process?
Here is a step-by-step guide to getting Google Adsense Approval.
Simply follow these steps before you Sign-up for adsense. Believe me, your account will be instantly approved after Google's site review and expert evaluation. Infact, I got Google adsense approval in my first shot for this novel blog in just a week. This inspired me to draft the post.
In this carefully-written guide you'll learn everything you need to know about getting adsense account approval, from basics to tips and suggestions.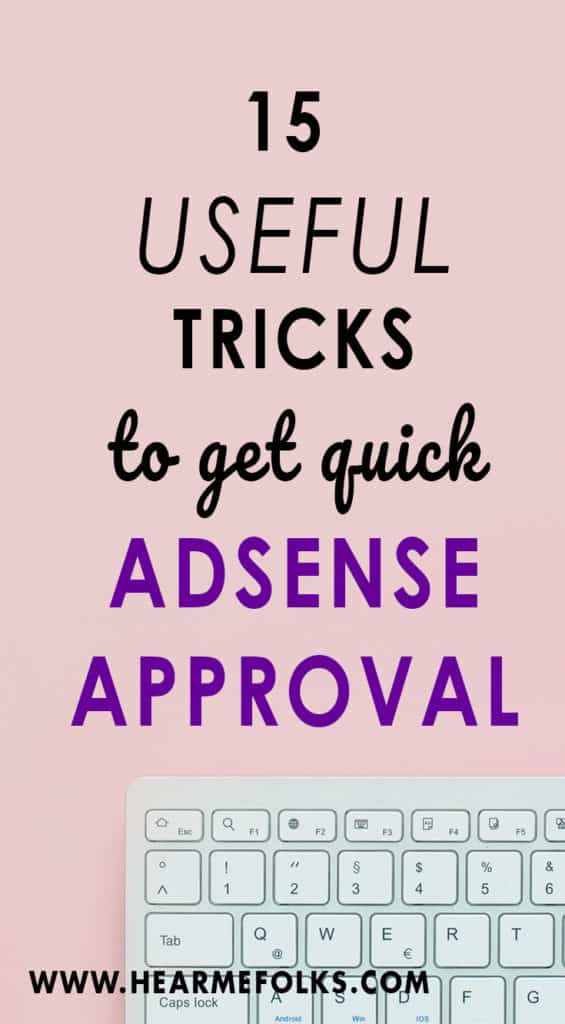 Preliminary Preparation:
It is not possible for AdSense Review team to check every website in order to issue Adsense account approval. They will use crawler bots, which will check for every footprint on your blog. Prepare your blog for indexing, crawling by Google and other search engines. This is a must for any new website and doing so will add value to your site and shows professionalism.Here's how it is done:
Incorporate Google Analytics Code
Adding a Google Analytics Code helps to track and report website traffic.It a measure of the overall performance of your site. All you have to do is create a Google Analytics account, if you don't have one. Simply Sign in to Analytics, and follow the on-screen instructions. Once you're done add the tracking code to every page of your website.You can now track your website traffic and related statistics.
Adsense will check your blog statistics on their search engine. Adding a tracking code, will help Google recognize your website.
Be sure that, your blog is not blocked by Google.
Just search for your site's visibility in search engines by typing "site: yourdomain.com". If you find your site results, your blog is visible and hence not blocked.
Integrate Google Search Console With Google Analytics
Verify your site ownership with Google Webmaster program.Google Search Console (previously Google Webmaster Tools) allows webmasters to check indexing status,sitemap creation, submission and ping tools, website statistics and optimize visibility of your website.It has tools that let webmasters:
Submit and check a sitemap: A sitemap tells the search engine about the pages in a site, their relative importance to each other, and how often they are updated.This helps visitors and search engine bots find pages on the site.
Check Crawl issues: This allows webmasters to discover potential issues with their websites such as File Not Found (404) errors, blocked by REP, long dynamic URLs, and unsupported content-types. You can also view statistics about when Googlebot accesses a particular site.
Create & Check a Robots.txt: A robots.txt file helps to discover pages that are blocked accidentally.You can also prevent search engines from indexing unwanted stuff. This file informs the web robot about which areas of the website should not be processed or scanned. Robots are often used by search engines to categorize web sites.
In the similar manner, submit your site to Yahoo and Microsoft's Bing Search Engines and verify your ownership. Adding verifications codes on your website, will build visibility on these search engines as well.
You can now proceed to Secondary Preparation!
Steps to Avoid Pitfalls & Get Quick Google Adsense Approval
You can avoid common pitfalls by being cautious of the trouble areas pointed below. And further, get to know about the precautions to be taken before you apply for Adsense.
This post doesn't just deal with the trouble areas but also talks about the misguided factors, which are generally considered essential for Google Adsense approval. Such factors are usually optional. If you can attend to them its well and good, if not you can set them aside.
Lets get started!
1) Be careful with Niche Selection
If your aim is solely to get Google adsense approval, its is very important to choose the niche for your blog. As per my advice, you can opt for savvy, resourceful and trending niches to get faster adsense approvals. Make sure that the content you produce on your site doesn't violate Adsense policies. Before you even start a blog with a plan to apply for Adsense account at a later stage, its good to check and justify that your site doesn't fall under this category. If your site contains prohibited content, it will be straightaway penalised without a second thought. Even if you cleverly try to incorporate these content later, your account might be disapproved or banned. You can never escape the eyes of Google, hence be careful.
Moreover, Google prohibits to display its ads on websites with content protected by copyright law (like MP3 and video files, television shows, software, comics, and literary works) unless you have the necessary legal rights to display or direct traffic to that content.
In any case, if you have observed Adsense Ads in such websites, probably they have applied the account through an another account and placed the ads in this niche blogging to earn quick money.
2) Own a Self Hosted Blog (Optional)
A self-hosted blog very distinctly dominates a hosted blog, when getting quick Google adsense approval.
It doesn't mean that hosted blogging platforms can't get approval. Even with a blogspot, owned by Google getting Adsense approval isn't that easy unless you meet certain requirements.However, there are many cases when a well-built blogger blog, with a custom domain has got faster approval than a self hosted blog.
If you own a self hosted blog, getting google adsense approval seems easier and faster. But what ultimately matters is the content and user experience of the site.
Once again I repeat,this isn't a must.In case if you choose to continue with a free blogging platform, I highly recommend you to purchase a domain name.
3) Purchase a Domain Name
Domain name doesn't just build your brand or grow your blog, it can as well fasten your adsense account approval process.
Earlier domain name was never an issue.In this competitive field, having a custom domain makes a lot of difference. Now everybody seems to own a blog with a custom domain.Sites with a custom domain names are now considered competent,efficient and skillful when compared to the ones with sub-domains.
In all ways a custom domain name surpasses a subdomain. So, if you planning to purchase a domain name in near future, don't wait any further. Infact, this is the right time!
4) Create Original Content
Firstly, your website must be launched and contain enough textual content for evaluation. Moreover, the content should be original. Sites with duplicate content are strictly prohibited.Don't ever copy other people's stuff, instead you can present it in your style in a more appealing manner. When it comes to content, quality plays a vital role than quantity.
Pro Tip: Make sure that your site contains atleast 10-15 resourceful posts of 500 words or more at the time of applying for Adsense. Try & make a few of them lengthy around 1000-1500 words wherever required. If you submit a site with lesser posts, your application might be rejected stating "Insufficient Content". The more the value the more chances of approval.
Clue: You can produce your own or use third party videos. Embed YouTube videos in your blog posts. This inclusion will definitely add value to your site. Google values content with images and videos and hence, such posts rank higher when compared to ordinary posts.
5) Adopt Clean Design
The site design also plays a vital role in getting Google Adsense Approval process. Your website should have a neat and clean design with proper navigation. For this purpose, you can either purchase a custom themes for blogs or download a free template.Do your best to make your site look at its best or just avoid your site from looking messy, crowded and confusing.
6) User-Friendly Interface & Good Loading Speed
Adsense clearly states that:
"Websites that are under construction, don't load, or have non-functioning links, will not be approved".
Sites with good navigation, layout and proper loading speeds are definitely valued. So check your site before you apply.You can overcome this problem by choosing a good web hosting provider and a custom theme. Otherwise use Google PageSpeed Insights to get an overall PageSpeed Score and tips to speed up page load on your blog.
7) Site Ownership
You must have access to edit the HTML source code of the website you submit for AdSense. If you submit a site you don't own, you won't be able to place the AdSense code on the site and your application will not be approved.
In some locations, including China and India, it is required for publishers to have owned their sites for 6 months.
Note: But, to be frank the site or domain age isn't a matter if you meet other criteria.You can submit sites lesser than 6 months and get approval if they are upto the mark. I've got Google Adsense approval for this new blog which is just two months at the time of applying.
8) Setup Important Pages
Don't throw your blog into the anonymous list! Adding a few pages to your website will provide a clear identity and understanding about your site. Creating the below pages shown professionalism.
About Us
Privacy Policy
Disclaimer
Contact Us
In the above pages, provide clear information. The about page must contain your short bio, the motto of your website and the information it intends to provide to its visitors. Be clear and straight, don't beat around the bush.The Contact page should facilitate your visitors to contact you directly either via social media or email. A privacy policy indicates about information usage and sharing. A disclaimer is an agreement to prevent harm and damage. I have managed to get approval with just contact and about pages. You can check out these pages in the navigation bar.
9) Omit Third party Ads
Google basically doesn't reject applications of websites containing other advertisement networks.
Many Adsense appliers complain of their applications being rejected with this reason. In my opinion, this is a misconception.
You can continue with other networks, as long as these don't interfere with your Adsense ads. But In case, if you don't want to take the risk, you can remove them,wait for a week and then proceed to apply.
10) Build Traffic (Optional)
This is the most mislead factor amongst all. Of Course, sites with immense traffic are revered and admired. As a newbie blogger, I know its difficult to gain traction and drive consistent traffic.Do not worry, Google understands your situation.You just do your job.Promote your content on social media and try to gain attention via social sharing. As of now traffic, total page-views, visitor or social sharing count is not a major factor deciding your Adsense account approval. But do try to promote your content on major social media platforms like Goggle+,Facebook,Twitter and Pinterest. This will definitely boost up your site and help you make money at a later stage.
11) Be Cautious While filling the Application form
In the Adsense account Sign up process,you will be asked to fill in the application form regarding your personal details. I guess, you might have definitely come across that.While filling this form, you should be very cautious and exact.Here, I mention to you the exact areas of concern.
However, before you apply for Adsense, I recommend you to read my thread on the new adsense signup process, as it will clarify your queries and properly guide you through the entire sign-up process.
What's so particular about it, is that:
The email address, you use to create adsense account should be valid. If you enter an incorrect email address, you'll need to re-submit a new application using your desired email address.
Tip: This isn't a must but if possible try to use a professional email address over a generic one. For Ex: Sowjanya@hearmefolks.com gains more traction than sowjanya@gmail.com. Nowadays many webhosting packages include a professional email-address.Otherwise you can create one for free with Zoho mail.
Secondly, you need to fill-in the correct payee name as submitted in your bank account. Since, AdSense applications with incomplete/fake names won't be approved.
AdSense applications with invalid mailing addresses may be rejected. So, provide your complete address including every single detail as you would do to post a courier.
Most importantly, ensure that the URL on your application form is correctly entered.You should not apply for Adsense account with a subdomain of a custom domain.
So be careful while applying and filling the application form.
Once your website meets all the criteria mentioned above along with Google AdSense TOC you can now, apply for Adsense.
Remember, Google Adsense is considered as one of the best platforms for Online Revenue Generation.
So don't give up!!
Google Adsense Approval is As Easy As Pie for You Now!
Yes, you can do it!
Be mindful about the trouble areas mentioned above before getting started with the adsense sign-up process.So don't give yourself a second chance to apply for the AdSense program.
But right now, I want you to do one thing:
Specifically, I want you to leave a comment that describes your Google adsense approval experiences you would like to talk about and share.So please do leave a comment and let me know what you think.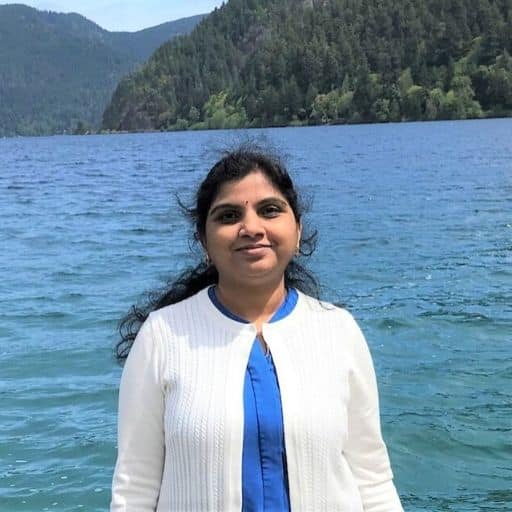 Howdy Folks, thanks for stopping by my blog.
I'm Swati, a proud mom, dedicated side hustler, full-time blogger, and a recognized millennial work-at-home expert. My expertise has been featured on esteemed platforms such as Forbes, CEO Blog Nation, Referral Rock, Vital Dollar, Databox blog, and many more. I have embarked on this incredible journey to share my firsthand experiences in the world of online income generation and to assist all of you in earning money from the comfort of your homes.
Join me in my mission to revolutionize the way we make money and achieve financial freedom. Trust me, it's not as challenging as it may seem!
Together, let's explore the boundless opportunities and pave our paths towards a prosperous future.