When researching this Honeygain review, my mind was on the best way to earn money for nothing. Specifically, I was interested in passive income apps that can run in the background of my mobile devices
Honeygain was my first stop, simply because it is backed by great user reviews. Still, can you really make money with Honeygain? Is it a worthy addition to your side hustles as a way to earn extra money?
Before going much further, you should know that to get Honeygain credits, you need to share your internet connection. So before you install the app, think about what it will cost you to earn free money.
This review looks at exactly how Honeygain's app uses your data, the user's earning potential, and the pros and cons of the app. Most importantly, is Honeygain legit? Let's find out!
What is Honeygain?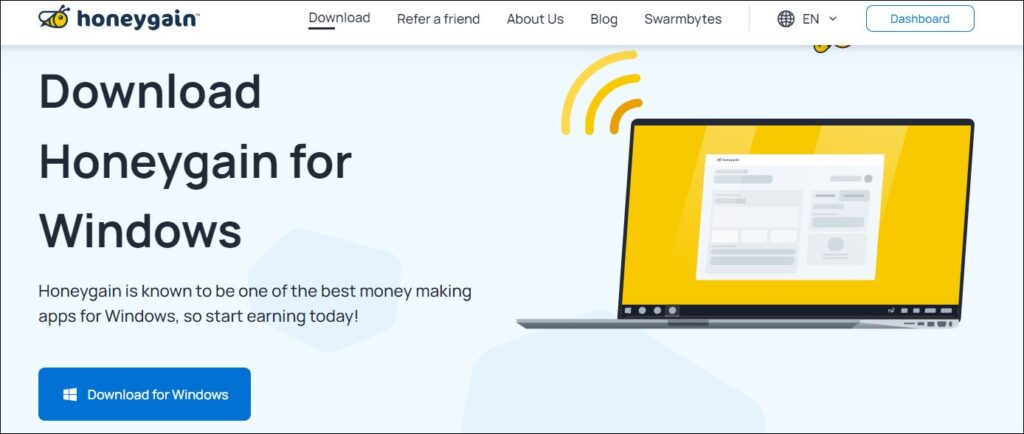 This is a site that lets users make money passively by sharing their internet connection. The service operates by collecting bits of publicly available online information using shared internet connections and then providing this data to businesses for tasks like web statistics and price comparison.
Honeygain was established in 2018, became operational in 2019, and is owned and operated by the Honeygain team. Its clientele are businesses that require an extra connection for bandwidth-intensive content.
As you earn, your bandwidth is used by businesses that require data on;
Content delivery.
SEO.
Brand protection.
Ad verification.
App testing.
Price comparison.
Honeygain Features Overview
| CRITERIA | FEATURES |
| --- | --- |
| Year Established | 2018 |
| Purpose | Earn passive income by sharing internet traffic |
| Available Countries | Worldwide |
| Applicable | 18 Years and Older |
| Subscription Plans | None Specified |
| Average Earnings | $26.58 per payout |
| Minimum Payout | PayPal $20, None for crypto |
| Cuts & Commissions | None |
| Payment Method | PayPal or cryptocurrency (JumpTokens) |
| Bonus Program | 10% of referral traffic, plus more |
| Google Play | Currently unavailable |
| App Store | 2.9/5 stars, 84 Reviews |
| Ratings & Accreditations | Trustpilot rating of 4.5/5, 10,956 Reviews |
| Final Verdict | Legit & Trustworthy |
How Does Honeygain Work?
Internet data is a crucial catalyst for the advancement of the World Wide Web. Through the excess internet bandwidth of users, Honeygain helps in this growth while sharing revenue with its remembers. To get your share of this passive money from Honeygain, here is what is required.
Step 1: Set Up Honeygain
Users can install the Honeygain app on multiple devices with a stable internet connection, including Windows, macOS, Linux, iOS, and Android devices. Creating an account is essential to allow Honeygain partners access to your internet usage.
The account can be set up using your email address or by linking your Facebook profile, and the service is entirely free of charge. New members receive a $5 gift bonus upon signing up, adding an extra incentive to get started.
Join Honeygain to Claim Your $5 Gift
Step 2: Run the App
Once activated, the app securely shares the user's connection without obtaining personal information/data. Note that for Honeygain users to generate passive income, it's crucial to keep Honeygain in operation.
This entails running the app on devices, with devices only requiring the app to be open and running in the background.
Step 3: Let it Gather Data
Honeygain uses a shared internet connection to gather publicly available online information. Users earn credits, with every 10MB of data shared resulting in 3 Honeygain credits.
These points correspond to a dollar amount, allowing users to gauge their earnings with time. The accumulated "Honey" is stored in the Honeygain account until the user is prepared to cash out.
Step 4: Help Businesses
By participating in the Honeygain network, your internet connection is shared, allowing partners to access the internet through your location.
This enables businesses and organizations to experience the internet from a real user's perspective, free from geographical limitations or content censorship.
Step 5: Get Paid
Users earn money for sharing their traffic and can receive payouts in PayPal or cryptocurrency.
To convert the earned Honey credits into tangible cash payouts, users need to amass a minimum of $20 worth of Honey credits to initiate a PayPal money payout. When cashing out via crypto, the currency on offer is JMPT also known as JumpTokens which has no minimum cap.
Given that 1,000 Honey credits are equivalent to $1, this implies that over 33 GB of shared data is required to meet the threshold for cashing out. To boost your earnings, Honeygain also comes with a referral program.
How Much Does Honeygain Pay?
Honeygain allows you to accumulate credits that can be exchanged for real money. According to Honeygain, you receive 3 credits for every 10MB of data traffic, and 10 credits are equivalent to $0.01.
The payout threshold is $20, which is equal to 20,000 credits. When you attain this amount, a 'Request payout' option becomes available.
Earnings from Honeygain depend on various factors including your location, IP addresses, and your network ping. Earnings also hinge on the traffic demand by clients and the number of users in the location.
As such, more connected IP addresses can lead to higher earnings. Also, you need to aim for 50Mbps+ and 50ms or less, in speed and ping respectively for high earnings.
Honeygain Referral Bonus
To make money with Honeygain, the platform also pays you to refer friends. You'll earn 10% of their traffic for the time they access the web with Honeygain running.
You also make extra money when the app hits 2GB from their internet connection; specifically, 500 credits amounting to a $0.5 free cash bonus.
Sign Up on Honeygain to Get Your Referral Link
How to Get Paid with Honeygain?
Users can choose to receive payouts either in PayPal or cryptocurrency, with the former taking a day or two to reflect in the user's account. When opting for the JumpTask crypto wallet, the payout is immediate without being bound by the $20 minimum cashout requirement.
Honeygain Reviews
Honeygain has received mixed reviews from users. Positive reviews often highlight the simplicity of the service and the potential for earning passive income. However, some negative reviews express concerns about not earning enough, the impact on internet speed, and data privacy.
On Trustpilot, the site is not only verified but it also gets an excellent 4.5 stars from aggregating reviews from 10,880 Honeygain reviews. That said, the Better Business Bureau (BBB) hasn't accredited Honeygain and rates it at D-.
Here's a peek at critical Honeygain reviews across Trustpilot and Reddit:
Honeygain Review (As Per Trustpilot)
Trustpilot reviews for Honeygain are predominantly positive, reflecting users' satisfaction with the service. Reviewers highlight various aspects that contribute to their positive experiences with Honeygain.
Many reviewers find Honeygain to be easy and straightforward to use. Several reviewers mention that the withdrawal process is quick and hassle-free.
Users also appreciate the company's efforts to assure them that their data is being handled responsibly and that only anonymized data is shared. Its support also team gets praise for addressing issues promptly.
In addition, many mention that they have successfully withdrawn earnings from Honeygain, which indicates that the platform is delivering on its promise of providing passive income opportunities.
Lastly, Honeygain's referral program also gets high approval, with users mentioning the ability to earn bonuses without much effort.
Honeygain Review (As Per Reddit)
Many Reddit reviews don't seem to directly label Honeygain as an outright scam, but there are concerns about the transparency of the service and whether it delivers on its promises of privacy.
Some users express apprehension about Honeygain's potential impact on their privacy. Others are wary of unusual activity that supposedly triggers warnings from websites and online services, such as Google's dreaded "Unusual Activity Detected" message.
Further, a section of reviewers complain about slow earnings and difficulty in reaching the payout threshold. At the same time, there are complaints of dissatisfaction with Honeygain's communication and transparency.
Other negative reviewers feel that the platform is not clear about its operations plus difficulties during the payout process. Finally, going through complex steps when setting up a crypto wallet doesn't earn the site any favors.
Honeygain Pros & Cons
| Honeygain Pros | Honeygain Cons |
| --- | --- |
| Easy setup and operation. | Earnings may vary significantly. |
| Transparent data collection practices. | Sharing your devices' data connection might affect personal usage. |
| Payout options in PayPal and crypto. | Limited control over the data collected and its usage. |
| Global availability. | Takes a long time to get a substantial amount. |
| A real chance to earn without doing much. | |
| Commendable customer support. | |
Is Honeygain Legit?
The software is generally considered legitimate. The service offers transparent data collection practices and compensates users for sharing their internet connections. More to this, it operates in collaboration with trusted partners and aims to provide businesses with data for legitimate purposes.
Some users on Reddit mentioned that Honeygain is legit and they have received payments after reaching the cash-out limit. Even better, most users who started with the app after its launch have affirmed being paid multiple times by Honeygain.
Apps Like Honeygain
Apps like Honeygain share the common concept of using your unused internet bandwidth to earn money. While the earning rates, payout options, and additional features differ slightly among these platforms, they offer users various options for earning passive income by leveraging their internet data.
1. Pawns App
Pawns works similarly to Honeygain; you to install their software on your devices (Windows, Mac, Android) and share your unused internet with their clients.
It pays $0.2 per Gigabyte of data you share, which is a relatively high rate for this type of service. You can get paid via PayPal, gift cards, or convert earnings to Bitcoin and transfer earnings to your Bitcoin wallet.
Install Pawns and Get $1 Welcome Bonus
2. Peer2Profit
Peer2Profit is another worthy Honeygain alternative. Similar to Honeygain, it offers a way for users to monetize their excess data bandwidth.
Its payment threshold is $1, with earnings ranging between $0.8 and $1 depending on the device and type of internet connection. As for referrals, you get 50% of your friend's earnings.
On the downside, Peer2Profit is not available for iOS users; the software is only compatible with the Android operating system version 5.0 and above.
3. PacketStream
To make some cash on the side, I also recommend installing PacketStream which is similar to Honeygain. As a "Packeter", you get compensated for sharing your data with web surfers across the world.
The site has a $5 PayPal payout minimum threshold and pays $0.1 for 1 GB of data. So, while its pay is not high it has a lower cashout cap. Unfortunately, the software doesn't work on smartphones or iPads.
Honeygain Review: FAQs
1. Is Honeygain A Scam?
There is no actionable evidence to show that Honeygain is a scam. The service operates with transparent practices and provides a clear explanation of how it collects and uses data.
Also, most Trustpilot and Reddit reviews do not show any indication of Honeygain being a scam. Users mention successful withdrawals and positive experiences with the platform, aligning with the legitimate nature of the service.
2. How Much Money Can You Make on Honeygain?
The Honeygain website promises up to $50 per month. The truth is that you may only hit a fraction of the amount. As seen in the above stats shared on r/beermoneyuk, a Honeygain user reports making between $0.30 and $0.40 daily.
Note, the user has 8 devices running Honeygain and in 30 days, they managed to share 42.50 GB, making them around $12.75.
As such, to get $50/month, they need to be sharing 4 times their current bandwidth which could mean running Honeygain 24/7 or adding many more devices to the service.
So, manage your expectations when using any software that pays you for sharing bandwidth, Honeygain included.
3. Why Should You Choose JMPT for Honeygain?
JMPT (JumpToken) offers several advantages for your Honeygain earnings, including faster payouts, generous bonuses, no payment thresholds, and low transaction fees. By choosing JMPT as your payout method, you can enjoy quicker and more flexible cashouts.
4. Can Teens Use Honeygain?
The eligibility to use Honeygain depends on the legal age of maturity in your country. If you are underaged, you can use Honeygain only after informing the team and obtaining parental or legal guardian consent. This involves submitting a support request and complying with the Terms of Use.
5. How to Increase Honeygain Money?
Earnings on the app depend on traffic demand in your area. Generally, though, the more the IP addresses are connected to your devices, the more credits you will collect. Also, when it comes to network ping and speed, go for 50Mbps+ and 50ms or less respectively for the best optimal earnings.
Is HoneyGain Worth It? [Final Thoughts]
Honeygain offers an interesting way for users to earn passive income by giving away a small portion of their internet connection. While users might not earn substantial amounts, the platform is seen as a way to accumulate passive income over time.
Honeygain is generally considered legitimate, but users should be aware of the potential variability in earnings and the impact on their internet usage.
Before participating, I advise you to read the terms of use and privacy policy, assess your comfort level with sharing internet traffic, and decide whether the potential income aligns with your expectations.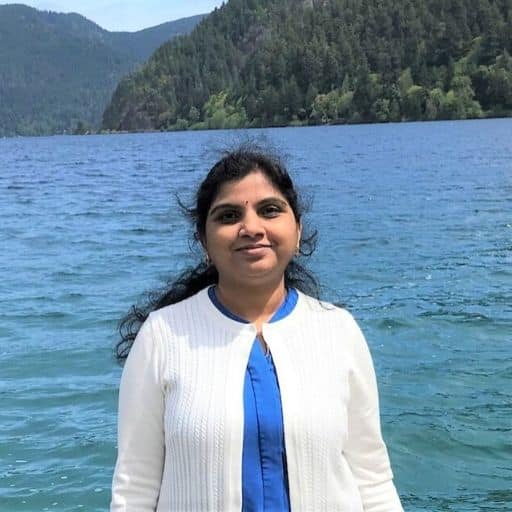 Howdy Folks, thanks for stopping by my blog.
I'm Swati, a proud mom, dedicated side hustler, full-time blogger, and a recognized millennial work-at-home expert. My expertise has been featured on esteemed platforms such as Forbes, CEO Blog Nation, Referral Rock, Vital Dollar, Databox blog, and many more. I have embarked on this incredible journey to share my firsthand experiences in the world of online income generation and to assist all of you in earning money from the comfort of your homes.
Join me in my mission to revolutionize the way we make money and achieve financial freedom. Trust me, it's not as challenging as it may seem!
Together, let's explore the boundless opportunities and pave our paths towards a prosperous future.