Wondering, how to increase traffic to your brand new blog?
The biggest struggle for any newbie blogger is to drive persistent traffic to their blog and make a steady passive income blogging.
If you read any articles about traffic, you might be quite familiar with the term Search Engine Optimization. That's not we are talking about today! Yes, let's discuss some simple + effective ways to drive traffic, even to a new blog.
I still remember those days, when I kept looking for ways to drive traffic to this blog (thankfully, now I don't). Everything I read, looked simple, but nothing really worked.
I was desperate and wanted quick yet steady traffic.
One source is steady, lucrative traffic is SEO.
Once your articles start showing up in the top search results, you start minting money and you need not look back. But, SEO is a long game and depends on several parameters.
If you're able to drive organic traffic to your website, well and good, it's a huge win. Otherwise, don't you worry about organic traffic, especially as a beginner. SEO should be taken care of right from the beginning, keeping in mind that the results are far fetching and perennial, though not fast.
In the meanwhile, I believe, it's not wise to wait!
Putting efforts to market your blog across various mediums helps traffic diversification. So, let's see how to drive traffic, exponentially grow your audience and build authority in a short time.
10 Ways to Drive Traffic to Your Website Without SEO!
Let's Begin! Read till the end…Don't miss #6 & #9, for exclusive traffic deets!
#1 Target Trending Topics
Keep a close watch on the latest trends in your niche! Posting latest updates will definitely show a spike in your traffic.
People mostly flocks at websites that provide resourceful information about latest products, techniques, methods, services, and occurrences.
For example: If you're in the technology niche, posting about just any product will hurt your credibility, showing that you're not up-to-date with the trends in technology. When a new story hits (such as the release of the next iPhone), everyone will be writing about it, and if you're writing about gadgets, you will, too. If you don't really have anything extra to add to the conversation, present the same in a unique angle.
If you've never seen anything like the item you're considering, that might be a good reason to post it. You need to win their hearts, explaining why it's ground-breaking, what's new about it, and what you think about its implications for the future.
Tip: Setup Google alerts to your email so that you get notified whenever something new pops up on the topic of your choice.
#2 Write Compelling Headlines To Increase CTR
Who wants to click-through posts that have boring headlines? No one does!
A recent study has shown that Posts with 'Higher Emotional Value' get most shares on social media.
When your content gets shared on social media, the only thing that visible to your audience is the headline of your post!
You get just a few seconds to grab their attention. After that, it's just a tiny speck in the universe.
Don't let it disappear un-noticed! Get more engagement, shares, and traffic to your blog posts with compelling headlines.
Make sure you have the right balance of emotion and power words that make your headline attention grabbing!
Here's a fantastic guide on "How to Write Better Headlines" by Coschedule
Tip: Test Your Headlines With CoSchedule's Free Headline Analyzer
#3 Write Stellar Content
What makes or breaks a blog? The Content!
Each day a new blog is popping up in the blogosphere. If your content doesn't cut the mustard, your blog is just a drop in the bucket.
See the situation from your readers' point of view. Try your best to engage your audience, I know you're not telecasting a horror/thriller movie!
Rather than publishing a textbook style article, make it enjoyable & readable, so that people stay for a longer time.
While others are busy rewriting press releases & plagiarizing content, you can win hearts with your styled content.
Tip: People love to hear real-life stories and case studies. You need not cook up stories, share your friends (or an influencers') life-changing events.
If you've no idea about 'what to do deliver', try to address their pain points (like a solution to their problem).
Whatever, maybe your niche, remember that people always look for solutions for their long-standing issues. If you're a great problem solver, you can definitely post a few of them to generate leads.
If you have a unique opinion on any topic, this might be your chance. After all, your unique interpretations of topics are what will make your blog unique, and keeps those readers coming back to your day after day.
Tip: Think of a great unanswered question you've pondered, and ready to reveal your grand answer. Post It!
This is the most important point to keep in mind when it comes to traffic. You might lose a potential audience, for not adopting the appropriate social share triggering parameters.
Just by enabling the share buttons, you get plenty of exposure… You never know which post of yours connects with your target audience.
More shares indicate Valuable Content…
By incorporating, the buttons, you show the love your articles received and thus grab more attention…
Social Icons placement is another big consideration for more traffic generation. You should definitely have your sharing icons enabled above the fold (the visible portion of your website before the readers start scrolling), right above the post or as floating icons to the left of your post. These are the best places. You can even place them right above the comments section, but that's not a viable place to grab attention.
I use Social Warfare Plugin and recommend you do the same. This is a very powerful psychological tool to encourage more shares.
After installing Social Warfare I straight away saw a 248% increase in social shares and traffic. Its an incredible plugin that adds beautiful, lightning-fast social share buttons to your website or blog.
It displays social share counts prominently (even Twitter tweet counts), allows you to decide exactly which image, title, and description appear when your content is shared on sites like Facebook and Google.
In addition, it also allows you to upload a custom image (without getting cropped) and write a custom description so that when someone clicks the pin button, the exact image you've chosen shows up with exactly the description you've written.
If you use Social Warfare, you can easily create click to tweet boxes within your posts as I've done here:
[clickToTweet tweet="Tweet This: Triple Your Shares & Traffic by Incorporating Social Sharing Icons 'Above the Fold'" quote="Tweet This: Triple Your Shares & Traffic by Incorporating Social Sharing Icons 'Above the Fold'"]
#5 Go, Blow Your Own Horn 😀
Yes, go around blowing your own horn, it's a must if you want your blog to gain quick exposure. Do a proper propaganda, make them read your about page – the benefits, the motto and the reason why they should sign up for your newsletter and more. n the beginning, it might seem awkward to do self-promotion. But, Your blog is just a tiny spec in this blogosphere, you need to put it in front of the world.
If Content is the king, Promotion is the Queen and Conversions are their byproducts. Writing a good article isn't enough – you have to promote it. If you want your blog to prosper, these 3 components should be well-balanced and prioritized. Hope you get it!
There is a widely suggested promotion ratio of 80/20, 80% of promotion versus 20% content creation. This ratio if implemented well, works wonders, even for a newbie.
As a novice bloggers, you can reach out to influencers & popular blogs in your niche for a guest posting opportunity. It is still one of the best ways to drive traffic and get qualified leads. It is an extraordinary opportunity to exhibit your knowledge, gain exposure and get labeled as an influencer. Remember, the author's bio is a treasure, incorporate the wow factor by showcasing yourself expertise in the niche. Remember more exposure, more traffic!
Tip: Announcing the blog launch to friends, colleagues, and audience, even before it goes live (with a coming soon page) can be very beneficial.
#6 Adopt Smart Promotional Strategies!
Prolonged promotions can freak you out (especially when you're just starting out).
But you can simplify this tedious marketing process by means of a scheduler.
Schedulers make your life easier, saves time so that you can concentrate more on areas of growing your blog rather than spending time promoting your stuff on social media.
Social pilot is a Social Media Scheduling & Marketing Tool that increase your online marketing efficiency and save time.
You can connect up to 3 social media profiles, share 10 posts per day and 30 posts in scheduling queue.
Statistics show that Social Media Users Spend An Average of 135 Minutes Per Day Online.
Here's what you can do to gain maximum exposure for your content on various social media channels…
Facebook
Join relevant Facebook groups in your niche. Participate in Promo threads. You need to adhere to the group rules to prevent being kicked off!
Stop being salesy!
Above all, try to maintain friendly relations, extend your helping hand to those in need, whenever you get time.
Facebook Ads: This post is incomplete if I don't mention Facebook ads!
Facebook ads are an ultimate source of traffic to your blog. Besides running a campaign for attracting page likes, you can design them to build a list and increase clicks and conversions for your products. If you haven't tried them, then you've not plugged in a great traffic generating machine.
Make a Facebook page, start experimenting with small amounts of money and see if you can get any leads. Start with a $5 budget and design your campaign for the target audience (based on demographics, age groups etc). It is as simple as that!
Twitter:
Creating Click to Tweet boxes within your posts is a killer strategy to drive traffic from Twitter.
If you want to share your idea, or opinion, or relevant quote from your post, try creating a click to tweet button and place it in your post. They are highly attention-grabbing inviting more clicks.
Pinterest:
If you're struggling to get traffic, you should realize that PINTEREST IS WHAT YOU MISSED!!
Pinterest is my #1 source of traffic. Many people under-estimate the power of Pinterest. But let me tell you, my traffic grew phenomenally within no time, just because of Pinterest.
Setup a Free Business Account
Build Your Profile
Create Boards
Pin your Images (Create attractive vertical pins with an enticing headline and keyword rich description and post them onto your boards)
Collaborate with Group Boards Owners for more pin exposure
Start Pinning to Group Board In the ratio 70:30 (70% other people's pins to 30% yours own pins)
Explaining how Pinterest works is outside the scope of this article. That kind of information takes an entire course, so let me point you to some resources.
Here's a Step-by-Step Pinterest Guide to Drive Crazy Traffic to Your Newbie Blog!
---
Looking for quick results and advanced Pinterest strategies?
You must check out this course, bundled with killer strategies and tips for you to hone Pinterest Marketing. If you want to build a strong foundation and bring the best out of Pinterest, this course is a must. Many Pinterest marketers and bloggers (including me) have benefitted from this book and hence recommend it to anyone struggling for traffic.
No exaggeration – With the step-by-step guides and image-oriented tutorials, you'll start seeing amazing results on Pinterest within a month. Yes, go for it, if you're serious about traffic.

StumbleUpon
StumbleUpon is a social discovery & sharing platform that allows users to vote on whether or not they like a website.
Users can either give a site a Thumbs Up or a Thumbs Down. If they give the page a Thumbs Up, the page will then be recommended to others who have shown an interest in that category.
Getting your page stumbled by many people can lead to thousands and thousands of new visitors to your site.
Just like Pinterest, if you ONLY stumble your own pages, the platform is going to start ignoring you.
A good rule of thumb is: for every 1 page of your site you stumble, you should stumble 10 others.
Update: StumbleUpon Is Closed After 16 Years And Moved To Mix
If you want to know the secret of driving tons of traffic from all other social media channels. TRAFFIC TRANSFORMATION is what you need! It's an amazing resource that Skyrocketed My Brand New Blog Page views by 276%
It includes the working ways to leverage ALL SOCIAL MEDIA channels (with examples, graphics, screenshots and much more).
My favorite part about this Traffic Transformation guide is the 40-minute video tutorial where Lena shows you her simple methods for getting high Google rankings by using Google to tell you what keywords people are searching for, knowing which keywords you can potentially rank for, and how you can optimize your post to make sure search engines know how and when to return your blog posts in search results.
This keyword research and optimization training offered are easily digestible, practical and problem-solving.
This is immensely valuable information to know as a blogger because Google can drive SO MUCH targeted FREE traffic to your blog if you know how to convince the bots to rank your content.
This is a training you won't find anywhere else (and she uses her own #1 ranking post as the example in the training, so you KNOW her methods work!)
If you're in a dilemma they can you try this Free Blog Traffic Bonus guide(that contains 3 solid traffic generation tips that aren't included in Traffic Transformation)
#7 Embed Images & Infographics for Visual Impact
Do you know, "If the information is presented orally, we remember about 10% three days later? However, if a picture is added in, that figure goes up to 65%". That's the power of Images over words. Try to add images whenever possible to create impact and gain more attention.
If you can add a bit of humor to it, your post is on the verge of triggering shares and comments.
Infographics are graphic visual representations of information, data or knowledge intended to present information quickly and clearly. A good infographic drives plenty of traffic and tons of shares.
People love to share inforgraphics and embed them in their relevant posts. You can quickly create beautiful infographics, flyers, posters, presentations, and reports easily with absolutely no design experience with Piktochart, it's free!
Once done share them on your social media profiles, embed in your posts or mail them to the influencers in your niche, you will be shocked at the overwhelming response you receive for them.
Tip: Don't want to take the hassle of creating images? You can look for relevant infographics by doing a simple Google image search for: your keyword "embed". For example take this post: traffic tips "embed"
#8 Try to Avoid Third-Party Popups
Do you hate pop-ups & too many ads? I do!
I believe no reader likes them.
Certain ad networks show pop-ups, interrupting ads and alerts like "you've won an iPhone". Say NO to them, if not you'll be losing a considerable amount of traffic, which indirectly leads to increased bounce rate.
#9 Never Compromise with Quality!
Who cares for the frequency of your posts, or how many posts you have? (pardon me, if I'm rude)
I believe, it definitely doesn't matter. If the frequency is what that matters, then all the bloggers would work their ass off to post stuff daily.
Quantity doesn't, only Quality matters!
Let me explain, what I meant by quality and how you can find what to blog about?
Head over to your Google Analytics Reports (picture below). Scroll down in the menu on the left-hand side to "Acquisition >>> All Traffic >>> Channels". All the visitors to your site from all Channels/Sources will also be listed here.
This is a great tool, to analyze where your target audience lies so that you can concentrate on those medium more.
If you proceed further and click "Acquisition >>> Social>>> Landing Pages", you'll find a list of your blog pages/posts that are receiving immense traffic.
You might be surprised how quickly you can gain traction if you really look at the posts that are pulling in the most traffic.
Tip: Write a ton more on related topics with quality content
#10 Consider Video Marketing over Content Marketing
Are you tired of crafting lengthy posts? Take a break!
Do you know, approximately 43% of People prefer Videos?
Start publishing Videos!
Statistics prove that Videos that have a shorter attention span of 2 mins or less do well when compared to longer videos.
Slideshare is a crowded site with a highly targeted audience and low competition. Its features make it the ideal tool to grow your traffic.
You can also create PowerPoint presentations of your content and & share publicly or privately on slideshare.net
Check out this guide on How to embed a Slide-show from SlideShare on WordPress
Final Thoughts…
You'll find plenty of content on the web that explains how to drive traffic to your blog. Some of them are truly amazing! I don't know exactly how many of them actually work for 2019! But, the ones I listed above worked & still continue to work for me and several other bloggers.
I would say, don't give up on a method/source or technique, unless you did your best! If something works for someone, it'll work for you too!. That's when you'll succeed, and see amazing results, if not now – tomorrow or pretty sooner for sure!
Trust me, hard work never fails!
I started out with pretty less, but was really excited when the viral effect kicked in and my traffic started exploding!
So, what ways helped explode your blog traffic?
Liked this article? 'Spread the Love – Pin this Post ➡ '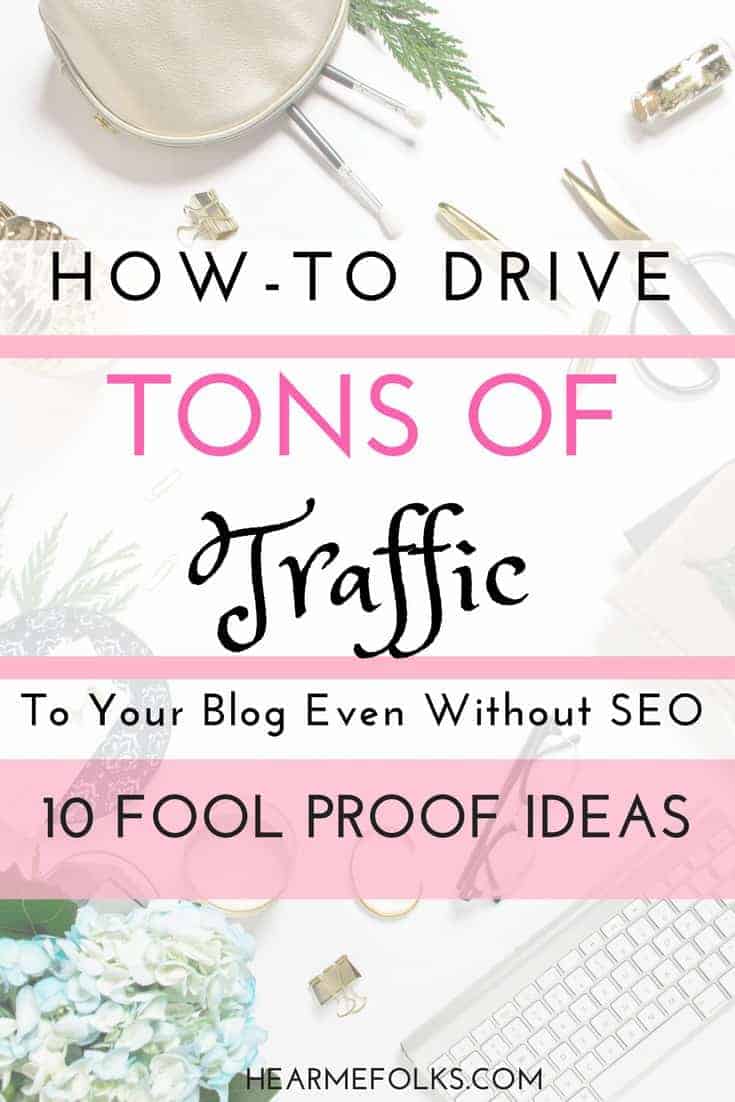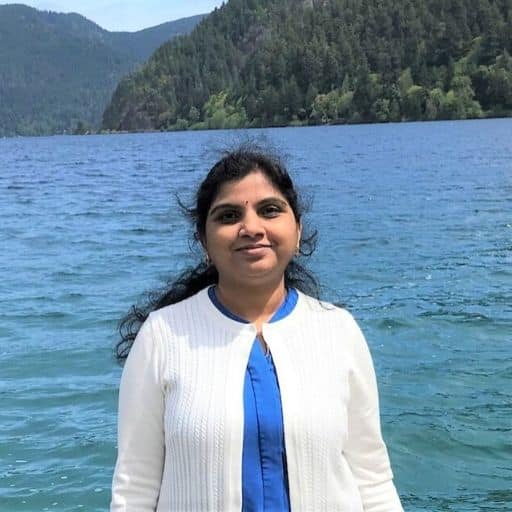 Hey Folks, thanks for stopping by my blog!
I'm Swati. I'm a mom, side hustler, full-time blogger and a millennial work-at-home expert featured on Forbes, CEO Blog Nation, Referral Rock, Vital Dollar, and Databox blog. I embarked on this impeccable journey to expose my online monetary experiences and help you all earn money from home. Come join my make money revolution and attain financial freedom – it's not as hard as you think!