With the advent of WordPress, anyone can now register a domain name and start a blog within no time, but how many of them are really successful?
Starting a blog is easy, but making money isn't! Many get into this hustle, expecting to make easy money. But, the harsh reality of blogging, every blogger needs to accept right away is – blogging is just like any other full-time job with no fixed pay.
If you're disappointed that you aren't making any money from your blog, go ahead and read this post till the end. I hope this post will inspire, help you avoid the early blogging mistakes and lead you in the right direction.
How Much Do Bloggers Actually Make?
An Income assessment conducted on '1500 ProBlogger readers' (with blogs mostly 2-yr old), revealed that only 4% of the 1500 bloggers, make over $10,000 a month.
It also reveals that a big chunk – 63% make less than $100 a month and 24% consistently make between $100-$999.
So, if you're still thinking whether you can make money off your blog? Yes, you can! Many bloggers, give up blogging thinking they can't, but that isn't true at all. Though all bloggers can't be successful, most will – the moment they start treating it as a business and put all efforts.
Here's a complete breakdown of the income stats to assess your progress: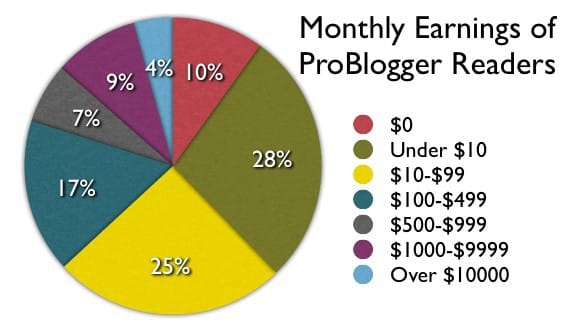 Putting the money aspect aside, did you ever feel like going back in time and rectifying your mistakes/starting afresh? I felt so, not just once but several times.
If you're a blogger, this notion might have occurred to you at least once.
Today's topic is all about this…
With all of that being said, I reached out to some of the greatest minds, I've met in the blogging world, to ask a couple of questions about finding success with blogging and discuss the above topics. I've got amazing responses from all the bloggers willing to participate in a roundup post opportunity for these 2 questions:
1) If you were given a chance to go back in time. What is the one thing you would want to start earlier?
2) How long did it take to make money from your blog? What is the best advice you received /recommend to those struggling to make money yet?
You can read through the massive list of answers below, and start implementing the best practices to grow your blog quickly!
#1 Amanda Patrick
Amanda Patrick is a health and mindset blogger at blisshealthcoaching.com
Here's what she says:
1. If I could go back in time I would choose to start believing in myself from the beginning instead of doubting whether I could succeed with a blog. A positive mindset and being determined to succeed is what I needed right from the beginning. I actually started several blogs back in 2009 and gave up when things got hard. I would tell myself to be consistent and believe in myself.
2. I started making money with my blog after a year of blogging but it was minimal because I wasn't consistent in posting and I don't think I realized how much money I could really make so I didn't take it seriously. My piece of advice would be to not just randomly write blog posts about whatever you want…but to write with an end goal in mind. When you write always be leading people to your email series or a product. You don't always have to mention it, but keep it in the back of your head when you write. Write with purpose.
#2 Audrey Marshall
Audrey, a mother of two from Utah loves empowering other parents to be their best selves and she blogs over at mommyenlightened.com
Heres what Audrey got to say:
1. I would have launched my blog sooner. I took all the big courses out there and spent a month on refining my site. I wish I would have started writing and making more content sooner. That doesn't mean you shouldn't buy a course or two, but don't let the need for perfection hold you back. Remember that you can always go back and fix things later, but the best way to start something is to just do it.
2. I made money from my blog within the first month of launching through affiliate links. Not a lot of money, but it was a start. I think if you are having trouble making money, decide on how you want to monetize your site. I planned on monetizing with affiliates and a good ad network. Eventually, I planned to create a couple of products too. Once you decide how you want to make money, start implementing what you need to do to get there. I include at least a couple of affiliate links in every article, and I make sure these are products I know and love. People are reading your post to solve a problem, so think about what product you can recommend helping them get there. Research whatever strategy you want to do to make money and figure out a plan. Keep the big picture in mind in everything you do and you will get there.
#3 Aysha Iqbal
Aysha Iqbal began her blogging journey in 2010 and now operate several websites one of which is unlimitedincomenow.com
1. I would have started on a self-hosted site from day #1. I admit that I did allow the technical requirements to scare me all those years ago but the truth is things got way better after I made that plunge. I do feel that it was a rough transition back and I could have avoided all that if I had started with a self-hosted site from Day 1. Yes, it's a paid thing and we haven't made a single cent yet. But it's an investment- The first investment you are going to make to ensure that the efforts you are about to put on your blog materializes and bring you profits.
2. My first sale maybe 6 months. It was mainly from affiliate marketing on Amazon and Zazzle. My best advice -Remember you are building a foundation for a mini Income empire. Stay focused on your niche and learn the trait well upfront. Learn search engine optimization and keep on publishing quality posts. Don't put too much on your plate all at once. The results will show in a matter of time. Remember this is a marathon, not a race. Don't rush the process and don't give up.????
#4 Bhanu Pratap Kaushik
1. I wish I could have started List Building on my blog earlier. Newbie bloggers do not understand the importance of email lists. Your list is a continuous source of driving traffic to your content/products/services if Google fails to rank your site.
2. It took me around 1.5 years to be frank. Though, making money wasn't my main motive when I had started. It was a by-product of good and engaging content I guess. I would recommend newbie bloggers to focus on a single niche. They should start a PMD and target long tail low competitive keywords otherwise most of them will lose the motivation if they are unable to drive traffic/make money during their initial phase. Lastly, treat blogging as a business. You are providing your customer with a solution. More solutions mean more trust which means more revenue
– thetechswag.com
#5 Carly Campbell
Carly Campbell, a mom blogger, wife and a mother of two is the mastermind behind MommyOnPurpose and 'Blogging Like We Mean It' Facebook group who makes a solid income blogging from home.
1. I would start BLOGGING sooner! To be more specific, I guess I'd say I'd have invested in learning to blog sooner. I started a blog once, years ago, and got to the hello world post in WordPress… Couldn't figure a darn thing out so I quit after 2 weeks. Investing in blogging education the second time around made all the difference.
2. I started making really good money after 9 months (3000-5000/month). The best advice I could give to anyone struggling is to just DO. Doing is the only way to learn and figure out what works and what doesn't work! Doing is the only way to move forward. Not sure how to do something? Well, jump in and learn. It's ok if you get it wrong the first time (or 3 times). Eventually, you'll get it right.
#6 Cate Rosales
Cate is the blogger behind SweetandSimpleLife.com. Her blog is all about simplifying business processes and blog strategy to give time for the more important things in life. She is raising her family and growing her small business in sunny California ????
1. If I could go back in time, I would start using Pinterest from day one of blogging. I would also invest in some form of blogging/business training. A course, a book, or something that would make the whole process smoother! Trying to figure everything out on your own is not the way to go. Get help. And don't be afraid to invest in your business.
2. As soon as I decided to monetize my blog, I started making money that same month. The first few months I just made a few hundred bucks. By my sixth month in business, I was making a steady $1000/month. Honestly, the best recommendation I can give you is to take my blogging course! I've laid out the most efficient system for turning your blog into a money-making business, and I think every blogger needs the training.
#7 Debbie Gartner
Debbie loves transforming her customers' homes from drab to fab and came up with her blog TheFlooringGirl.com
She has been doing amazingly well with her SEO optimized articles and makes a solid income every month.
1. My blog has been around and I started in 2011 and focused on SEO right away and so glad I did. But, I'm kicking myself for not taking Pinterest seriously sooner. I started Pinterest in 2012 (when it was very different) and had no idea that I was missing out on so many great traffic opportunities. I would have been so much further ahead.
2. My blog was set up for my business, not to monetize. But, because I already had a lot of SEO traffic, I made $100 the first month I started to monetize (as a hobby). As soon as I actively tried to monetize, I made $1,100 for the month.
#8 Dela Zyana
Dela Zyana, a wife, mother of 4 children, homeschool teacher, natural hair enthusiast, Youtuber is the creator of brownskinmama.com
1. Seo for sure, once you start your site without Seo it's pretty difficult to untangle. I've had my site for about 8 months but only started taking it seriously since June.
2. I've already qualified for Mediavine with the help of Pinterest.
I would advise anyone new to focus on Pinterest but definitely work side by side with the long-term plan of SEO.
#9

Florence Sherri
Florence Sherri, a busy mom of 3, runs the mommy/lifestyle blog at italianpolishmomma
1. I started a breastfeeding blog in 2009 because I had zero support besides my husband (who wasn't the best lactation consultant LOL)! I also wanted to help other moms in the same situation and I loved to write! I really wanted something great to happen with it but eventually, life took over, I lost focus, and I let it go. I kick myself thinking about where it would be if I kept it!!!
2. I made money pretty early on, I actually made a little over $100 in my second month. I'll be honest though, this time around I had years of freelance writing experience so I knew what I was doing. I launched this blog a little over a year ago and told myself to go all-in for one year and see what happens. My goal was to quit my job and blog full-time and I'm very close to reaching that goal! The first blog I made pennies! This time around I read as much as I could, looked at it as a business, and launched it with a bunch of posts ready to go. I also knew a lot about Pinterest and focused heavily on it. Best advice? If you love to write, keep at it every day!! Avoid negative people and read about people that inspire you that are successful. Stay focused and work on one goal at a time, never stop learning and reading! And most importantly, remember to be patient and thankful for every cent you do make!
#10 Gemma Mcb
Gemma is a mom of two girls, and the creator of Seasidesundays.com. The goal of her blog is to help women get smart about money and grow their income.
1. To learn more before launching as I've had to redo a lot for SEO purposes and other stuff.
2. I made my first dollar in the first month but I would say the second month as I made over $500.
#11 Gina Butler
Gina, a lifestyle blog discusses topics ranging from everyday life to chronic illness and mental health. She resides in Pittsburgh PA with her husband and her emotional support dog and runs Gina's Library.
1. To Learn SEO from day one.
2. 2 years. My advice, don't compare yourself to others. Run your business the way you want, and just keep moving forward.
#12 Jasmine Hewitt
Jasmine Hewitt, a wife, and a Stay At Home Mom lives in southern Georgia and blogs at lovelifelaughmotherhood
1. correct SEO on top of being self-hosted immediately! I also wish I had been more active on Pinterest and stumble upon especially now since its gone
2. I started making money About 6 months into blogging, and its been pretty steady ever since (2years)
#13 June Doran
June Doran, a mom to four and a relaxed homeschooler blogs at thissimplebalance. She teaches other moms how to find more margin in their lives by publishing about saving money, minimalism, parenting, homeschooling, and blogging.
1. I started my blog on February 1, 2017, and I so wish I had learned SEO from the beginning. My blog would have a much stronger leg of passive traffic and income to stand on by now. I focused all my energy on Pinterest, and while Pinterest is definitely valuable traffic (I hit 96K page views in March almost solely due to Pinterest traffic), it is unreliable traffic and far from effortless.
2. It took me five months to get paid (a whopping $38), and a few more months after that to see a steady income. 17 months later, I am averaging $1,000 a month. If you are struggling to earn income from your blog, think about whether or not you are solving people's problems. If you hit pain points and solve true problems, you will eventually make money.
#14 Koko Kimura
Koko, an Illustrator / Infographic Designer / Character Designer by profession from Japan is the creative mind behind funkawaii.com.
Her blog is all about Fun and Cute stuff, mainly for kids!
1. I would have started monetizing my blog(s) sooner = make own products.
I was too scared and too unclear on what to sell.
But I noticed that your audience doesn't think the way like you feel. You can worry 100 things and never move forward…stop that and focus on studying your audience, know what they want.
Sometimes you will be surprised to find out what sells with your audience!
ALSO. I should have moved on from my old blog earlier. It was fun but hard to make money. Sometimes you have to swallow the hard truth, realize you need a different direction.
2. 1 year to make little money, and 5th year I finally sold products that are finally selling. ( between 4 years I was just making posts hopefully to make more money with ads. Bad idea)
If you are true to yourself, honest, KNOW what your audience wants, and have a good relationship with them – they will support you back and buy your products
#15 L Autumn Colon
Autumn, a freelance writer, actress, mom and women's lifestyle blogger from NYC shares her work at shesawreck
1. If you were given a chance to go back in time. What is the one thing you would want to start earlier? I would focus on SEO from DAY 1, I still find it hard to do but it is worth it to learn in order to grow.
2. How long did it take to make money from your blog? What is the best advice you received /recommend to those struggling to make money yet? Took me 3 months to make a dollar from the blog but now that I've expanded into sponsored blogs and brand pitching I see more growth money and potential. I recommend not giving up if your site goes down or your views are low stick to your vision and purpose reset refocus and keep it pushing. YOU CAN DO THIS!
#16 Lisa Henry O'Driscoll
Lisa, a mommy, wife, former teacher turned lifestyle blogger, who writes about a variety of topics like food, parenting, saving money and travel at funmoneymom.
I would have learned about SEO right away instead of waiting for three years!!! I didn't even know what it was for a long time.
It took me about 10 months to make money and it was about $42 from Linqia. It took me about 15 months to break $1000 a month (though it went up and down for a few months after that).
#17

Nataly Llanes
Nataly empowers women to find their own voice through profitable blogging and social media strategies
loveandpaperflowers
1. Looking back I would have paid more attention to SEO and would have implemented traffic strategies sooner. Had I truly understood the importance of SEO early on and had focused on keyword-rich content, I would have ensured a much higher organic Google traffic today.
2. What I did do right was to focus on affiliate marketing right away. I saw my first income ($25) the second month after my blog launch.
My advice to new bloggers who are looking to make an income for their blogs is the following:
1. Study your audience
2. Figure out their struggles, needs, and what they are lacking.
3. Solve their problems and answer their questions by writing detailed SEO friendly posts, creating products (e-course and ebook), and finding an affiliate that meets their needs.
4. Repeat
But most importantly, be consistent. Even if you go slow, make sure is steady.
#18 Peter Koch
Peter Koch, an engineer by trade and a father of two kids is the creator of dollarsanity. His blog is a journal of his own money-making life experiences. With no previous knowledge of blogging, and without spending a dime on marketing, he managed to obtain a large audience, 100,000+ visitors in just 6 months. Here's his best advice:
I would grow relationships with other bloggers in my niche from day one. Took me a while to realize that they are my friends, not competitors and networking is 50% of success.
Also, I would start earlier with some personal stories i.e. how I built a house without a loan. I thought no one will be interested in my story, no one cares about me but I was wrong.
Two months but I was lucky. Do not waste your time on monetization as a new blogger, focus all your time and energy on your traffic. Once you have traffic, you will monetize easy.
Sylvia, a mom and the creator of Mommy Over Work share ideas, tips, life hacks, and inspiration to make life easier and more adventurous.
I would say learn some SEO basics but focus on Pinterest for quick growth and then go back and improve SEO on posts doing well. I wish I just started instead of wasting so much time trying to learn about everything and not take action. I hit my first $1000 month in my fifth month of blogging and make over $2500/ month now.
#20 Thomas Minter
Thomas is a Financial Freedom Fighter living in an expensive city. He knew costs in the San Francisco Bay Area (particularly housing, transportation, and food), were going to be extreme, so he planned ahead and paid off debts before making the move.
In just under three years, Thomas eliminated $80,000 student loan debt by house hacking, getting paid more at work to travel, saving more than 50% of his income, and legally paying 90% less on state and federal taxes. At 29, he moved to one of the most expensive cities in the world, bought more real estate, and is now looking for his next housing hack.
By day, Thomas is an Operation Manager and Market Strategy Analyst for a large engineering firm. By night, he attempts to encourage millennials to make more, do more, and spend less on expensive cities. Check out his blog: City for Millennials.
1. In my early 20s, I lived and worked abroad. The expat life can be quite lucrative. While working on a United Nations program in the Middle East, my salary doubled, and I took advantage of the
foreign earned income tax exclusion
.
This meant I had money to spend. Luckily, I was determined to pay back my student loans as fast as possible. But once they were eliminated, I should have done something different with my cash.
If I could go back in time, I would have set up a weekly deposit into index funds. When I was living abroad, opening a U.S. investment account remotely was a bit of a struggle. Instead of taking the time to navigate the hurdles, I decided to spend my money on lavish vacations.
Sure, I am glad I traveled to amazing parts of this earth. However, I could have done it for less and benefit from investment growth over time.
The great thing is that now with new technologies and investment platforms, investing into index funds is so much easier. I love Wealthfront and wish it existed back in my mid-twenties. If I had made weekly contributions in my twenties, I would be a millionaire in my mid-thirties. Oops!
2. I started making money through affiliate marking within a month of blogging. That said, the revenue I generated was a fraction of the cost of the blog (which I view as an investment). My blog is only 4 months old, and I am still not covering my costs. Which can be very frustrating at times.
The best piece of advice that I hear, and try to internalize, is to have patience. Rome wasn't built in a day. Google hasn't let me out of the sandbox yet. Organic growth is still on the horizon. I plan to keep typing away, networking, and asking questions. Oh, and exhibit as much patience as I can muster. I took the 'Making Sense of Affiliate Marketing course' during my first month of blogging. It is amazing.
Related Read: Two Best-Selling Affiliate Marketing Courses to Boost your Blog Income
#21 Tiffany & Philip
Tiffany is a former math teacher and SAHM who loves finding good deals! She and her husband Phillip, an engineer, work together on The Crazy Shopping Cart. They enjoy spending time with their family, geeking out over sci-fi, and saving money.
1. If we could go back in time, we would get started with AdSense much sooner than we did. We lost out on hundreds, if not thousands of dollars by not putting it on our website until over a year after we started. We also would have started using Instagram and Pinterest much sooner.
2. We started making money pretty quickly, but that's because we have a coupon/deals blog. We would suggest signing up with Amazon affiliates and Savings affiliates, as well as AdSense, as soon as possible.
#22

Virginia Nakitari
Virginia, a proud mother of one, owner of Earn Smart Online Class has been a Paid Transcriptionist for many years. She helps smart, savvy and intelligent women transform their freelance careers into profitable and successful online businesses.
If I was to go back in time, I would start with Pinterest, SEO and blog monetization right away. Pinterest has been a huge game changer for me. I've had a blog for many years but I treated it more as a hobby than a business. Diving deeper into Pinterest has allowed me to reach a wider audience than I ever thought possible. After joining BBC I came to realize just how important SEO is for your blog and for your online business, as a whole. I'm not an expert in matters SEO but the few changes I'm making to my website are working for me right now. My organic search has improved and I have plans to make it even better.
I made money from my blog in the 5th Month of Blogging. I got $100 from iGain, $800 from Scribie and a few bucks from courses like Making Sense of Affiliate Marketing, TranscribeAnywhere transcription e-course etc in that month.
Takeaways…
After reading through this massive 4,000+ word expert roundup post, you should have everything you need to propel your blog to a level of success like never before.
If you aren't making money with your blog, it's likely because you aren't treating your blog like a business and secondly, or maybe you aren't creating the type of content your target audience is looking for. You need to find out what is working and what isn't, then come up with an effective plan for success.
Start working SEO early on. Gone are the days of simply "creating content" and expecting it to rank in the search results. You need to plan ahead and work on the content that is expected to rank. There is a lot into SEO and you can't handle it all at once especially when it is too late.
If you're looking for a shortcut to success then keep this in mind – Knowledge with action converts adversity to prosperity. Investing in the right courses and immediate implementation will cut out unnecessary blogging hassles and lead to faster growth. Don't shun buying courses, especially the ones that detail about "SEO, Email, and Digital Marketing".
Everyone is prone to make mistakes. There is nothing wrong with making mistakes. What's wrong is letting a mistake, stay a mistake, without putting in the effort to make it right. Rather than giving up on things, make an attempt to win and remember, it is better late than never.
[click_to_tweet tweet="Everyone is prone to make mistakes. There is nothing wrong with making mistakes. What's wrong is letting a mistake, stay a mistake, without putting in the effort to make it right." quote="Everyone is prone to make mistakes. There is nothing wrong with making mistakes. What's wrong is letting a mistake, stay a mistake, without putting in the effort to make it right." theme="style1″]
If you enjoyed what you read in this post, be sure to leave your amazing responses to the above questions…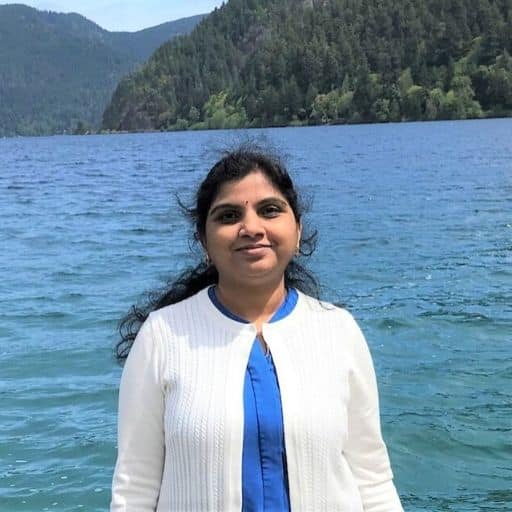 Hey Folks, thanks for stopping by my blog!
I'm Swati. I'm a mom, side hustler, full-time blogger and a millennial work-at-home expert featured on Forbes, CEO Blog Nation, Referral Rock, Vital Dollar, and Databox blog. I embarked on this impeccable journey to expose my online monetary experiences and help you all earn money from home. Come join my make money revolution and attain financial freedom – it's not as hard as you think!