Tailwind app reminds me of Instant Pot!
Sounds weird? But they have many things in common, let me tell you why?
You might have heard the craze this appliance bags since its launch. For years I've been procrastinating on buying an Instant Pot for my kitchen. But this Thanksgiving season I finally made the move and bought this latest one – this versatile 10-in-1 Programmable pressure cooker does the job of a slow cooker, electric pressure cooker, rice cooker, cake maker, egg cooker, steamer, yogurt maker, sauté/browning pan, and warming pot. It can replace 10 different appliances, saving you both money and kitchen counter space.
Three things make it great: a quicker cooking time (time saver), greater energy efficiency, and its flexibility.
On similar lines, Tailwind app does unlimited scheduling, reduces pinning time, increases efficiency and productivity – saving valuable time for content marketers, and more importantly maximizes the reach/visibility. If you think, that's enough of boasting, I'm done yet. There's a lot more to the list going further.
This Pinterest approved pin scheduler ➡
Cares for your busy schedule and helps save a ton of your valuable time with Pin scheduling and Pin looping.
Creates FRESH PINS for every version of your PIN, thereby reducing the workload!
Automatically reshares your best Pinterest Pins at the best times with Smartloop feature.
Gets your pins shared across a wider audience with Tailwind Tribes.
Reach your target audience with the #hashtagfinder
Post at the best times of the day especially when your audience is most engaged
Passive Pinning – Pin throughout the day (even when you are fast asleep) to gain wider exposure.
Do the job of Google Analytics! Provides deep Pinterest analytics and insights to measure your success.
Post all of your visual marketing content to Instagram and Pinterest with a single workflow, and
SCHEDULE LIKE A PRO!
But sometimes, versatile devices are a little complicated to use, what with all the different settings and functions at your disposal. And, that's the reason I'm here today. Let me help you get started with Tailwind Pinterest Marketing in a way that yields amazing results.
What I achieved with Tailwind in 3 Months?
Speaking of results, let me share my Google Analytics Stats: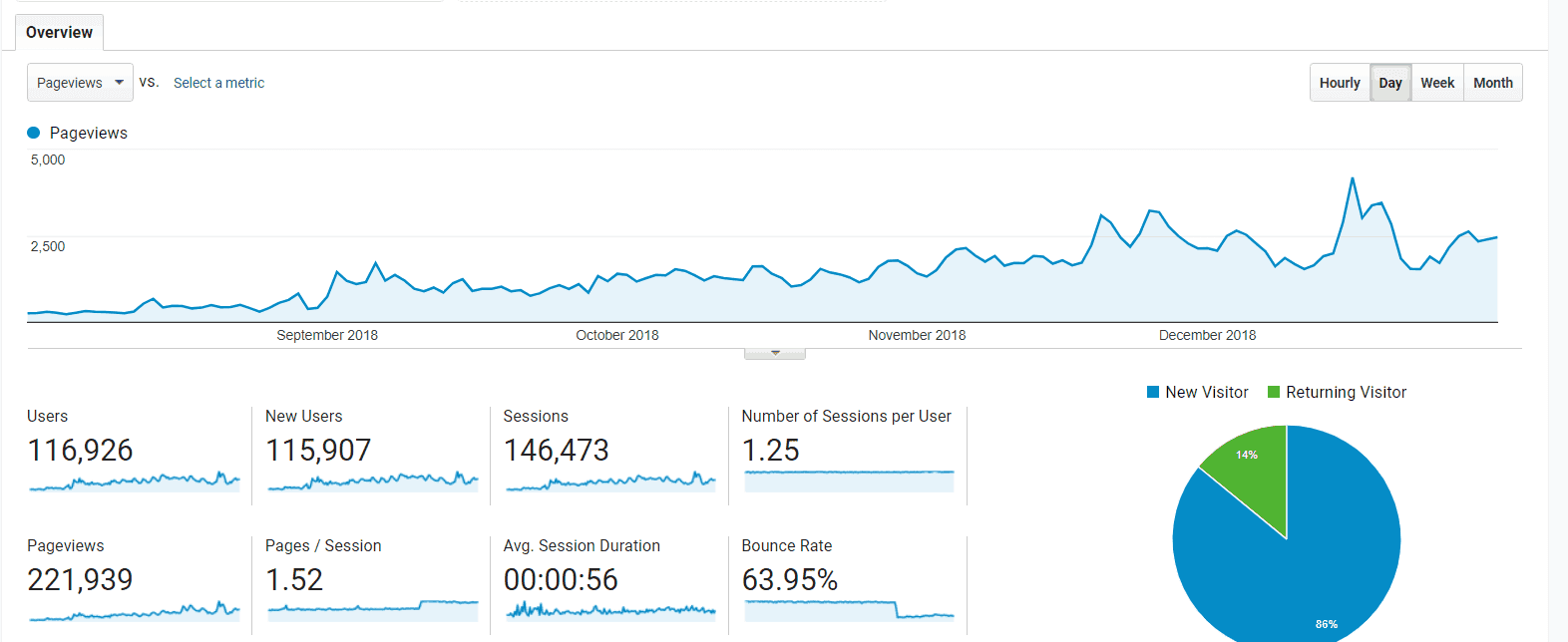 I started off with Tailwind in September 2018, and here's what I achieved in 3 months.
My page views more than doubled and they kept growing every month 😉
Google Analytics says that's a 361.9% growth over the last 6 months.
By the end of February 2019, I reached my goal of 100K pageviews 😮 Last month, I went past 150k+ and it keeps growing still!
My Pinterest reach jumped to 750k and my followers grew from 2000 to 7770+ I now get around 300 or more followers every single week.
Tailwind Insights at the time of publishing this post (Jan 2019): My Followers Count was 7778!
As of now (June 2019), I have 22.3k followers – Roughly 3x to what I had in January 2019!
It doesn't stop there.
Let's look into the real deal now – the Return On Investment:
Last month, I made $2,400+ in ad revenue and $1500 in affiliate income, working just 4-5 hours a week. All I did – create and schedule the pins (via Tailwind) for the system to run on AutoPilot for the entire month.
So, the results speak! And, that's how a buck gets ten with Tailwind!
If you want to replicate similar results you have to be CONSISTENT with pinning. And, I assure Tailwind is the best – Give Tailwind a Try, Get the Best ROI!
Tailwind monthly plan typically costs $15/mon. However, I highly recommend the Tailwind Plus Plan which gives the best bang for the buck @ just $9.9/month!
Sign Up with this Link – Receive a $30 credit
NOTE: Valid through June 30th when you upgrade to a paid plan.
Why I prefer Tailwind and Why You Should Too?
Prior to Tailwind, I preferred manual pinning. The techniques covered in Pinteresting Strategies helped me learn SO MUCH about how Pinterest works and how to make the best of it with Manual Pinning. Using her tips and strategies, I was able to go from 3,000 page views to over 12,700 page views in a little less than a month. Not bad, huh!
But seriously, I could get a lot more. Why, because, I couldn't promote all of my posts. It's was highly time-consuming to pin them all manually. I literally spent hours on the platform every single day and also maintained an excel sheet to avoid spamming. With Pinterest, consistency is the key, and I couldn't keep up with it.
I decided to go the Tailwind way, based on the amazing feedback it got. Initially, it wasn't easy, I spent a few mins every day to understand the features and the proper usage of the platform until I got a hang of it. Tailwind has made my job a lot easier, bought a balance into my busy life and I feel more relieved than ever before. This is by far the best investment I made into my blogging business. The app not only increased my productivity and efficiency, but it's also a huge time-saver. In fact, many Pinterest marketers now prefer Tailwind.
Click Here to Get a FREE MONTH of TAILWIND PLUS>>
Or Sign Up with this Link – Receive a $30 credit
NOTE: Valid through June 30th when you upgrade to a paid plan.
Here are a few things I like the most about Tailwind –
➡ Using Tailwind, I can set up a scheduling queue to have 30 pins go out each and every day for 1 month. This takes about an hour to set up, and I usually do it on the weekend so I don't have to think about it during the week. It's a set and forget method and I don't have to think of pinning for another 30 days.
➡ I can reach my audience at the optimal time when they are most engaged. I don't want to pin when I feel like, instead I'd prefer to pin at the best timings when I can expect more engagement and sales.
Do you live Outside the US? Then timing can be a serious problem for you.
Tailwind Time-Zone feature is the exact solution to your problem. And, this will blow your mind!
Whether you are from Asia, Europe, Australia, the UK or Africa, you'll be able to pin as if you live in the US. Once you set up the time zone, you're ready to go and never have to worry about not reaching your ideal customer at the right hour. Tailwind makes sure you do! Isn't that cool?
➡ The next big thing is the Tailwind Insights!
Tailwind offers deep insights, which are highly essential to quickly grow an online business. The profile performance section allows me to gauge my progress over time. I frequently check the board insights for identifying the best performing boards and the pin inspector feature to check which of my pins, and boards are doing the best! The website traffic feature is another quick option to find out all the trending and from your profile so that you can easily replicate more of them and drive more traffic to your blog. That's awesome, right!
I can quote many such instances when Tailwind might handy to you! I truly love this app and believe every Pinterest Marketer should own one! If you are one like me and want to fast-track your success I highly recommend Tailwind!
Give Tailwind a Try & Schedule 100 Pins for Free!
Or, Sign Up with this Link – Receive a $30 credit
NOTE: Valid through June 30th when you upgrade to a paid plan.
You first need to set up your Pinterest account to get started. Here's a guide that will help you. That said, let's learn to use Tailwind the right way.
Step #1: Get the Tailwind browser extension for Chrome
The tailwind browser extension makes pinning easy and handy! Using this feature you can quickly schedule pins in bulk.
Once you sign up for Tailwind, you'll be automatically directed to install the extension on to your browser.
By clicking on the extension, you'll be able to pin any image from the webpage you're browsing currently without having to go to Pinterest or Tailwind
In case you've missed this…
Click on the 3 dots on your chrome browser (the one to the extreme right in the above image) and proceed to more tools>>extensions. Type in Tailwind and you'll see it pop up in the search results. Simply install!
Step #2: Create Board Lists
Board lists are an easy way to schedule your pins to unlimited boards in a jiffy. Unlike manual pinning, you can schedule your pins to an unlimited number of boards with a click if you set up these board lists in advance!
You'll have to create multiple board lists and add all relevant boards to each list. And, make sure you name them topic-wise to avoid any confusion. I have around 20-30 boards in each list and I also created a list of the all top performing boards for each of my main blog categories.
For example, all Christmas boards go into the Christmas list, budgeting boards into budgeting list and so on. You can also narrow down your list if you have more niche boards.
Step 3: Tweak Your Pinning Schedule
You can tweak your pinning schedule with easy adjustments to current time slots and smart recommendations for new times to pin. To do so, you can jump into "Your Schedule" section right under the publisher tab.
Tailwind also allows you to set your time zone here, and also add time slots if you want to pin more during any day of the week!
This fantastic feature allows you to customize the days and times you'd like Tailwind to automatically publish pins in your queue. See if you live in India and want and to reach your audience in the USA. You can set the time zone to match the Eastern Standard Time timing and reach a completely different set of an audience in the USA even if you don't live in that target nation.
Tailwind will handle the pinning for you as if you were pinning from the target country. Isn't that amazing?
This is how it looks:
I've set my schedule to pin 40 pins per day. You can pin more or less depending on how much content you have! Having your pins go out at the best times of the day and in intervals will continuously feed Pinterest, increase your reach and get awesome traffic to your blog.
Step 3: Upload your Pins
Design that perfect pin and embed it into your blog post.
Here's the thing, you can spend hours and hours creating a decent pin that's bright (important on Pinterest) with a click-worthy title, or you can simply grab this bundle of 10 pre-made customizable Pin templates. It'll help you create TONS of great pinnable images with minimum effort. You just have to replace the background images with either free or paid stock images, and it takes less than 5 minutes to push out the perfect pin.
The premade templates have made the designing part easy for me. I can now create prettier pins that get way more clicks and impressions! (Psst, some of my pins get over 1000 clicks within just a few weeks). If you want to skip the design part and straightaway get the desired results you can get the 10 pin pack here for the best deal!
I suggest you create 2-3 pins per post. You can make them visible or hidden either manually or using a plugin like social warfare. If you wish to upload your pins directly into Pinterest. Include the URL and SEO rich description for each and pin them directly into the most relevant board first. Whether you chose to upload your pins to your blog or directly to Pinterest.
Here's what you should do next – Click on the Tailwind browser extension. A new window opens up with a tailwind pop up button showing up on all the images included in that particular webpage. A simple click on it will take you to the most crucial part of Tailwind Scheduling.
Step 4: Tailwind Pinning Scheduling
You can now locate the above pins in the Tailwind drafts section. Check for the descriptions and include them if they are missing. Add the boards you want your pins to be scheduled to, and this is when the board lists come handy! In the slot given, once you choose the most relevant board list, Tailwind automatically populates all the boards included in the list. You can also add these pins to Tailwind Tribes to reach wider audience in your niche.
Step 5: Use Intervals
One really cool Tailwind feature that cuts down on your time yet still helps get Pinterest traffic is the ability to schedule bulk pins from Pinterest using an Interval.
It helps bulk schedule pins at chosen intervals without spamming Pinterest.
Each group board has a certain set of pinning rules. While some allow you to pin two or thrice in a day, some allow just once. To avoid getting kicked off these group boards, you need to use the interval feature to your benefit. Here's a quick example on how to do this effectively:
For the sake of this example, I've selected the above pin to go into 3 boards in a 1-day interval. As you can see the first pin goes into "Pinterest tips board" on Wednesday at 9:30 PM while the 2nd goes into "Just Pinteresting Strategies group board" on Thursday and so on.
What if you fail to use the interval?
All your pins line up to be pinned to various boards in a row without shuffling, which is a big NO! Stay cautious while scheduling your pins to multiple boards.
Once you have everything set, click Add to Queue. That's it! When you visit the Scheduled Pins page under the Publish tab, you will see that all the pins set and ready to go out at a scheduled time.
I fill 80% of my schedule with my own content, and 20% from others'. So of the 40 pins, 30 will be mine and 10 others' content.
Here's a collection of guided video tutorials to help you master Tailwind and Schedule Pins like a Pro!
As mentioned before, scheduling my pins with Tailwind takes about an hour for a month worth of content. It truly is a set and forget tool to get massive Pinterest traffic!
Even for those who don't like relying on tools, it's still nicer to invest money in Tailwind for the RETURN ON INVESTMENT you get. It's worth every penny spent. I believe it's always important to invest in tools that increase your productivity, efficiency, and yield better results for the time spent. Undoubtedly, Tailwind is one such worthy investment.
If you REALLY want to "level up" your BLOG INCOME, be smart and get started with TAILWIND Today.
I bet you'll notice share-worthy results with Tailwind!!
Make the best out of Pinterest with tailwind and let me know how things have worked out. Remember to get back and share what you liked the most about Tailwind? For me, it's the analytics, ease of scheduling, work-life balance.
Ready to shoot your questions? I'm waiting!
There are many ebooks that promise to deliver great results. But, none have proven to be as worthwhile as this popularly priced ebook. I've heard only good things about this ebook (now a course) – 'Pinteresting Strategies' by Carly Campbell. I couldn't resist having it in my wishlist for long and went ahead and bought it. It's a real deal and I'm totally satisfied with it. It answered all my questions pertaining to Pinterest and also helped me bring the best out of it.
I must say, the strategies included in this course are noteworthy, informational, and high-valuable. By using her tips and techniques, I was able to go from 3,000 page views to over 13,000 page views in a month! A recent update to the course includes the Tailwind Tutorial which makes it a perfect amalgamation of both 'Manual & Automated Scheduling'. If you prefer Manual Pinning, this is the only resource you'll ever need! Click here to get the course
➡ Traffic Transformation (Over 1200 copies sold to date!)
In this ebook, Lena lays down her top 21 traffic generation tips & theories that helped her grow from 17K to 400K+ Page Views in 10 Months. She also poured in all her best tips, about what she did just after publishing each post, along with a list of things you SHOULD AVOID doing. The 40-minute Google keyword research & optimization training video is an added BOUNS. The video details out simple methods to mine keywords and optimize blog posts to rank high in Google results.
In simple, Traffic Transformation is PACKED with detailed guidance, real-life case studies & worksheets!
This was the first book I purchased and love till date. I learned so much from this book, and still, learn a new thing every time I go back and read. I was able to drive quality traffic from other platforms and vastly decrease my bounce rate. My personal favorites are the interlinking secrets, split test strategies, and Keyword research for Organic Traffic.
If you want to utilize social media to its fullest potential, regardless of your niche, Traffic Transformation is the best deal. It is EXCELLENT! Get the ebook here