Are you caught up with saying, complaining or maybe brooding over not having as many readers as you think of having?
I know you write good copies, but what exactly is the problem, why are you not getting enough readership and fan base to compensate for your efforts to growing and making your blog great?
To be truthful with you, in 2017, many bloggers will get really frustrated as to quit the business of blogging.
Why?
Put simply, either it is because of the lack of earning a concrete living through the phenomenon, the lack of generating new content ideas, or maybe the lack of driving quality traffic which would suffice for improvement of blog's readership. The latter surely tops the chart.
Wait…how do I even know this or how am I even sure that this whole 'quit' thing will happen?
Isn't that the question you are asking yourself right now?
Whichever way, just be sure to take your time to observe and be willing to do something right this New Year as that will determine how much success you'd get out of the year.
So in this article, I will expose to you the basic but powerful ways in which you can start to deploy from the word go to generate quality and targeted traffic, thereby growing your blog's readership and influence in and throughout the process.
Are you ready to learn these tricks and apply them amicably?
Oh, you answered yes.
Good!
So here are the 7 basic yet potent ways to improve your blog's Readership:
However, before I go fishing you my points, I'd like to acknowledge Jeff Goins and Bryan (most importantly) whose content and blog birthed the idea to work on this post. Your question was amazing, Jeff. And Bryan, your answers were apt and on point. Thanks!
Back to the discourse, I was saying if you'd take your time to religiously practice the points I will here share with you that you'd achieve so much success than you will ever bargain for.
Try them!
1) Write At Least Two Great Posts (the more the better, but at least 2)
What kind of articles perform well on the internet web today?
How-To articles
List posts
Ultimate Guides
Case Studies
Really, the list is endless.
These are great forms of writing for the web but the most important thing to first consider is the great value that accompanies such articles.
How epic and useful is it to your readers?
Your job as a blog writer and editor is to simply emotionalize your readers heart to you, which will inevitably get them to come back to your blog next time, and the best way to achieve that is in simply entertaining, educating, and informing their minds of what they ought to do that when done will help them achieve great success.
I hope you get the idea and picture I am trying to paint here?
I must, however, admit that it is hard to publish a great post every day of the week, hence the reason I advise that you strive really hard to write and publish at least two great posts on your blog week-in-week-out. That way, you would have succeeded in the first stage of growing your blog's readership.
2) Leave funny/useful/thoughtful comments on 25 other blog posts
The secret to great readership and blog followership is in showing up every time on other people's blog, leaving an insightful, enticing, funny, useful, and of course very thoughtful comment on those blogs.
Back in the days when I started active blogging, I am talking about 3years ago – that was 2013 – I made sure I map out, read carefully, shared, and left invaluable blog comments on at least 50 blogs every single day.
Trust me; it is never a fun thing to do. I did it, though, and yes, I got great value out of it in the numbers of people that positively invaded my blog to do the exact same thing I did on those over 50 blogs I frequent daily.
What was that?
Traffic!
Greater traffic!
Active and well-engaged blog!
Oh, and I made some serious Adsense earnings.
See what I'm saying?
Do you want your blog readership to sour higher? Go ahead and religiously work on this second point.
3) Pimp your blog posts on Twitter and Facebook
The problem with many people is that they let the "build it and they will come" mantra rub them off the many traffic they would have been able to build for their blogs had they but taken the time out to stay the extra 30-minutes to share the h*** out of their blog posts! SMH.
Yes, I love writing and sharing value with my audience, but I also love to get traffic and those lovely thoughts made by those lovely people that spend time to visit and read my blog. They are the reason why I decide to blog in the first place.
However, they won't come if I refuse to invite them to the party, which in this case, are my lovely and epic blog posts.
So what, I had to be present and active on Twitter, Facebook, Google plus, LinkedIn, Pinterest maybe, and other social platforms I am on and sure to get massive traffic from. Check out this post for some tips on how to better promote your business via social media.
This way, I not only improve the numbers of persons come to my blog, but also get them to actively engage with my blog posts by sharing their invaluable thoughts with me, which obviously is a motivation to me to write new post and make even more money online.
4) Email 1 blogger you respect and ask them for a specific piece of blogging advice (or just tell them what you love about their blog).
I do this like every time and you can almost trust that I always get good, kind and helpful responses from these A-list bloggers.
How does this help in building my blog's readership, I can already hear you asking.
Well, it is quite simple.
I simply prepare a friendly message, one devoid of self-promotion and send to them with hopes of getting a reply from them, which usually come in after 24hrs or at most, 48hrs.
Example:
Hey [name of authority]
I am [your name] and I am [mention what you to help people], I blog over at [your blog's name].
I stumbled on your blog the other and decided to bookmark to read at a later time. So today, I was checking bookmarks and saw your post about [the title of the post you bookmarked] and I flipped through it. Gosh! You shared so much value in that post.
See, I have decided to include your post in this week's roundup post on my blog and I'd love for you to check it out. I will definitely buzz you when the post is up live.
[name], please keep sharing great value and I will here anticipate your response.
Thanks!
Warm regards,
[your name]
You see that?
Just take that as a quick template guide to writing up your own email outreach to a respected blogger in your niche, one that you admire of course.
5) Write at least 2 great posts every week. (Thought I mention that already?)
Well, I mentioned this one already and it's right there above. The first point on the list, I'm sure. Do it religiously and you'd great a huge result. Trust me on this one!
6) Treat everyone well, from those with bigger readerships to the newbies just starting off…
This one is pretty important but most times overlook by the most of us and it is pretty bad. It's not a good act at all!
You have to learn to treat everybody well – equally, and not be partial to people over the others. It is wrong and wise people know this truth.
If a fellow newbie blogger ask you for help, render it. If they ask you to give them a heads up on a post they have just published on their blogs, do not hesitate to give it. Be kind. That is the surefire way of becoming an A-list blogger yourself.
7) Link to other people's blogs in your posts. They will notice, and as long as you're not flaming them, it can only help.
There is a phenomenon called "backlink" in the world of blogging and it is a great SEO strategy to getting organic and blog traffic.
I practice this a lot and it'd helped me grow my blog audience and kept my readers engaged with me over a long period of time, which I presume is the same thing you seek. Not so?
The simple secret is in simply linking out to other blogs in your niche and this process is called "External Link".
Do it often and sincerely and you'd notice a sour in your blog's traffic which would definitely keep your blog active and engage.
Wrapping It Up
These are my 7 basic yet potent ways to improve your blog's readership techniques I promised you. I hope you find it useful as much as I did.
Enjoy and have a great 2017 ahead!
About Author:
Sam Adeyinka is a seasoned blogger, a passionate podcaster, a creative writer and a digital marketing strategist who loves teaching young minds how to start, launch, and grow a successful online business. You can download his 0.99cents handbook on Amazon titled "101 Common Blogging Mistakes: And Smart Fixes."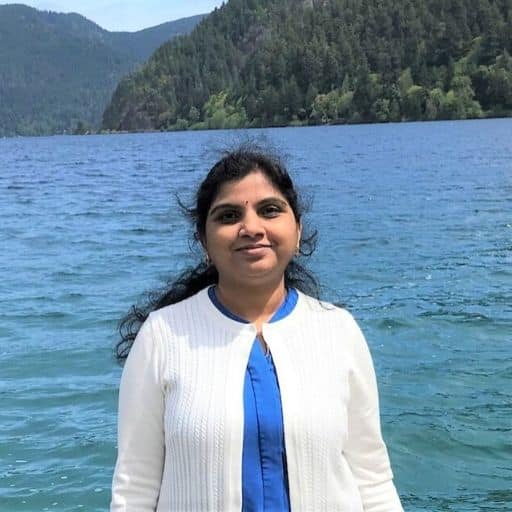 Hey Folks, thanks for stopping by my blog!
I'm Swati. I'm a mom, side hustler, full-time blogger and a millennial work-at-home expert featured on Forbes, CEO Blog Nation, Referral Rock, Vital Dollar, and Databox blog. I embarked on this impeccable journey to expose my online monetary experiences and help you all earn money from home. Come join my make money revolution and attain financial freedom – it's not as hard as you think!