To make quick cash from used vehicle parts, start by knowing where to sell used tires in 2023. Based on the condition of the tire, you can recoup up to 50% or more of the buying price.
It goes without saying that you can always opt to recycle your old tires but for slightly worn tires, it's advisable to try and make some extra cash off them.
Luckily for you, the second-hand tire market is growing tremendously, with tubeless tires taking the lion's share.
Also, apart from the online marketplace where people buy and sell pre-owned tires, local buyers make selling used tires easy. That said, there is an art to turning cast-off tires into cash.
This post explores sites where you can list used tires for sale, the legality of the business, tips for buying and selling used tires, how much you can make from the trade, and so much more.
Here we go…..
Is Selling Old Tires Legit?
Wondering if selling used tires is illegal? Worry not, used tire trading is legal, though highly unregulated. The gist of it is that it is the condition of your tires that determines their acceptability.
When looking to sell used tires for reuse, a local tire shop will be interested in the condition of the tread, punctures, and sidewall buildups; they inspect, and if the tires are in good condition, an offer is made.
One thing to keep in mind is that a reusable tire is usually one with a tread of 2/32″ or more.
This is the tread depth below which the U.S. Tire Manufacturers Association recommends a tire has to be replaced. Additionally, The U.S. National Highway Traffic Safety Administration offers similar recommendations.
It follows that most used tires can be sold legally, considering other safety features, if their tread depth is at least 3-4/32″ or higher.
Best Places to Sell Used Tires for Cash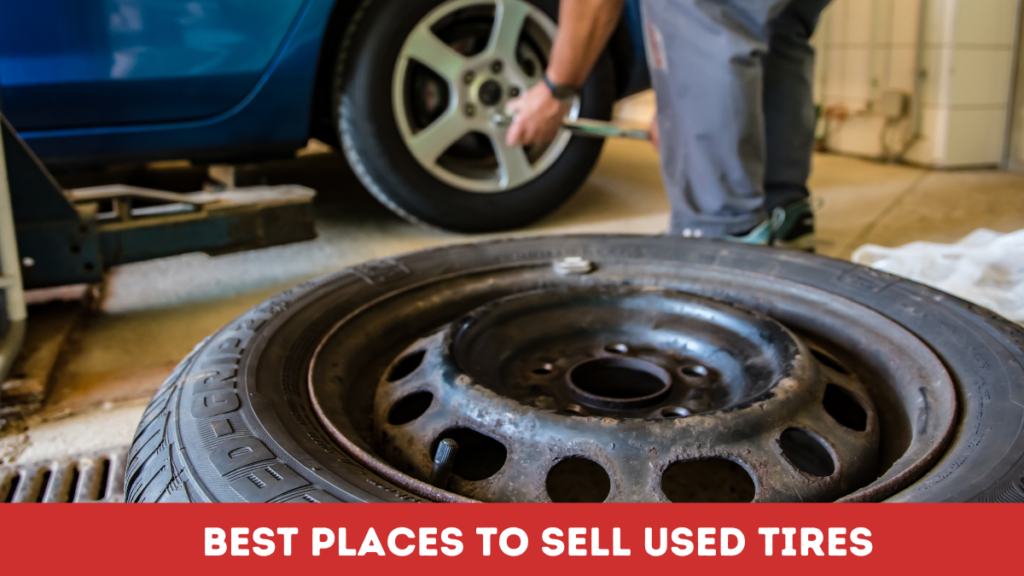 To get rid of tires and get some quick cash, look for online places that allow "sell my tires" listings. Places like Facebook Marketplace not only give you access to thousands of buyers but also allow your used items to fetch high prices. So. are your tires still in decent condition, try selling them on:
1. Sell My Tires
Sell My Tires is a user-friendly site that specializes in buying and selling pre-owned tires, rims, and more. Users can create accounts, post photos and descriptions of their used tires, and set their asking prices.
On the other hand, buyers can browse listings, ask questions, and make offers on different items. To list your tires on the site, you need to create an account, upload photos, and provide item descriptions, including their condition and specs.
The platform emphasizes safety and encourages users to be cautious when making purchases. It also provides tips for avoiding potential scams and encourages face-to-face meetings for transactions.
2. United Tires
This is a retailer specializing in dealing in all types of tires, including truck tires, for refurbishment and resale. It's owned and operated by the OFT Corporation and is based in the United States, with locations in Chicago, Illinois.
You can sell used tires to United Tires, but they must be in reusable condition without tears, damages, or holes. The price depends on the condition and type of tires.
United Tires conducts inspections and guarantees on tire repairs, suggesting a commitment to ensuring the quality and safety of the tires sold. Based on customer reviews, United Tires appears to have a strong reputation for delivering quality service, providing quick shipping, and maintaining reasonable resale prices.
Contact UTires to Sell Your Tires
3. Tire-Trader
This is a membership-based platform that connects sellers and buyers in the market for used truck tires and tire casings. The site specializes in widely used brands such as Michelin, Goodyear, Firestone, Yokohama, and Cooper.
It offers valuable resources, including pricing lists for truck tire casings. Additionally, Tire-Trader provides various paid silver and gold membership options at $1000 and $1500.
Note that membership can significantly expand your reach and visibility, making them worthwhile if you plan to sell lots of tires or embark on a tire-flipping business venture.
Apply to List Used Tires on Tire Trader
4. Facebook Marketplace
This Meta's social market allows users to trade a range of items, including clothes, electronics, vehicles, and real estate, within their local communities. You can also sell old tires on Facebook with prices varying due to factors such as brand, size, condition, and market demand.
The best part is that prices are set by individual sellers and buyers get to filter listings based on location and price. Notably, the FB Marketplace gets favorable reviews on Reddit from tire sellers plus a 4.6 rating on Google Play Store and a 4.8 rating on the App Store.
It is worth noting that Facebook Marketplace recommends utilizing cash or peer-to-peer payment methods for transactions.
Facebook app is available on both the App Store (iOS) and Google Play Store (Android).
5. eBay
With a global user base exceeding 138 million, eBay marketplace offers an excellent platform for selling both old and new tires. You are able to sell items via a simple online, including selling assorted car parts.
Listing used tires for sale is free, although eBay charges 13.25% of the final sale value for amounts of up to $7,500 and 2.35% for amounts totaling $7,500+. When considering selling used tires on eBay, always remember to plan for shipping, given the large size and weight of the product.
To minimize shipping costs, you can choose to make your listings available for local pickup only or specify that the buyer pays for the expense.
6. Santa Ana Wheel
If you are in Southern California trying to sell tires quickly, try your luck at Santa Ana Wheel. The business is located at Burton Place, Anaheim, and has been trading tires since 1958.
Here you can sell a complete tire set or single units for good cash. Original Equipment Manufacturer (OEM) sets sell fast at the shop and you can sell anything from Cadilac rims to semi-truck tires.
Sellers are paid by check on the same day of bringing their wheels in, and prices are determined based on various factors, including market value and condition.
7. Tire Management Inc.
This company offers a way to sell used tires and rims at home. It helps you save on shipping by picking up the tires at your doorstep.
Tire Management runs a recycling center and doesn't pay for damaged tires. On the other side, if your tires can be resold or retreaded, they offer to buy after an expert inspects and grades them.
The company is located in Aurora, Illinois but offers pickups across the state and a far for bulk inventory.
Contact Tire Management Inc. Today
Where To Sell Used Tires Near Me
To save money when you sell tires, avoid shipping by selling them nearby. Your options include local shops that buy and sell tires, as well as local online classifieds. You can also sell to DIY experts who repurpose tires into items such as furniture and swings for profit. So, to sell locally, try the following places:
8. Local Tire Shops
Local tire shops serve as physical locations where individuals can potentially sell used tires. Some local shops have buy-back programs for tires in good condition.
Start by searching "local tire shop" and contact them via phone or visiting the business. The potential earnings from selling used tires at local tire shops depend on your negotiation skills and the condition of the tires.
Payment options typically involve cash or virtual wallet methods as accepted by the individual shop.
9. Craigslist
This is a widely used classified advertisement website where people post listings for various items, including selling used tires. It offers a platform for local transactions, primarily focused on local trading.
The platform is owned by Craig Newmark with head offices in San Francisco, CA. You can create listings by writing a detailed description and adding images of your tires.
Buyers and sellers can chat directly through the site to negotiate and finalize transactions.
Prices of old tires on Craigslist are based on factors like tire size, number, brand, condition, and seller preferences. The available payment options on Craigslist include cash and check, depending on the buyer's preference. Craigslist transactions are typically conducted in person.
The Craigslist app is available on both the App Store and Google Play Store.
10. Garage Sales
Garage sales are an efficient way to declutter and quickly part with items you no longer need. As such, hosting a garage sale in your local area is a straightforward approach to selling used tires.
You can advertise used tires in your sale around town through posters and other promotional methods. Note that your tires must be reusable since you'll be bumping into buyers around your area.
11. OfferUp
OfferUp is a classified ads application that enables individuals to engage in local buying and selling. Sellers can effortlessly list their products without incurring any fees.
You can sell used tires on OfferUp by simply creating a listing for your cards and setting a price.
OfferUp offers unique advantages such as a substantial user base, the convenience of local selling to avoid shipping expenses, and the option to engage in price negotiations with potential buyers.
The app is legit with a 4.8 out of 5 star rating on the App Store based on 4.3 million user assessments. Plus, 50 million downloads on the Google Play Store with a 4.4-star rating from 1.16 million users.
Sign Up on OfferUp and List Tires for Sale Online
12. A & A Tire & Wheel
Are you in Texas? Take your tires to this family-owned store offering new, used, and aftermarket tires plus wheels. The company is interested in acquiring good-condition tires to add to its inventory.
Warranty options are available for new and used tires, with a variety of tire brands in stock.
Reach Out To A & A Tire & Wheel to Sell Tires
13. Reddit & Quora
Though not social selling e-commerce platforms, Reddit and Quora are great places to meet interesting niche buyers on forums. To this end, there are Subreddits and Quora Threads where you can buy and sell semi-truck tires as well as tires and rims for other types of vehicles.
The forums let you chat with car and DIY enthusiasts who can buy or direct you to interested tire buyers. However, without a way to regulate transactions, selling on these platforms requires due diligence to avoid getting scammed.
To get Reddit buyers and actionable tips for selling used tires online, try forums such as:
14. Auto & Tire Works
Located in Denver, this is a popular car service and parts business. The automotive business also sells and accepts used tires and rims from customers for cash.
This is a great option for people in Colorado, provided that you can drop your tires at the location.
Schedule an Appointment with Auto & Tire Works
Who Buys Used Tires and Rims?
As a way to get rid of tires that are no longer usable, you can always drop them at a recycling center and other places that buy used tires for repurposing. The second option is a great way to make cash from junk that would otherwise cost you money to discard. For a place that accepts used tires, try the following places:
15. Liberty Tire Recycling
If your tires are no longer suitable for resale, Liberty Tire Recycling offers an eco-friendly alternative. This is a tire management company that specializes in recycling used tires and repurposing the rubber for various rubber-based products and applications.
Information on the company's website indicates a significant impact on environmental sustainability by diverting over 4.3 billion pounds of rubber from landfills, recycling over 194 million tires, and repurposing 221,201 tons of rubber annually.
While this option may not yield substantial monetary returns, it helps you save money by eliminating the need to pay junkyard disposal fees for your old, worn-out, and unusable tires.
Find a Liberty Tire Collection Center Near You
16. Scrap Yards
Before you look for online buyers, be sure to check out local scrap yards for offers on your tires. These are businesses that accept tires in all conditions but usually at a fraction of their worth.
Most scrap yards buy items and sell them "as is" without much value addition. As such, I don't advise the option for working tires unless you really need cash quickly.
Like local tire shops, expect to haggle on the price so lower your expectations when selling tires to scrap yards.
Check Out ScrapMonster for Scarp Yards Near You
17. Lakin Tire
This is a prominent tire recycling company that focuses on environmentally responsible tire disposal and recycling. The Lakin family has been recycling tires since the early 1900s, and the company has grown to become a leading eco-friendly organization.
Lakin Tire serves customers and communities worldwide, providing sustainable tire recycling solutions. While they do not offer cash for used tires, they collect and recycle tires to create valuable products like rubber mulch and playground surfaces.
Their emphasis is on eco-friendly tire recycling rather than direct tire purchases from individuals. In essence, they buy used tires to extend the life of the rubber and other casing material.
Lakin Tire has facilities in Santa Fe Springs, CA, and West Haven, CT.
How Much Can You Make Selling Old Tires?
Prices for slightly used tires range from $50 for a brand-new set to $700 for a set with rims. The price can range widely with online marketplaces like eBay or Craigslist showing sets selling at $200 and below. When selling in bulk, especially to used tire flippers, expect prices as low as $3 -$4 per tire, based on their condition and buyer's location.
Selling old tires is influenced by several factors such as tire size, tread condition, and whether they come with rims. In Addition, selling tires with rims can be even more challenging due to compatibility issues with various vehicle models.
How To Sell Used Tires [Tips]
To sell used tires online, you need to be aware of the terms and conditions of the site you're selling on. If you opt for local buyers, then you need to be conversant with tire resale laws in your area. That's not all, if you want to sell tires like a pro, or even make a business out of it, here are more tips:
1. Safety Concerns
Always consider safety when selling used tires. Tires have a shelf life, and it's crucial to check the manufacturing date to avoid issues like dry rot or tire blowouts.
You can find the 4-digit number that denotes the production date. The number is on the surface wall with the first two numbers representing the week and the last two representing the year of manufacture.
So, "2320" means the tire was manufactured in the 23rd week of 2020. With most manufacturers warring tires up to 5 years, and you are selling today, it means the product has 2 more years of guaranteed use.
2. A little more on warranty:
Depending on state and federal laws, you may be liable for accidents that originate from used tires.
For example, if an auto investigator determines that an accident was caused by faulty tires, the manufacturer is their first stop, followed by any middlemen; that's you!
To reduce your liability, thoroughly inspect the tires, or have an expert do it for you. Further, when sharing pics with your buyer, ensure close-ups of any defects to serve as evidence, if need be.
3. Provide Detailed Information
Before listing your items for sale, sort the tires by size, brand, condition (used or new), manufacturing dates, and other relevant factors. This will make it easier to provide accurate information to potential buyers.
Inspect used tires for signs of wear, damage, or defects. To fetch a good price, avoid tires with low tread depth or casing defects.
Be honest about the condition of the tires, whether they are new, almost new, or have specific mileage on them. Also, include clear photos of the tires, highlighting the tire size, DOT code, and tread wear. Remember to mention the brand, model, and size in the listing title.
4. Clean and Repair the Tires
Before taking photos, clean both the tires and rims to make them look more appealing to potential buyers. Take care to remove any stones or metallic objects lodged in the tread.
I won't recommend retreading your tires before selling, but a little repair can go a long way in driving up the price. So, repair punctures and when selling tires with rims, repair scratches and polish the rims as shown above.
5. Check Tread Life
As explained earlier, it is essential that you understand how to read date codes on tires to assess their age. In addition, assess the remaining tread life using wear indicators on the tire's tread to give buyers an idea of how much life is left in the tires.
To check how much tread is remaining, use the Quarter Test. Just insert a quarter into the tire groove with the president's head pointing down.
If the top of Washington's head is covered, it means that your tire has 4/32″ or more of tread remaining, which is reusable.
6. Use Multiple Online Platforms
Utilize various online platforms like eBay, OfferUp, Craigslist, and Amazon to reach a wider audience. Each platform has its own user base, and listing on multiple places to sell used tires increases your chances of finding high-paying buyers.
7. Local Sales and Networking
To sell used tires, consider local sales and networking with local used tire shops. Building relationships with such traders can be handy when looking to sell bulk quantities of tires quickly. Local buyers may also prefer to pick up items in person, saving you on shipping costs.
8. Price Competitively
Research the market to determine competitive pricing for your tires. Check similar listings online to see what prices others are asking for tires resembling your items. That said, be realistic about the condition and value of your tires. For example, used retread tires will sell lower than an OEM set.
FAQs
1. Is It Good To Sell Used Tires?
It goes without saying that used tires are way cheaper than new quality tires. This means that you end up saving money that can go towards gas and replacement parts. Apart from cost saving, selling old tires for reuse results in reduced waste in landfills and your backyard or garage.
Old tires, rims, and casings also make for great DIY parts. Buyers can change unroadworthy tires into rope seats, tables, toy shelves, pet beds, flower planters, obstacle courses, and swings.
Here is an idea, instead of selling, why not try out the DIY ideas and 100% of your tires' original price? You can sell your creations on Etsy, Shopify, or a personal website.
2. Can You Sell Pre-owned Tires?
Selling rims and tires, as well as other parts, is legal in most places. Nevertheless, some jurisdictions may have reservations about selling used and retreaded tires meant for road use.
Basically though, to get good prices for used tires, ensure that they have a tread of at least 4/32" without major defects on the tread, sidewalls, or casing.
Also, note that individual buyers on the likes of OfferUp and Craigslist may offer better prices, unlike local auto shops and flippers who buy for resale.
Is Selling Used Tires for Cash Really Worth It? [Final Thoughts]
While you can recycle or retread used tires, selling is a worthy option when you need quick money. The best part is that with many buyers, you can buy tires from other sellers and flip them for profit.
To sell used tires, just take a few photos and post them in the many online places where you can sell preowned items. You should also take advantage of garage sales and scrap yards to get the attention of local buyers.
To get the best price though, ensure that you clean, repair, sort, grade, and the tires accordingly. In addition, remember to list the items in several online marketplaces, as well as get price quotes from local buyers and tire businesses.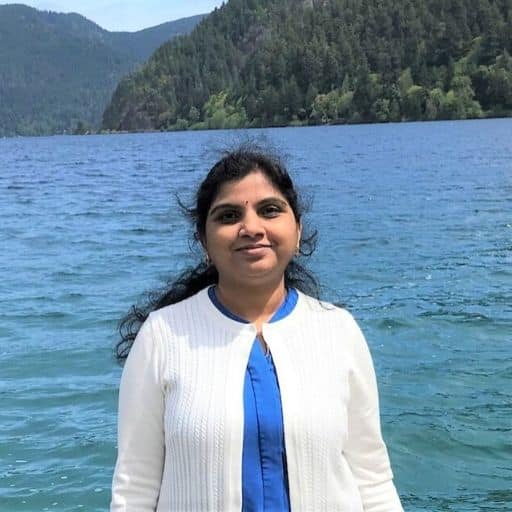 Howdy Folks, thanks for stopping by my blog.
I'm Swati, a proud mom, dedicated side hustler, full-time blogger, and a recognized millennial work-at-home expert. My expertise has been featured on esteemed platforms such as Forbes, CEO Blog Nation, Referral Rock, Vital Dollar, Databox blog, and many more. I have embarked on this incredible journey to share my firsthand experiences in the world of online income generation and to assist all of you in earning money from the comfort of your homes.
Join me in my mission to revolutionize the way we make money and achieve financial freedom. Trust me, it's not as challenging as it may seem!
Together, let's explore the boundless opportunities and pave our paths towards a prosperous future.