Interested in learning how to make money on Etsy without making anything? From print-on-demand services to digital products, we'll explore how you can turn your unique ideas into profitable ventures on the Etsy marketplace.
This post covers how to create passive income from Etsy and how much money people make on Etsy without handcrafting anything. You'll also find provide pointers and strategies to ensure you make more money on Etsy.
First off, you might be wondering, "How much do people make on Etsy?" Well, the answer is, it depends. Some traders earn a small amount of money, while others make 6-figures on the platform.
Your products or services, pricing, and your marketing strategies are among the key variables to your earning formula. This article seeks to highlight a few ideas to get you started. But to begin, let's highlight what this platform is all about
So, let's get started!
What is Etsy?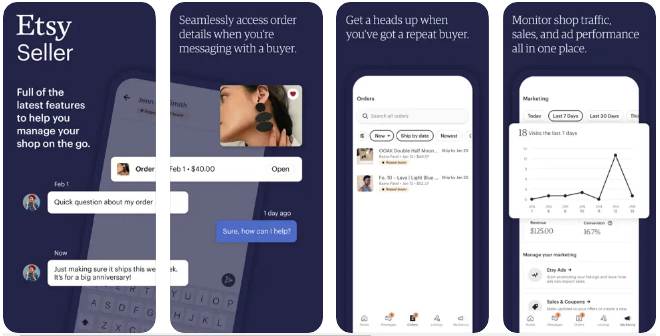 Etsy is not just a regular online marketplace; it's a popular eCommerce platform where people can buy and sell handmade or vintage items, as well as craft supplies.
Many artists and home-based entrepreneurs turn to Etsy as a way to make money owing to the site's creativity and commerce appeal. The platform also has a wide reach, with buyers from all over the world.
However, the marketplace is not flexible on payment options. Basically, sellers receive payments via Etsy Payments which you can withdraw to your bank account. That said, some stores are allowed to operate via PayPal.
You can run your shop via a browser or through the Etsy app on Android or iPhone.
How to Make Money On Etsy Without Making Anything?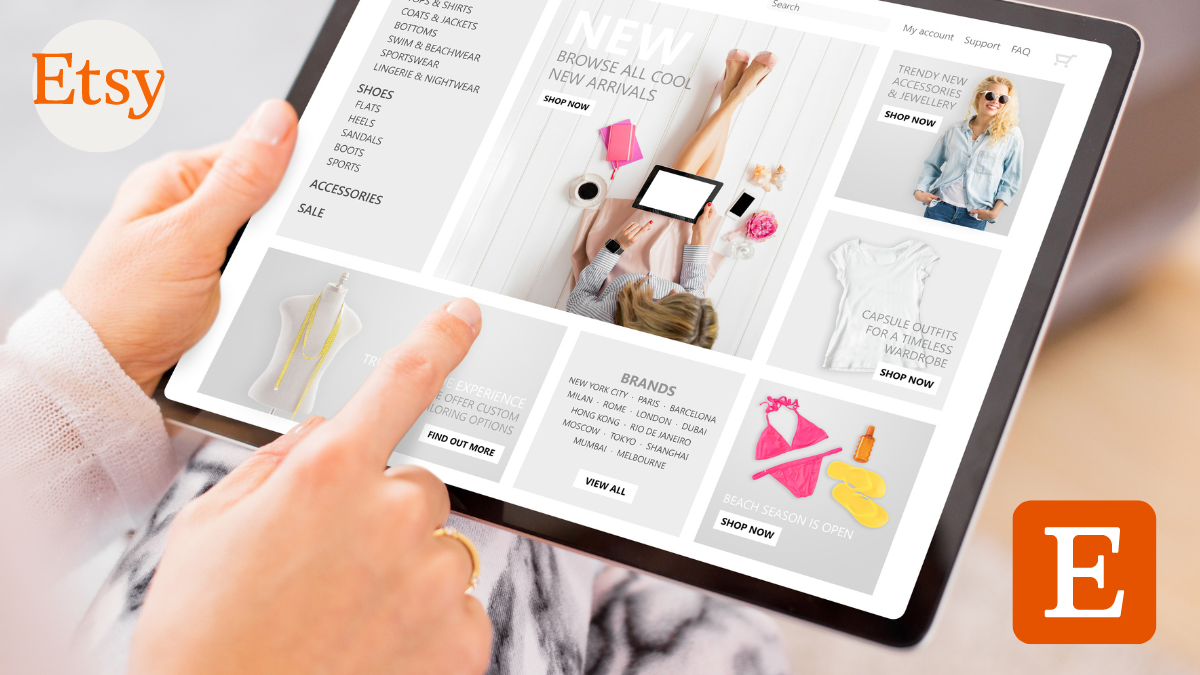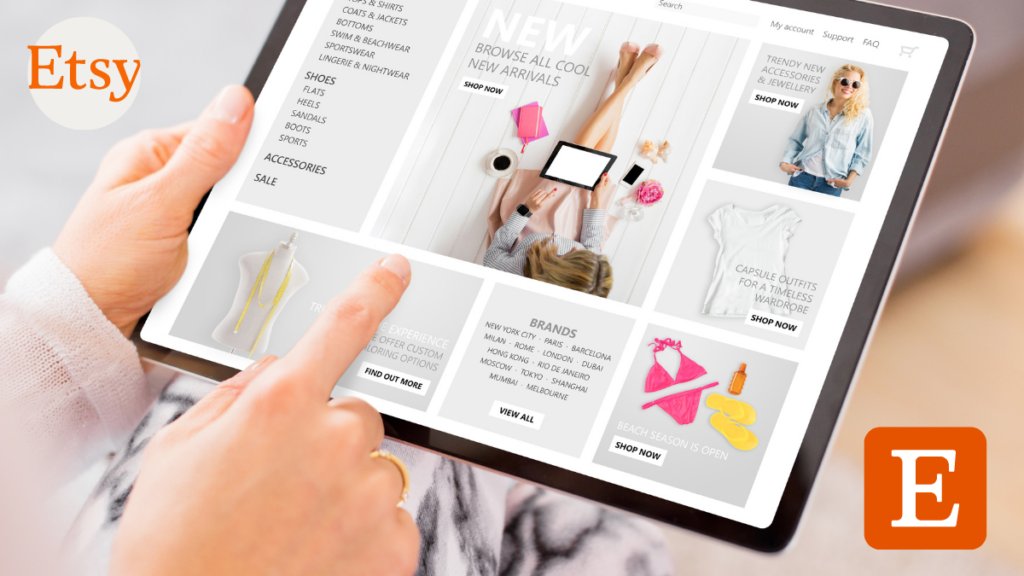 Earning from Etsy is not a complicated process. The first step to creating passive income from Etsy is to choose a business model that works for you.
The model can entail selling as an affiliate or creating original and unique products. You can then start building your shop from a few listings to thousands and other complementary products.
One of the best ways to create passive income from Etsy is to create a blog or website that promotes your Etsy products. This allows you to use SEO to drive traffic to your site.
Another way to create passive income from Etsy is to use email marketing. Also, you can try paid advertising via platforms like Google Ads to get buyer traffic to your store.
Lastly, it helps to leverage Etsy-related marketing tools like Printiful, Craft Maker Pro, eRank, and Handmade Newsletter. Though such tools come at an additional cost, they make it easy to automate sales events, edit bulk tags, and track sales.
So, exactly how do you make money on Etsy without creating anything?
1. Become an Affiliate
As an affiliate marketer, you will earn a percentage of each sale by promoting other people's brands through your referral link. You get to leverage your social media pages to gain organic traffic.
You can also create a personal website with a dedicated blog to promote your products and links, create awareness, and generate leads.
2. Do Dropshipping
Dropshipping is when you list a product for sale on Etsy, but you don't actually have the product in stock. All you need to do is order from your suppliers who engage your clients directly after initiating a purchase.
As a dropshipper for Etsy products, it means you don't have to handle products, packaging, or shipping, but you still make a commission from sales.
3. Sell Services
To make money on Etsy by selling services, you can offer services related to your skills and talents, such as graphic design, social media management, listing optimization, SEO, marketing, or writing.
Make sure to create clear descriptions of the services you offer, set competitive pricing packages, and deliver high-quality work to build a loyal customer base.
4. Sell Your Expertise
If you have expertise in a particular area, such as crafting, business consulting, design consultation, or coaching, you can monetize your knowledge by creating digital products such as ebooks, tutorials, or online courses.
To establish a large customer base and earn profits from your skills, it's crucial to promote your goods or services in a compelling way, offer good prices, and deliver outstanding customer service.
5. Sell Digital Products
If you're a creative person, you can sell digital downloads on Etsy. This could be anything from printable art to budget planner templates, to eBooks. Once you create the product, you can list it on Etsy and people can purchase it instantly.
This is a great way to create passive earnings because you don't have to ship anything or deal with customer service.
You can also set up automatic downloads, so the customer gets the product as soon as they make a purchase. Further, you get to sell a single design as many times as you wish.
6. Print On Demand
Print on demand is when you create a design and then have it printed on a product, such as a t-shirt or a mug, when someone places an order.
There are many print-on-demand companies that integrate with Etsy, so you can create a design, list it on Etsy, and then the company will handle the printing and shipping.
A major advantage of the approach is that you won't need to manage any inventory or shipping.
Utilizing the above methods can result in great earnings on Etsy.
Don't hesitate any longer; begin earning today by creating an Etsy Shop!
How Much Does It Cost to Set Up an Etsy Shop?
If you are planning on starting an Etsy shop, you may be unsure about the expenses involved. While there are some initial investments to consider, such as listing and transaction fees, the potential for earning a profitable income far outweighs the cost.
The good news is, getting started is easy and quite inexpensive. Here are the primary expenditures you can anticipate:
1. Etsy Fees
Etsy charges sellers several different types of fees.
For each item listed, there is a $0.20 listing fee. Before publishing, ensure that you are confident in your listing as this fee cannot be refunded.
Additionally, Etsy charges a 6.5% transaction fee on each sale, which covers the cost of processing the payment (which varies depending on the country).
If you choose to use Etsy Payments (which is the easiest way to accept payments), there is a payment processing fee that varies with location.
An auto-renew sold fee is charged if the item doesn't sell within four months or if it sells, but the seller wants to relist it.
Multi-quantity listings don't incur extra fees until they sell.
Private listings for specific buyers incur a $0.20 fee.
You are expected to taxes on your sales, with the amounts depending on your country or state laws.
As a seller, the worthiness of selling on Etsy depends on your goals and sales volume. The point is that it's generally easy to list on the site, and sellers receive great support from the platform.
2. Supplies and Materials
Depending on what you're selling, you may need to purchase supplies and materials to create your products. This cost will vary greatly depending on what you're selling, but it's important to factor it in when determining your pricing strategy.
Even when not looking to create anything per se, you still need to have a computer or smartphone, and any other hardware that makes selling online easy.
3. Shipping Costs
For physical products, shipping expenses should be considered in the pricing. Etsy offers several shipping options, but you'll need to pay for the shipping labels yourself.
Make sure to calculate your shipping costs accurately, so you don't end up losing money on each sale.
4. Marketing and Promotion
While not a necessary expense, marketing, and promotion can help drive traffic to your Etsy shop and increase your sales.
This cost will vary depending on your strategy and budget. The idea is to only pay for tools that you actively use and where possible, start with trial offers.
How Much Money Can You Make on Etsy?
It's difficult to answer this question as it really depends on your products and prices, and the amount of effort you put in.
Looking at this r/Etsy subreddit it is clear that it takes around 3 years to hit the $10,000/year mark. With persistence, successful sellers make $20,000 and up to $75,000 to $200,000 annually.
Nevertheless, it's important to note that most sellers aren't able to make a full-time income from selling on Etsy.
Most Profitable Etsy Items (Without Creating)?
Are you looking for the most profitable Etsy items without creating anything? If so, you found the right guide! I have analyzed a lot of data on the platform.
Based on my research, I have compiled a list of the most profitable Etsy items that don't require you to create them yourself.
So, whether you're looking for some passive income or just curious about what sells well on Etsy, below is what you need to know:
1. Digital Prints and Printables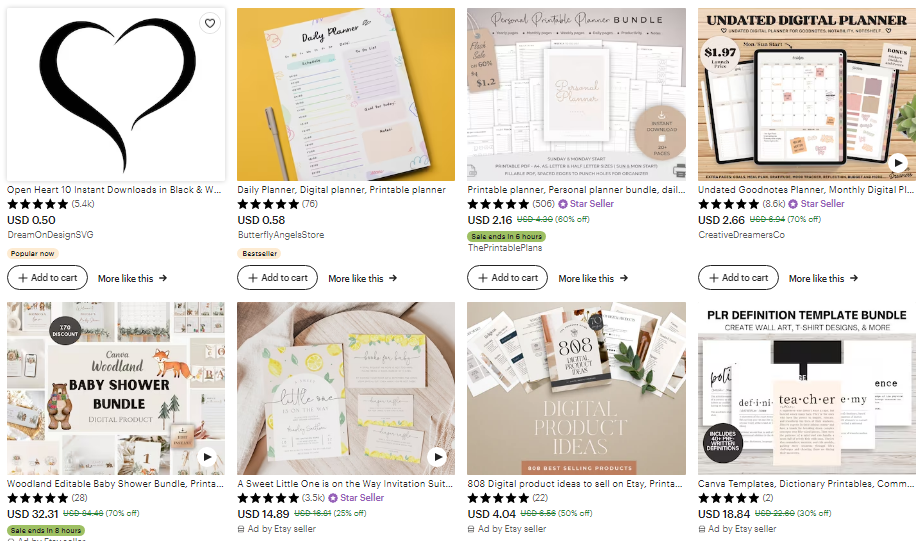 Printables are digital products such as planners, worksheets, or coloring pages that customers can print out. These are highly lucrative and simple-to-create products that can be sold on Etsy without creating physical items.
The prints can be anything from inspirational quotes to illustrations or photographs.
The average price for printables on Etsy is around $5. To get better profits fast, the best option is to create a bundle that can be sold for $30 or more.
Related Post: Top Budget Planners in 2023
2. Spreadsheets (COPY)
If you have a knack for creating useful budget trackers, you should for other forms of spreadsheets that are useful to both Etsy buyers and sellers.
Think of inventory trackers. You can also go with debt trackers to help your customers keep track of their loan repayments.
For this, you have tools such as Excel, Google Sheets, Quip, and Apple Numbers where you can create spreadsheets and sell them on Etsy.
3. Phone Cases
Phone cases are another popular item on Etsy that can be sold without creating them yourself. Many sellers offer unique designs that can't be found in stores. The key is to offer designs that are on-trend and appeal to a specific audience.
The typical price for a phone case on Etsy is around $15 – $20. A custom order can get you over $100 per case.
4. Stickers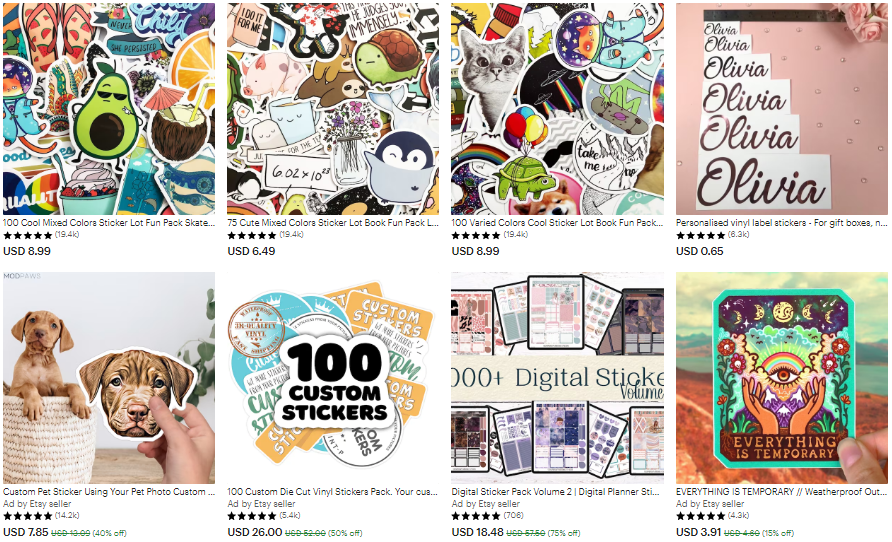 Stickers are a fun and easy way to make money on Etsy. They're inexpensive to produce with a wide variety of designs to choose from.
The item can be sold individually or in sets, and they're popular among both kids and adults. On average, the price for a sticker on Etsy is around $3, with the price varying with print size.
5. Weddings Supplies
Presumably one of the biggest markets on Etsy is weddings. Since weddings happen throughout the year, you can almost buy everything for weddings on Etsy including bands, necklaces, and gowns.
Other examples of wedding items that sell well on Etsy include wedding invites, wedding signs, and so much more. In fact, wedding supplies are one of the most searched items on Etsy.
6. Enamel Pins
Enamel pins are in high demand and can be a profitable item to sell on Etsy. These pins can feature anything from pop culture references to cute animals or inspirational quotes.
The key is to offer unique designs that can't be found in stores. Most pins on Etsy go for around $3.50 with the highest-priced ones costing $20+.
7. T-Shirt Designs
T-shirts are classic items that can be sold on Etsy without having to create them yourself. Many sellers offer unique designs that can't be found in clothing, making them a popular choice among Etsy shoppers.
The average price for a t- design on Etsy is around $5. If you get the design printed offsite and shipped to the buyer, you can get $17.50 or more from a single sale.
8. Toys
Kid's accessories tend to sell well on Etsy and are some of the top-selling items. If you're looking for an item that both parents and grandparents are going to buy, then handmade wooden toys are your go-to item.
They've become so popular for babies nowadays. Why? This is because they play a big role in kids' development compared to digital toys that are never too engaging. Knit dolls and kid's wooden cookery also sell fast online.
9. Digital Wall Art
Wall art is another profitable item that can be sold on Etsy without creating it yourself. Digital art can include anything from paintings and prints to canvas art.
Offer unique designs that appeal to a particular audience to be successful. The average price for digital wall art on Etsy is around $10.
10. Jewelry
Jewelry is a popular item on Etsy, and there are many sellers who offer unique designs without having to create anything.
In this model, you purchase pre-made pieces and then add your own touch to them, such as personalization or customization. You can also partner with jewelers as a consultant and sell their creations on commission.
Jewelry prices vary a lot depending on the type and quality; the average price for jewelry on Etsy is around $15-$30, depending on quality.
Interesting Read: Earning From Jewelry at Home
11. Personalized Gifts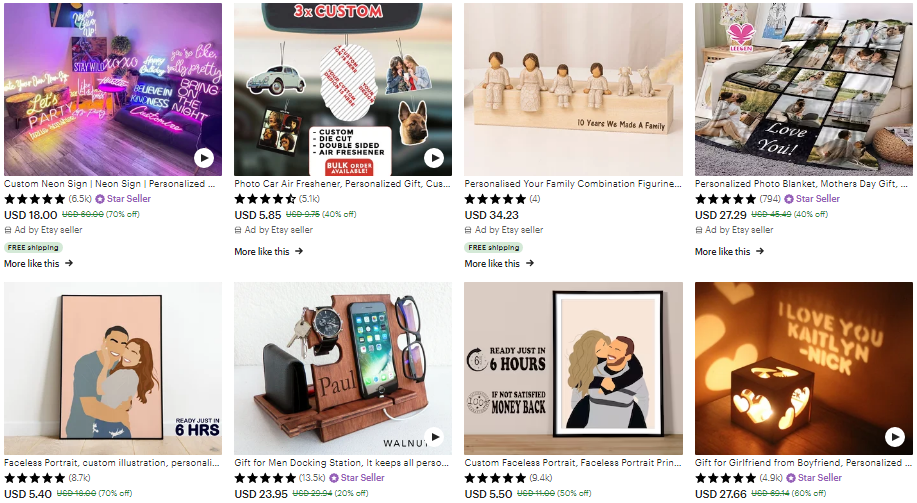 Personalized gifts are a great way to make money on Etsy without having to create physical products yourself. The crucial thing is to discover a specific market and provide high-quality products that cater to their interests.
Items in this category include name tag keyrings, custom neon lights, printed golf balls, and unique phone docking stations. You can advertise your designs and have them made by your supplier after an order is made.
Pricing for personalized gifts on Etsy ranges from a couple of bucks to hundreds of dollars.
12. Vector Graphics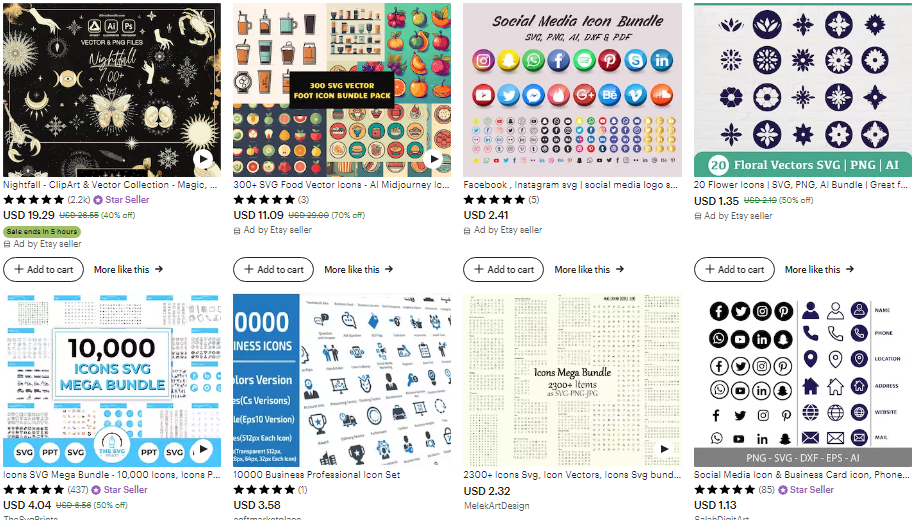 Vector graphics, just like fonts, are digital files used for creating designs with design software. Reselling such vectors can help you get paid without being a designer.
Similar to SVG files, you can find vector graphics that are in demand and list them on your Etsy shop for a share of profits with the creator. The average price for vector graphics on Etsy is around $5 to $10.
13. Party Decorations
Party decorations are a popular item on Etsy and can include anything from banners and centerpieces to photo props.
You can personalize the decorations with the subject's name, enabling you to charge top dollar. For unique ideas, look into bachelorette party stickers and birthdays.
The typical price for party decorations on Etsy is around $9 – $15.
14. Bags and Purses
Every day more and more people want to have a unique identity. As such, the current fashion trend capitalizes on one-of-a-kind bags and purses- especially for the divas.
It is not a surprise that there are over 2.2m+ listings for bags and purses designs on Etsy. What I like most about these accessories is that you can sell them for over $150 apiece!
15. Bath and Body Products
Bath and body products can be pre-made, repackaged, and listed under different names. These products can include anything from moisturizers and bath bombs to soaps, gels, scrubs, and lotions.
The price range for bath and body products on Etsy is around $5 – $20.
16. Candles

Candles can be sold on Etsy without having to buy waxes, wicks, or molds.
You can offer unique scents and designs that can't be found in local stores.
According to EtsyHunt, a free Etsy rank analysis tool, the average price for candles on Etsy is around $14.54.
17. Home Decor
This encompasses various items including pillows, curtains, table runners, wall hangings, doormats, basketball hoops, and dried flowers.
Depending on the item's rarity, home decor products can sell for $50 and above on Etsy.
18. Vintage Clothing
Vintage clothing sells fast, but given the vast price range of vintage items, it can be challenging to determine their worth.
As such, I recommend you conduct research to determine a fair price for a vintage item. With a catchy label and constant supply, you can be selling vintage clothing worth over $1k monthly on Etsy.
On average price for used / vintage clothing is around $20-$50.
19. Fabric and Sewing Supplies
Did you know that you don't actually have to make items yourself to sell on Etsy? You can just buy supplies from flea markets and dollar stores, and flip them on Etsy – for a profit!
Some of the cheap and quality stuff that you can get at such markets include fabric and sewing supplies that are popular with buyers online.
20. Stationery
Stationery includes notebooks, planners greeting cards, notecards, sticky notes, and envelopes. Depending on the type, stationery sells for $8 or more on Etsy.
21. Digital Invitations
Digital invitations can be customized for various events, such as hen parties, balls, dinners, and birthday parties.
The invitations can be customized to feature cartoons, superheroes, and famous sceneries. Consider working with a qualified graphic designer to ensure uniqueness in your printable designs.
The average price for digital invitations on Etsy is around $3.50 – $8.
22. Digital Wallpapers
Digital wallpapers can be for anything from desktop backgrounds and phone backgrounds to social media banners.
Their price ranges from around $5 – $6. You can also offer to supply wallpapers for home decor to match the digital copy.
23. SVG Files
SVG Files: SVG files are digital files used for creating designs with software such as Adobe Illustrator. The files are useful building blocks for anything from printing t-shirts and decals to creating digital signs.
You can profit from SVG files on Etsy by becoming a reseller. Simply find SVG files that are in demand and have good reviews, then sell them in your own Etsy shop at a markup.
The average price for SVG files on Etsy is around $3 to $8.
24. Fashion Accessories
Accessories such as wallets, scarves, hair accessories, coin purses, and headbands are extremely popular on Etsy. Some of these items can still be used by babies, adults, as well as pets.
25. Digital Downloads

Digital downloads are items such as eBooks that customers can download. They're easy to create and highly profitable.
On Etsy, eBooks sell from $2-$20, depending on the book's subject and number of pages. However, you have the option to set custom prices for your clients if you wish.
This allows you to set your own prices and offer discounts or other incentives to potential customers.
26. Digital Fonts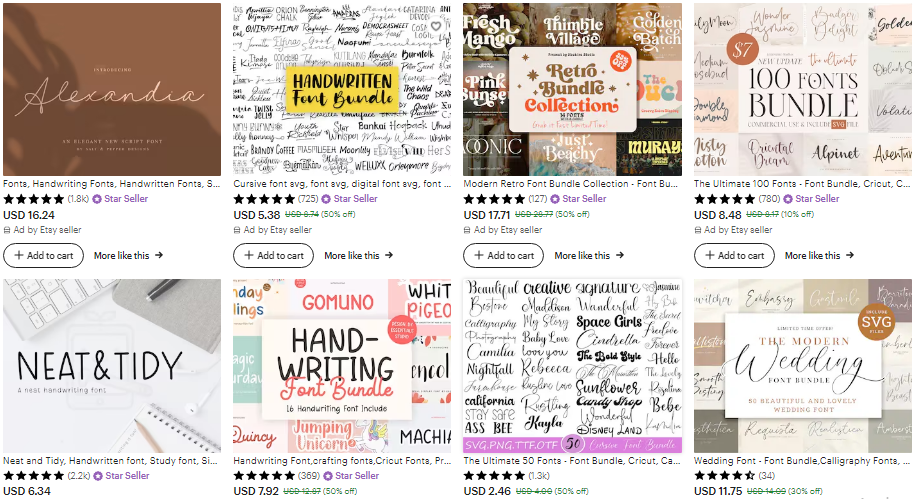 Digital fonts are computer files used for typography and design purposes. You can profit from digital fonts on Etsy by licensing and selling existing fonts created by other designers.
To do this, you'll need to research which fonts are popular and have a good reputation, then contact the creator to see if they offer licensing agreements.
You can then sell the fonts on your own Etsy shop at a markup. The average price for digital fonts on Etsy is around $2 to $18.
27. Website Design Templates
Do you know how to create a website? If so, you can sell pre-made templates that can be uploaded to a WordPress website builder.
Depending on your expertise, you can create designs targeted to anyone from bloggers, photographers, institutions, and freelancers. This type of design work requires someone who can code and other web development skills.
28. Photography
Photography is a popular category on Etsy, with sellers offering digital downloads or prints of their work. To profit from photography on Etsy, you can become a reseller or affiliate.
Look for photographers with popular and high-quality work, and then negotiate a commission for selling their work in your own Etsy shop or through affiliate links.
The average price for photography on Etsy varies widely, but it can range from $5 to $50 or more.
29. Pet Accessories
Pet accessories can include anything from pet beds and collars to toys and harnesses.
Analysis on the Alura tool shows top-rated Etsy pet stores making 600+ sales in a month. Pricing for the products varies with items such as hats for dogs going for $12.48 while personalized tags selling at $4.49 each.
30. Marketing Materials
Marketing materials include flyers, brochures, and press kits. All these items are always in demand for entrepreneurs who either don't have the money or time to employ designers to start from scratch. Use any information you have on different business sectors to customize your designs.
31. Educational Materials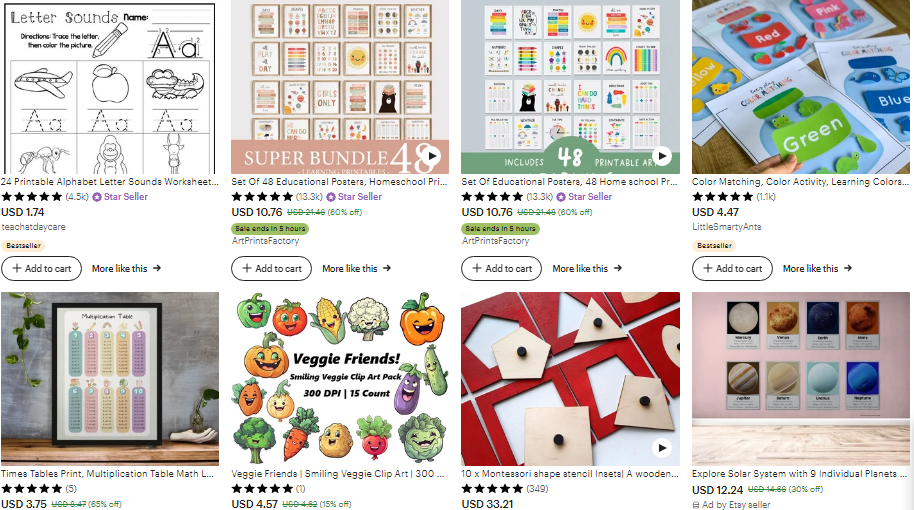 In this digital era, parents and teachers are looking for learning materials online. The trick is to find materials that appeal to different age sets and market them accordingly.
The more helpful the material is, the faster buyers will recommend it to their friends. Such educational items include nature flashcards, letters and sounds prints, color matching kits, multiplication tables, and printable maps.
Other popular categories on Etsy include:
Journals
Social media graphics
Business cards
Bags
Clip Art
Lightroom presets
Fabrics
Games
Extra Resource: What Else To Sell on Etsy in 2023
Tips for Selling On Etsy
As an Etsy seller, you want to remain ahead in a sea of creative minds. There's lots of advice on the web on how to go about this; therefore, it can be overwhelming to know where to begin.
We'll break down the best practices for selling on Etsy, including product promotions, SEO optimization, and social media. This is to help you can make the most of your shop and thrive in the competitive marketplace.
Below are among the best tips to guide you through your Etsy seller journey:
1. Optimize Your Listings
Focus on designing high-quality items and descriptions that will appeal to your targets. Use clear and well-lit photos that showcase your product's features, and craft compelling descriptions that highlight your unique selling points.
Do not forget to use keywords in your titles and tags to improve your search rankings and attract more customers. Go the extra mile in your attention to detail and your listings can stand out from the crowd and get you more sales.
2. Offer Promotions
Offering promotions on Etsy can be a great way to generate buzz around your shop and encourage customers to make a purchase. Consider offering a discount code for new customers, free shipping on orders over a certain amount, or a limited-time sale on popular products.
Make sure to promote your campaigns on your social media channels and in your Etsy shop so as to reach as many customers as possible.
With a well-crafted promotion strategy, you can build lasting customer loyalty on Etsy.
3. Utilize Social Media
Identify the social media where your intended clientele can be found. Through your handles, upload and share engaging, thoroughly researched, and visually appealing content.
Consider partnering with influencers or running targeted ads to reach even more customers. The goal is to build your brand, connect with potential buyers, and get people to talk about your Etsy shop.
4. Create Unique Products
Creating unique products on Etsy is essential for standing out in a marketplace with over 7.5 million sellers to date. Consider using unconventional materials or combining different techniques to create products that are truly one-of-a-kind.
Personalization also helps you price products highly. Also, focus on quality and craftsmanship, and make sure to promote your unique products as 'different'.
5. Leverage SEO and Etsy Tools
In order to boost the number of visitors and revenue on Etsy, it's crucial to optimize your shop for search engine optimization (SEO).
This can be achieved by researching appropriate keywords and incorporating them into your content, including product descriptions.
Additionally, optimizing your shop's categories can aid in SEO. It also helps to use e-commerce analysis tools like Sale Samurai to monitor your progress and make changes as necessary.
Consider investing in tools like Google AdWords to improve your visibility and reach even more customers. With such, you will enhance your search rankings and generate more sales.
FAQs
1. How to Sell on Etsy Without Inventory?
One option to sell on Etsy without inventory is turning to print-on-demand. In the model, a third-party company creates and arranges to ship products on your behalf.
Another option is to sell digital items, such as downloadable art prints or patterns, that don't require keeping inventory. You can also sell as a middleman where you get a cut of the profits for items that you promote.
2. How to Sell on Etsy Without Shipping?
Selling digital items is a great way to avoid shipping costs. With a reputable supplier, you can choose to use dropshipping service.
Your supplier will be required to communicate with your clients transparently regarding shipping. Ultimately though, you, as the seller, are responsible for ensuring that your products reach the intended address.
3. Can Etsy Make You Rich?
Numbers don't lie, and Etsy happens to have some impressive seller statistics. Top sellers record $100,000+ in sales yearly with the company offering advertising in different forms.
Etsy's associated costs are also lower than that of its competitors, such as eBay and Amazon. This means that as a seller, you get to keep most of your sales amounts. That said, the median profit for an Etsy store is around $2,900 per month.
4. Is it Ethical to Sell Items That I Don't Physically Create?
As long as you are transparent with customers about how the product is made and who is producing it, selling as an affiliate or via print-on-demand is an acceptable and legitimate business model.
5. How do I deal with returns if I don't make the items?
If you're using a print-on-demand or dropshipping service, make sure you understand their policies for handling customer service and returns.
You should also communicate clearly with customers about the shipping arrangement, possible delays, and other third-party issues.
How to Make Passive Income On Etsy [Final Thoughts]
Passive income is a dream for many entrepreneurs. That said, building a sustainable income stream on Etsy is not a day's work. It takes considerable, effort and necessitates a well-planned and thorough strategy.
With the right approach, selling on Etsy without making anything can be an excellent source of supplemental income or even a full-time career.
Target items like printables, digital templates, stock photos, or even e-books that can be replicated online. Such items have low overhead costs, are easy to create, and can be sold an unlimited number of times, making them a great option for generating a side income.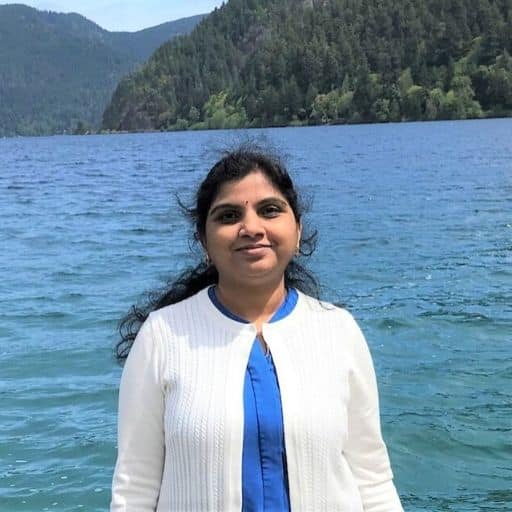 Howdy Folks, thanks for stopping by my blog.
I'm Swati, a proud mom, dedicated side hustler, full-time blogger, and a recognized millennial work-at-home expert. My expertise has been featured on esteemed platforms such as Forbes, CEO Blog Nation, Referral Rock, Vital Dollar, Databox blog, and many more. I have embarked on this incredible journey to share my firsthand experiences in the world of online income generation and to assist all of you in earning money from the comfort of your homes.
Join me in my mission to revolutionize the way we make money and achieve financial freedom. Trust me, it's not as challenging as it may seem!
Together, let's explore the boundless opportunities and pave our paths towards a prosperous future.