Shout out to all wannabe entrepreneurs and stay-at-home dads – Guys here's a mammoth list of "Small Business Ideas for Men", you can start right away, without waving goodbye to your routine job!
Ladies, most of the ideas suggested in this list, work for you too. However, you can find more of them here!
Starting a business is almost everyone's dream because of different reasons that include good financial growth or else to become your own boss and independently work on your passion and serve others and numerous others.
But, before initiating a business or coming up with a plan, most of us start worrying about the funds. So, have you thought about some small business ideas which could be kicked right off the bat with low capital?
Small Business Ideas for Men that bleed High ROI
Does it need the technical skills or can you begin it with a team? Here, we discuss such small business ideas and opportunities which you could very well start at your own comfort and become your own boss within no time.
Let's get going…
1. Home tutoring
Remember the classes you attended during your school time? Well, here is the time for them to pay you back. You can earn handsome amounts while teaching the student(s) and contribute to society as well. You just need to brush up the fundamentals before going to classes. Tuition center is altogether a different category- but never keep it off the table. Who knows! It might be a chance for you to grow individually.
2. Blogging
Blogging is a great business for someone who is consistent enough as well as for those who writes well.
Once you create a good audience base for your niche blog, you can earn money a lot blogging. The first step to go along this business is to properly research and get started with a cool niche, you might be interested in writing about.
Here's an ultimate step-by-step guide to starting a blog in just 15 minutes
3. Virtual Assistant Services
Every company needs to keep their customers happy by answering their queries. Bigger firms could afford BPO's but smaller firms are hesitant in burning their cash for such costly services. But you could cater to this segment by starting up your own virtual assistant services for startups and small firms.
Interested in offering Virtual Assistant Services?
Want to know more, then check out the VA Industry Bible, a "must have" tool for all new and aspiring VAs. This book has been instrumental in the success of several corporate professionals in realizing their dreams of becoming an entrepreneur. If you Join Amazon Kindle Unlimited 30-Day Free Trial, you can get to read this book for free for 30 days.
Get started on the right foot here: take this amazing "30 Days or Less to Virtual Assistant Success" by Gina Horkey – that has helped over 457 people become virtual assistants over the last year.
4. YouTube Channel
YouTube has emerged as a good source of business. We've heard about many YouTube stars who've created their own fortune through YouTube. If you can engage and create content that's in demand, then look no further and set up your own YouTube Channel.
You Might be Interested to Know:
5. Photography Services
If you have a passion for clicking mind-blowing pictures wherever you go, this business is for you. If you see everything through the camera lens, this business is apt for you. There's a huge demand for professional photographers and you could earn well if you start off with a team as well.
Here's a cool list of 21 best platforms to sell your photos for up to $100
6. Baking
Check out YouTube and you'll find an ample number of videos available on cooking and baking. Please others' sweet tooth and nurture your baking skills. What's the added bonus? You'll get paid for doing so.
7. Cooking
When people move out to bigger cities, for better opportunities, they find it difficult to get homemade food. Where there is a problem there is a business opportunity. So, why don't you start developing some cooking skills and help others to get the taste of homemade food? Bonus point: earn good amount while helping others.
8. Salon
Serve the customer with satisfaction: this should be the tagline of any business. A salon isn't hard to start, and you need not worry about the advanced level of salon training. Spend a few hours learning how to work, and you'll be good to go. Pro tip: decorate your workstation in an aesthetic way, and your customers will be retained.
9. Courier services
Engage in pickup and drop services. It is easy, convenient, and a decent paying job. If you have a vehicle, it will come in handy for this job.
10. Fruit Shop/ Vegetable Shop
Fruits or other eatables are something that never goes out of business. People need it on a day to day basis. You just have to source it from a cheap wholesaler near to you after talking to others managing fruit shop nearby. It does not need a hefty capital investment and you make profits which you can re-invest and make it big.
11. Candy Making
Every child craves for candies all throughout the year. It is a good thing that it is not seasonal like ice-cream. All you have to do is to set it up at a small scale and sell it to the market. What you need to do at the beginning is to find the target market which will be your own local locality, and then the nearby schools and educational institutions where you could find a bunch of children around, proper strategies to lure them into buying the same, also look at what others in the same line of businesses are doing.
12. Craft Making
If you're a creative person who likes to create craft, then this is a business option for you. You could create different objects and craft items and sell them either online (on sites like Etsy) or offline.
13. Supermarket
A supermarket is a good line of business opportunity where you only need to tie up with a dealer who supplies the product in the local area. If you're willing to do some basic research regarding the sales in your area, you're good to go.
14. Handmade paintings
This idea is for the creative folks who are good at painting. If painting is your hobby, why don't you make it your business? Lots of creative people are confused about starting this profession. It's not complicated to begin with as it seems. You just need to start with your Instagram page or reach out to the audience through other online media. Once you make a good follower base by showcasing your work, start selling your handmade paintings.
15. Gaming Parlour
You can start this with a nominal capital investment. A small gaming parlor along with some computer games as well as some fun indoor games would make it a success. Along with good interior and service, you just need to increase your reach towards college goers as well as youth through different promotion channels and it's good to go.
16. Online Retail
Why don't you start selling products from the comfort of your home? Online retail is highly rewarding if done right. The simple mantra is to source the products from a wholesaler and sell it online under your name online through different online portals or websites. You can even begin your services by selling through social media sites.
17. Stock Market
The stock market is yet another business where you need some technical knowledge about stocks and the indicators. You can even guide people and start your stock market consultancy online once you have a good number of followers.
18. Graphics Designing
Graphic Designing is a booming industry which is required by almost every company these days. Promotional products like posters, flyers, etc is an important element for a company's advertisement, as well as the logo of the company, which can be designed by the graphic designers by using different software such as Photoshop, Coral Draw, Illustrator etc.
19. Web Development
Web Development can be easily started if you have an understanding of how to develop a website. The work will be on a project basis and it's highly rewarding as well depending upon your expertise.
20. Offer SEO Services
Every website in the world wants to appear in the #1 position on Google search results. Isn't? You could help them reach the top using Digital Marketing skills like SEO. But, again like some of them, this is a technical skill which can be developed. You could also make a team of your own and partner up with companies by providing them with SEO, and other Digital Marketing services.
21. Candle Maker
Different kinds of candles in different shapes, sizes, fragrance etc are found in the market. You could also make fancy candles by using your creative side of the brain. It'll only require a petty capital investment but returns are huge if the quality and the design of the candle is different than others.
22. Business Consultancy
You could start a business consultancy as well. It requires more of a technical and legal knowledge about business and capital required to start this off is almost negligible. Many business owners are not aware of the legal side of the business as well as realize it difficult to deal with some of the business problems. You could very well help them solve this issue by starting this business.
23. Customized Cake Maker
Be it any occasion, let it be a birthday party, an anniversary, a wedding, or any other event, the cake is obviously an important element. People often try to find customized cakes according to what they prefer. There is a good scope if you can learn to make cakes and prepare them according to the order that you receive.
24. Video Editing Services
Video editing is a skill and could be used for starting off the business. You could associate with short film creators, Youtubers, or else with different events around. Even the companies hunt for video editing for their promotional videos and stuff.
Here are 10 Handy Tips to Shoot Videos Like a Pro!
25. Event Management
Event Management is a highly rewarding business where you could start off with a small team in which different team members would be assigned different job roles as per their expertise. The first thing you need to do is to research about different college fests, small events and programs nearby, birthday and wedding events etc. You could reach out to them and provide them quality service within affordable packages.
26. Property Dealer
Real estate has always been a lucrative field for several decades. A part of the whole real estate ecosystem is the property dealers who make a perfect match by bringing together the buyer and the seller. They help in the whole procedure of handing over the property to the buyer. They make huge commissions and charges both the parties. You can be one of them.
27. Party Planners
You could plan and manage different parties like birthday parties, wedding, anniversary parties etc. We Indians have a tendency to celebrate every occasion to its fullest and don't want anything to go wrong in the middle. There comes the party planners who plan and handle everything that makes a party completely hassle-free and enjoyable. It is a good business to start with a small team where different people will be assigned respective tasks.
28. Social Media and Personal Branding Services
Personal branding and social media are some of the hot topics in today's time. You could help the clients in planning, creating and managing their social media pages as well as assist in creating a personal branding framework and implement it. You could very well begin it alone or else creating a small team would make things take off fast and smooth.
29. Career Guidance Services
It is like consultancy business where you would be guiding children regarding the career options they should go about or else about studies they should undertake abroad. It is important to have knowledge about different streams and options obviously but again, the capital expenditure is almost negligible in starting off this business.
30. Financial Planner
Financial Planner has the task of managing the portfolio of their clients. They also help in choosing the right investment vehicle, the proportion as well as the entry and exit points etc. You could start the business of managing others finance. This sort of business requires technical knowledge regarding finance and investment.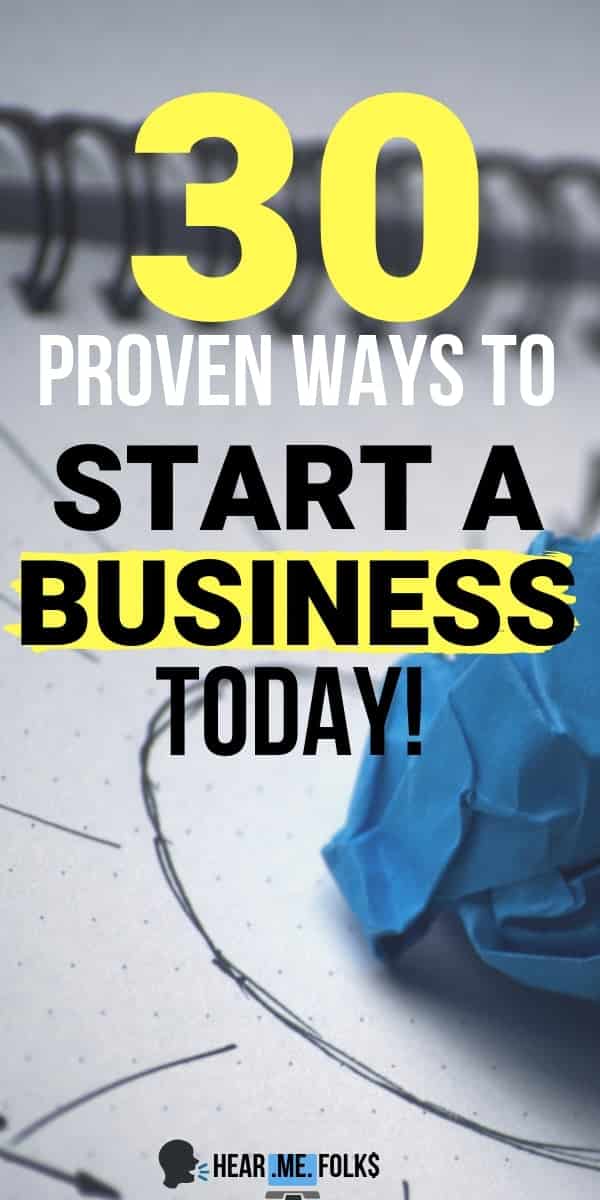 So, What's Your Take on These 'Small Business Ideas'?
Remember to weigh the opportunities and the ideas to select a couple of small business ideas at first. Research more about those domains of business, talk to the people who are involved in the same line of business and come up to a conclusion after considering the criteria based upon your return on investment, hours you need to put in, capital to be invested, manpower needed, demand for the product at different seasons and time of an year etc.
Also, other technical aspects of business like the framework of the business idea, legality and other such closures, marketing as well as promotional strategies and well, making contacts around the business domain does very well affect the success rate of your business.
Always keep in mind – "no business is big or small, all that matters is the way you do it".
Which of these business ideas you like the most, let me know what you think? Got amazing ideas to share, write them down in the comments below!